One of the first restaurants I was determined to try when I arrived in Los Angeles was The Cheesecake Factory. This is because during all my past trips to the US I've somehow never gotten around to dining there.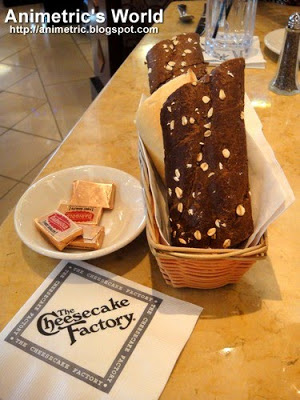 One sunny weekday we decided to scoot over for an early lunch. Long lines usually form during major mealtimes so we successfully beat the crowd. The first order of business was the complimentary bread. It was freshly baked, made of honey and oats. Definitely delicious!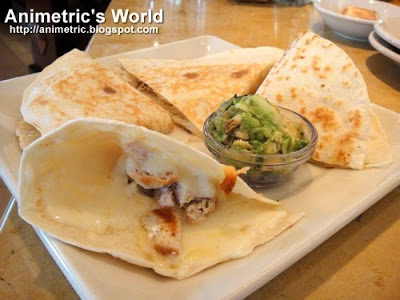 My 10-year old son picked the Kid's Quesadilla with Chicken (US$6.95 or about P300+) from the kiddie menu. Four big pieces of soft flour tortillas were filled with chicken and cheese then served with guacamole. Kiddie meals also come with a drink of choice. Suffice to say he couldn't finish it as the serving was enough for an adult. 🙂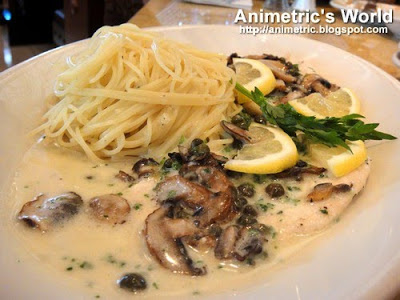 My hubby opted for Chicken Piccata (US$10.95 or around P500). Spaghetti cooked perfectly al dente lay on a bed of creamy white sauce with lots of fresh mushrooms, herbs, and chicken.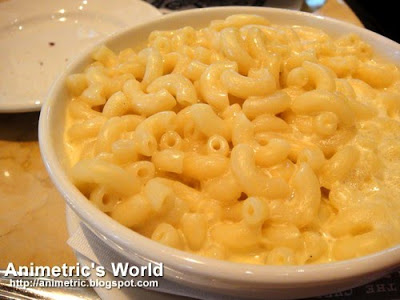 My 6-year old daughter decided on Kid's Macaroni and Cheese (US$5.50 or around P250). It's the usual, kind of like those you can buy in boxes and boil at home but that was what she wanted.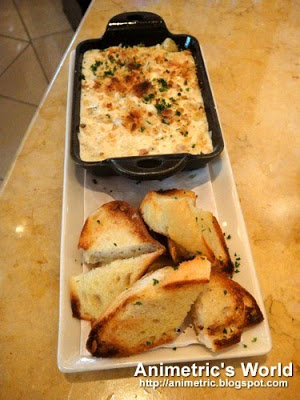 We also had Warm Crab and Artichoke Dip (US$6.50 or around P280+) as an appetizer / side dish for sharing. The dip is incredible. Served warm and creamy, you can clearly taste the chunks of crab and tender artichoke tidbits.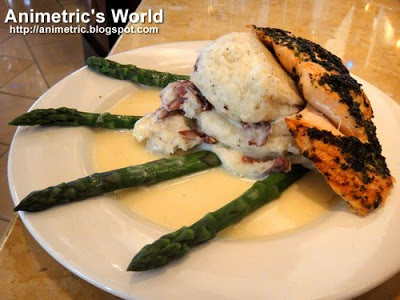 Meanwhile my mom and I shared a Lunch Salmon (US$12.95 or around P560+). It's a pretty big serving. We split it in half and both of us were full afterwards. I love the pepper-crusted salmon and that pool of delicate citrus cream sauce that's underneath. The asparagus sticks were fresh and juicy too. This is the way I like my mashed potatoes — chunky, with skin, and not overly buttered. This is definitely one of the best main courses I've had during my stay in the US.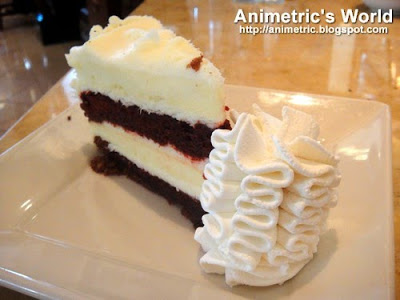 For dessert, we originally planned on ordering 2-3 different cheesecakes. Unfortunately we were all too full to do so after our hearty meal! Thus we settled on a slice of Ultimate Red Velvet Cake Cheesecake (around US$6.50 or P280+) to share. All I can say is wow. Mind-blowingly good. I don't think any cheesecake I've had compared with this one. Layers rich red velvet chocolate cake alternated with The Cheesecake Factory's classic creamy and tangy cheesecake. It came with a dollop of whipped cream too. We all agreed it was divine.
For menu information and locations, log on to http://www.thecheesecakefactory.com/. I do so wish that this establishment would make it to Philippine shores. I actually find the prices very reasonable for what you're getting. 🙂
Like this post? Subscribe to this blog by clicking HERE.
Let's stay connected: