From Las Vegas to Manila comes Sugar Factory American Brasserie. Part restaurant, part bar, and part candy store, Sugar Factory offers signature confections and merchandise for the young and young-at-heart.
The interiors reminded me a bit of Todd English in SM Aura. The dining space spans two floors. The candy store wasn't ready yet during the media preview.
I was pretty excited to try out Sugar Factory's offerings as I had no idea what they were. We started off with the Sampler Platter (P820). It's got Buttermilk Onion Rings, Crispy Chicken Fingers, Buffalo Wings, Mac and Cheese Pops, and Vegetable Sticks served with 4 kinds of dip. They were all so yummy I can't decide what I liked best.
Bruschetta (P280) is hands down my favorite dish that day. Tomato, basil, EVOO, and parmesan are all served on grilled baguette slices. Best bruschetta ever!
The refreshingly tasty Chinese Chicken Salad (P440) consists of mixed vegetables, crispy wontons, and grilled chicken pieces drizzled with ginger sesame dressing.
Check out The Big Cheesy Burger (P695). A thick angus beef burger patty is topped with melted white cheddar, creamy mac and cheese, bacon, and BBQ sauce. It's huge and I don't think I can finish an order by myself. The patty tasted burnt, otherwise it was okay.
We got to try Chicken Parmesan (P420). Breaded chicken breast is served with Sugar Factory's special tomato sauce and lots of melted cheese. Some al dente rigatoni on the side too.
I think this is the NY Strip (P1,550). The pan-seared steak is so tender and juicy you don't even need the mushroom sauce. Loved the creamy mashed potatoes too.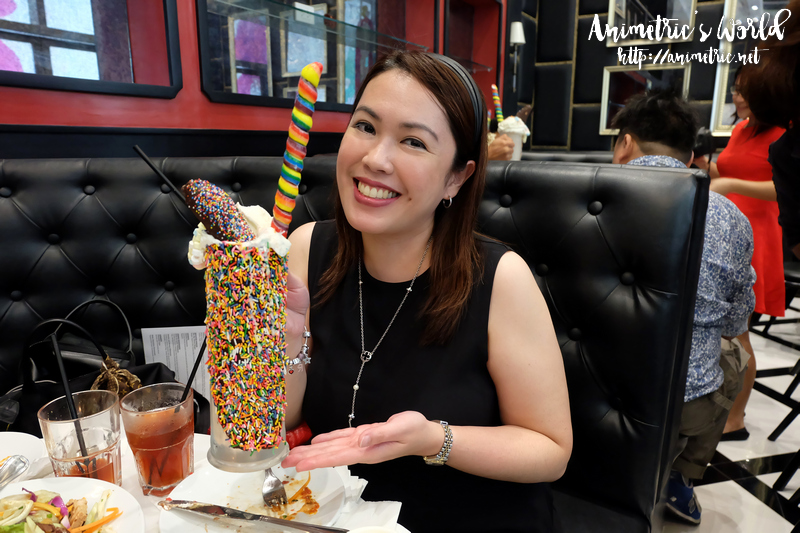 They weren't kidding when they said Sugar Factory serves insane milkshakes. I tried the Nutella and Banana Milkshake (P890). I think 3 people can share one order! Super sinful and creamy, I ate the chocolate and candy sprinkle-covered banana and had a few sips. It's so extreme.
Then it was time for dessert. Tried their Chocolate Cake (P340) and thought it would be better if it were more moist.
I did however enjoy the White Chocolate Cheesecake (P415). Fresh strawberries, white chocolate ganache, and cookie crumbs make serve to enhance the perfect cheese flavor and creamy texture.
I regret not being able to try Sugar Factory's famed 60 oz. goblets. An order is a production number complete with smoke effects and gummy candies. They're available as cocktails or mocktails. This one is the Mai Tai (P700), a blend of fresh orange and pineapple juices spiked with coconut and rum. The non-alcoholic version costs P420.
When I go back, I'm definitely checking out the candy store and ordering a mocktail goblet. There are still a lot of food items on the menu that I'd like to try so I'll probably bring hubby and the kids next time around.
Like this post? Subscribe to this blog by clicking HERE.
Let's stay connected: