School opening is almost here for my kids. That said, I thought we'd have one last hurrah by spending the weekend at Sofitel Philippine Plaza Manila. I had won overnight stays at Sofitel's Superior Room on 2 separate occasions, and lucky for me the Sofitel folks were gracious enough to allow us to avail of the 2 nights consecutively.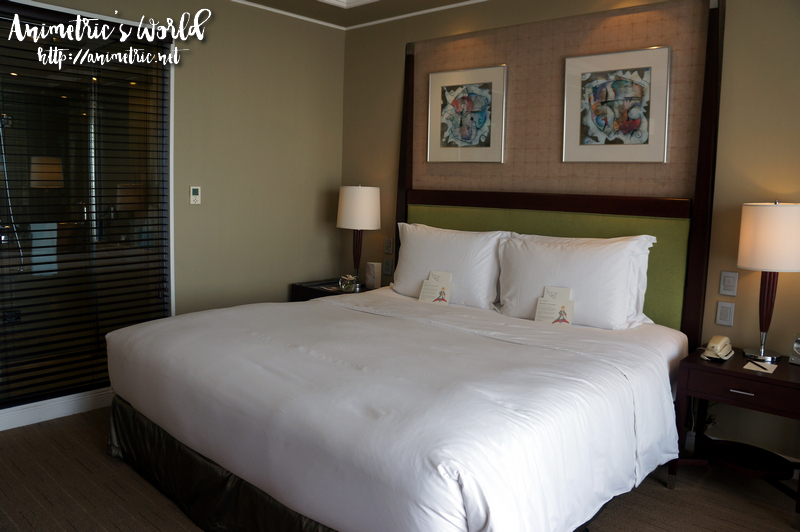 When we got to the hotel at 2pm, I was informed that I was the "Guest of the Day". As such, I would be upgraded to a Luxury Room Club Sofitel on the 10th floor. With the upgrade comes access to Club Millesime, an exclusive lounge with a private library, wine cellar, food, and refreshments. For extra convenience, you also check-in and check-out there so you don't need to go down to the lobby.
A personalized welcome tray was waiting for me when I got to the room. There were fresh fruits, a bottle of red wine, jars of gummi bears, bread, dried, fruits, and pate. What a wonderful welcome it was!
Our room came with a king-sized bed and a lounge chair which the kids really enjoyed sitting on.
There's a study table too. You can actually do business in this room because it comes with high-speed broadband internet access. We were clocking in 4 MBps in the room according to speedtest.net. It's so fast that my kids were able to download games from the App Store in a flash. They told me that at home it would've taken a lot longer.
The room is equipped with a widescreen LCD TV.
Room amenities include complimentary coffee and tea service. There are butlers assigned to this floor so you can ask for bottled water and other necessities like toothbrushes, towels, tissues, etc at any time. Club Millesime is a few steps away from our room so we can enjoy refreshments from 10am to 10pm daily.
Our bathroom came with a tub, too bad I forgot to bring my Lush bath balls. We don't have a bath tub at home so I haven't been able to use them.
It's a very nice and spacious bathroom.
The bathroom is complete with supplies — bottled water, soap, toothbrushes with toothpaste, hair dryer, shower cap, sewing kit, etc. There was no shaving kit but my husband was able to ask for one from the butler.
Everything was organized very neatly.
I was blown away by the complimentary toiletries from Lanvin Paris! We got shampoo, conditioner, shower gel, lotion, and soap in Les Notes de Lanvin Orange Ambre. The toiletries had a light citrusy scent which we all loved and they're free from harmful substances like parabens and phthalates. The shampoo actually made my hair very soft which is amazing considering my hair is extremely damaged from rebonding and coloring.
The bathroom had a separate shower enclosure with a rainfall shower head.
Inside the closet are hangers, an extra blanket, an extra pillow, a flashlight, a shoe horn, shoe shine cloths, bedroom slippers, bath robes, and a digital safe.
Our room has a balcony which overlooks Sofitel Manila's lagoon-like swimming pool.
No hotel stay is complete without swimming with the kids so we went down the pool the next morning.
There's a playground right behind the pool too.
We had a very nice view of the sunset from the balcony of our room.
A 2-night stay at Luxury Room Club Sofitel costs about US$500+ while Sofitel's Superior Room (it's the same size as the Luxury Room at 42sqm) is pegged at around P6k per night. The Luxury Room Club Sofitel gives you access to all of Club Millesime's perks though — food, drinks, unlimited internet access, complimentary local landline calls, complimentary rentals of DVDs, books, periodicals, board games, etc. There are butlers for this floor too. I was surprised when one rang our doorbell at 9pm in the evening to check if we needed anything. 😀
All in all, we had a really amazing family staycation (perhaps the best we've had here in the country) at Sofitel Philippine Plaza Manila. Our room came with free breakfast and we had it in Spiral, which arguably has the best buffet spread in town. Our room was very cozy and comfortable plus the service was no less than superb for the duration of our stay. If you want to get away from it all, look no further than Sofitel Manila.
Sofitel Philippine Plaza Manila
CCP Complex, Roxas Blvd., Pasay City
551-5555
http://www.sofitelmanila.com/
Like this post? Subscribe to this blog by clicking HERE.
Let's stay connected: