Another attraction we visited during our recent trip to Singapore was the Singapore Trick Eye Museum in Sentosa. It's actually located just a few steps away from Universal Studios Singapore.
Unlike the Miracle Art Exhibit at Lucky Chinatown Mall, the Singapore Trick Eye Museum incorporates 3D elements into its exhibits so it's not all flat paintings.
These are examples of their 3D elements, lol!
You can become part of the murals, it's so cool! Trick Eye is actually short for "Trick of the Eye" which refers to an art technique that turns flat paintings into 3D images through the use of optical illusions. Taking convincing photos involves proper angling of the subject and the camera. Don't worry, there are cues and sample photos which can give you an idea on how to shoot at Singapore Trick Eye Museum.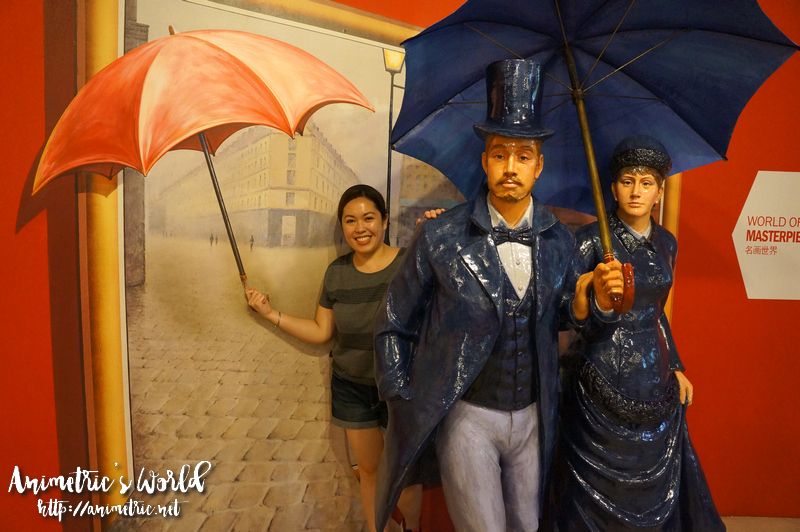 Photo bombing, hahaha!
This painting is very Vincent Van Gogh.
This is as 3D as you get at Singapore Trick Eye Museum.
There are actually a lot more exhibits and this is fun only if you LIKE having your pics taken. If you plan on just going through to look it won't be worth it because you can walk through all the exhibits in maybe 15 minutes or less. The place is air-conditioned so it's actually a nice reprieve from the extreme heat outside.
Tickets cost SGD 25 (around P850) per adult and SGD 20 (around P700) per child aged 4-12 or per senior citizen aged 60 and above. You can get a discounted ticket bundle at http://www.rwsentosa.com/.
Some Singapore Trick Eye Museum tips:
They have a bizarre rule wherein you cannot have a restroom break. There's no restroom inside the facility so make sure you relieve yourself before you enter. My son declared he really needed to go pee 2 minutes after we went in and he and my hubby had to PAY AGAIN to go back WTF.
Refer to the sample photos or marked picture-taking spots on the floor to help you take the best shots.
It's best to go with companions so you can take each other's pics. They don't have people manning the exhibits who can do it for you and it's not a good idea to continuously bug strangers to do it.
If you're not game to have your pics taken, don't waste your time and money.
As I mentioned earlier, you can buy a discounted ticket bundle online. We bought the bundle with tickets to the SEA Aquarium.
Singapore Trick Eye Museum
8 Sentosa Gateway, Singapore
+(65)67952370
Like this post? Subscribe to this blog by clicking HERE.
Let's stay connected: