I visited Velvet Rose Lingerie Shangrila a couple of weeks ago. It was my first time there. I was surprised at how big and bright the store was, having only visited Velvet Rose Lingerie in Robinsons Galleria previously.
They were on sale when I visited.
Almost everything was on sale! I swear, every time I go to Velvet Rose Lingerie, there is always a sale going on! Good quality underwear for 50% to 70% off, what's not to love?
You can get half-priced loungewear too.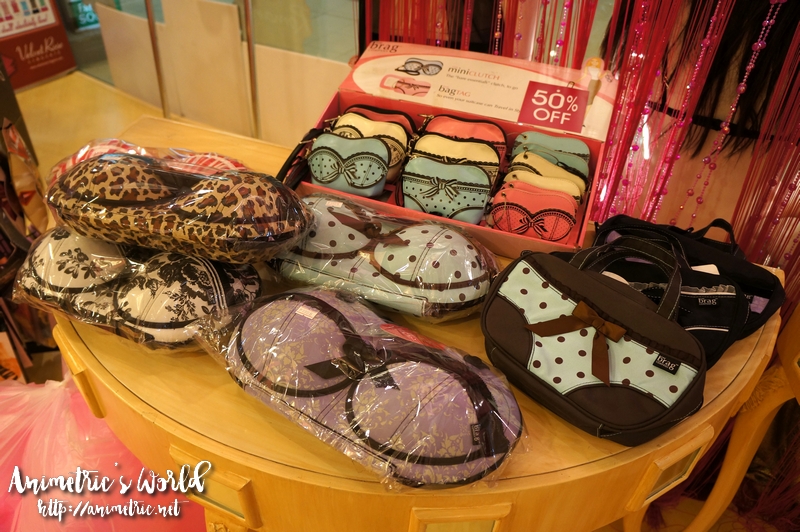 Bra Bags and Panty Paks for when you go travelling.
There are a lot of options for inner wear like corsets, camisoles, slips, and the like.
Need to boost your behind? No need to get implants, you can just get these derriere-enhancing underwear off the rack to give you more shape.
Summer's coming up and wow, it's so timely that you can also get 70% off a variety of swimsuits! They didn't have maillots when I went although I saw some in Galleria. There should be all kinds of swimsuit styles by the time the new collection arrives.
I love how there are spacious fitting rooms at Velvet Rose Lingerie Shangrila.
So what did I get during that shopping trip?
More Plie Shapewear! I'm obsessed. I bought a tube-type Plie Shapewear to wear underneath dresses and since I've attended at least three formal parties in the last month it has definitely been put to good use. I just HAD to get more. This time, I got 2 Plie Shapewear camisoles (one in nude and one in black) which I can wear underneath some of the sheer tops I bought late last year. They were 30% off so each came out to a net price of P2,023.
Oh yeah, I have a lot of bulges to hide, hahaha.
I also picked up a couple of Magic Boxer Shorts which I think would fit my son. These definitely make quirky gifts.
I mean, they were half-off! From P480, the price went down to P240.
Let me demonstrate how the Magic Boxer Shorts work.
First, remove the plastic wrapper.
Then immerse in water. I did so in the bathroom sink.
Watch as it expands and becomes a pair of full-sized shorts! It's available in different sizes and there are Magic Tanks + Shorts for Women too.
Valentines is coming up. Do you want something exciting but don't dare to go to the store and buy those naughty knick knacks? You can visit http://www.velvetrose-lingerie.com/ and shop online! They have much more than just sexy lingerie — edible undies, kama sutra kits, erotic toys and games… all yours with just a few clicks. I know how the traditional Filipina in most of us can still get embarrassed shopping for these things and well, Velvet Rose makes it a bit easier for us to let loose. 🙂
Velvet Rose Lingerie
3rd Level, Shangrila Plaza Mall,
EDSA cor. Shaw Blvd., Mandaluyong City
631-4323
Like this post? Subscribe to this blog by clicking HERE.
Let's stay connected: