Sephora has always been my one-stop shop when it comes to all things beauty. I'd always go shopping at Sephora whenever I go to the US. I don't exaggerate when I say I never walk out empty-handed. There's always something that catches my fancy! Imagine my excitement when Sephora Philippines launched online.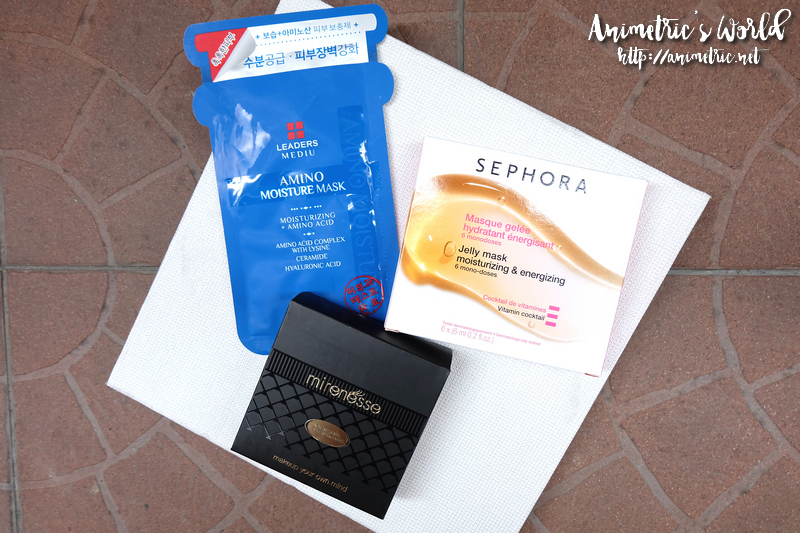 More than makeup, Sephora Philippines carries a wide range of skincare products. For my first ever Sephora Philippines shopping session, I opted for a few skincare essentials.
Yes, Sephora Philippines carries Leaders, my all-time favorite facial mask brand. I got the Leaders Mediu Amino Moisture Mask (P151) since it was something I haven't tried. It's really refreshing, more so since I popped it in the refrigerator a couple of hours before use.
I also got the Mirenesse Eclipse Age Defence Daily Face & Neck Balm SPF 15 (P2,697 — now 20% off so it comes out to P1,876). I never go out of the house without sun protection, especially on my face so I figured this would be nice to have.
It's a unique anti-aging balm in compact form. It's infused with high performance Mineral Sunscreens (not chemical) that protect against UVA and UVB rays. It's actually available in a tinted version, I got the normal version… which is white.
It's a lightweight balm that goes on white but blends away to become colorless.
I patted some on my hand and I was surprised that it dries to a smooth and matte finish. That said, it's a great facial sunscreen for daily use since you can use it alone or under makeup.
I also decided to order the Sephora Jelly Mask Moisturizing & Energizing (P871). It's paraben-free! One box contains 6 doses.
The doses come in these individual capsule packs.
According to the instructions, it's better if you refrigerate them before using.
Opening the pack reveals a golden gel.
One dose is good for your entire face and neck area. I applied generously all over. I felt a cooling and tingling sensation immediately after application. You're supposed to leave it on for 5-10 minutes.
After 5-10 minutes (I opted for 10 mins. so I can maximize the effects), you're not supposed to rinse off the mask. You just wipe away any excess with facial tissue. After 10 minutes there really isn't too much to wipe off because by then most of the mask would have been absorbed by the skin. I really love the instant brightening effect!
What I like about the Sephora Jelly Mask:
It's paraben-free.
It's vitamin-rich, formulated with vitamins E, C, A, F, and provitamin B5.
It's dermatologist-tested and non-comedogenic.
It moisturizes, rejuvenates, and instantly brightens the skin.
It's reasonably priced at around P150 per dose, more or less around the same price as a good quality sheet mask.
All the above products are available at http://www.sephora.ph. To celebrate Independence Day, Sephora Philippines will offer FREE SHIPPING to all orders amounting to P1,300 and up from now until June 17, 2016. Now's the perfect time to shop!
Like this post? Subscribe to this blog by clicking HERE.
Let's stay connected: