What's a Christmas vacation without going out of town? It's quite rare for my hubby and I to have extended breaks and December is one of those times that we can take off with the kids.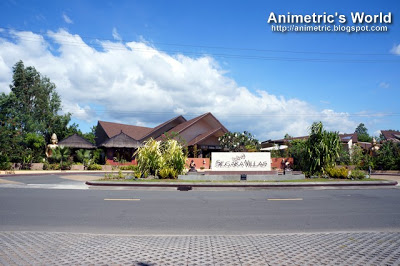 We decided to book an overnight stay at Segara Villas at the Subic Bay Freeport Zone last December 30, 2011. We went on a day trip to Bataan with friends and this was where we were going to crash for the night. Since we made reservations kind of late, we had no choice but to get a Junior Villa for P8,030 net for one night. Regular rooms which they refer to as suites are normally available for P6,000+.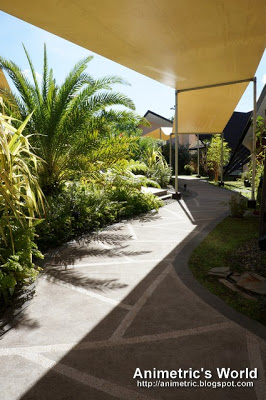 After checking in at the reception area, we made our way to our villa. We followed the covered walks until we got there.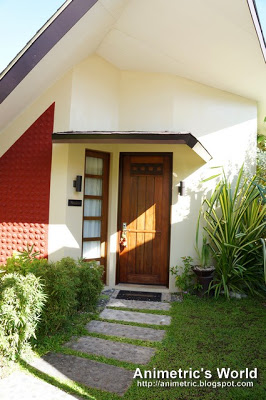 It was called Negara. It looked like a bungalow.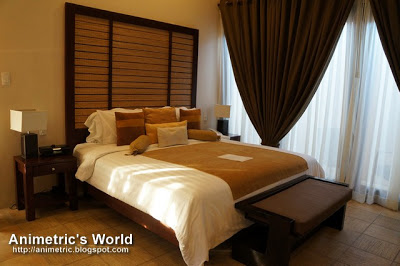 I was surprised by what greeted me when I opened the door — a luxurious-looking California King sized bed with lots of pillows! The bed is very comfy, they say they use 600-thread count linens. It's good the bed is big enough for two adults and two kids.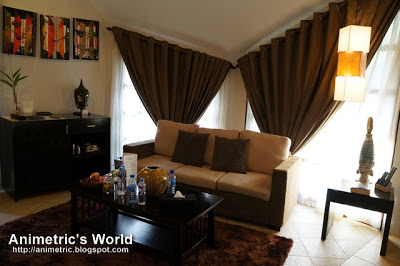 We had our own spacious living room which had two (2) complimentary bottles of mineral water. Shortly after we arrived we were served welcome drinks which consisted of four glasses of apple and mango juices. Some moments later, we also got a couple of egg tarts as our complimentary snack.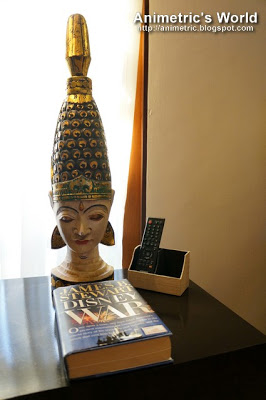 Check out the exotic room decor! Several books are also available in the room for your reading pleasure.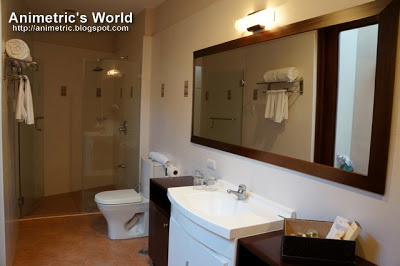 The bathroom is pretty big too.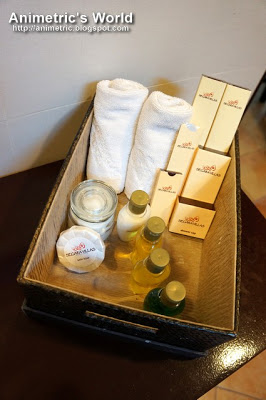 It's equipped with all the toiletries you might need during your stay — soap, shampoo, conditioner, lotion, toothbrushes, combs, cotton buds, etc. There's a hair dryer provided too!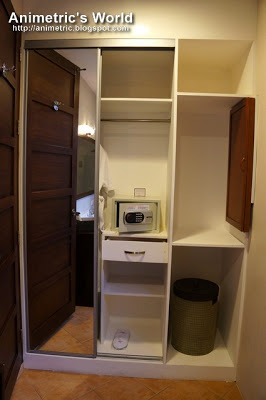 There's ample cabinet space with bedroom slippers and bathrobes. You can use the digital safe to store your valuables.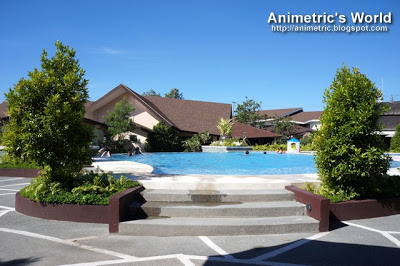 The pool area is lovely!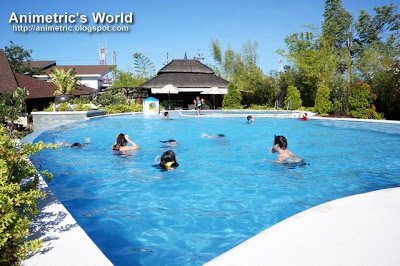 There's a kiddie pool and an adult pool plus recliners with umbrellas around.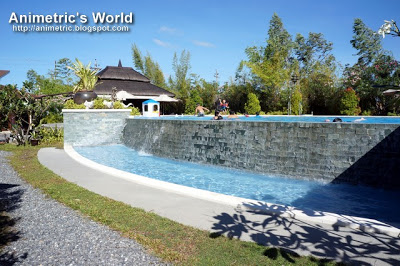 Did I mention it's an infinity pool?
For what we paid we also got:
Complimentary buffet breakfast for two (typical fare like garlic rice, tapa, tocino, ham, corned beef, eggs, cereal, bread, brewed coffee, etc.)
15-minute welcome massage for two (room service!)
Free high-speed wifi internet — our villa had its own router and it was clocking in 3MBps!
Free access to their DVD and board game library
37″ LCD Flatscreen TV with cable service
Complimentary afternoon and midnight snacks
The service during our stay was excellent too. The staff members were all courteous and efficient. If you're looking to spend the weekend in Subic Bay, I highly recommend Segara Villas for a totally relaxing and first class experience. The location is very convenient as well since it's near a lot of duty-free shops, outlet stores, and restaurants. 🙂

Segara Villas
Waterfront Road,
Subic Bay Freeport Zone
http://www.segaravillassubic.com

Like this post? Subscribe to this blog by clicking HERE.Become a Facebook Fan for updates from Animetric's World.