Christmas time is shopping time — shopping for family, friends, myself… lol. It's the season of giving after all. Last week, I dropped by The Park Fashion + Lifestyle Store in Shangrila Mall to check out School of Satchel and Keep Cups. School of Satchel has a booth there where they have all sorts of leather goods on display.
This is School of Satchel's booth. They have Keep Cups there too, but I'll get to that later.
Established in 2011, School of Satchel is a homegrown Filipino brand of handcrafted genuine leather goods. They have bags of different shapes and sizes. They also have accessories like luggage tags, money clips, wallets, and envelope pouches. Everything is made of genuine cowhide leather.
Bag prices start at P3,500 for the small shoulder sling bag. There are also items below P1k, such as the leather envelope pouch which retails for P860. School of Satchel products are super durable and last practically forever. I got to talk to a user while I was there. She has had her bag for 6 years and it's still in tiptop shape.
Apart from leather goods, the School of Satchel booth also has Keep Cups on display. Keep Cup is an Australian brand of barista-standard reusable coffee cups. Keep Cup wants to encourage people to use reusable cups. Honestly the last thing we need is more trash in the form of disposable cups so I fully support this initiative.
There are 3 kinds of Keep Cup: Original, Brew, and Longplay. Original is made of BPA-free and non-toxic plastic. Brew is made of glass. Longplay features a double layer cup which keeps your drink's temperature longer — hot or cold. All Keep Cups feature a hard lid and plug that seals. This keeps your coffee hotter for a longer time. The splash-proof design is safer compared to disposable or open cups. Each Keep Cup also has a thermal non-slip band to make it easy to hold. Keep Cup prices start at around P800.
If you take Longplay apart you will find that it's comprised of 2 cups which nest.
Anyhow, I got my daughter a leather shoulder bag from School of Satchel. We bought one from Zippy a while back but it's so small not even her cellphone can fit inside. This one is just the right size — not too big and not too small. She just turned 13 so this is perfect for her. A bag like this costs around P3,500.
Since I got there early, I got to grab a Star Wars Keep Cup. There were only 2 left due to licensing issues. This is a Keep Cup Brew Glass Coffee Cup inspired by Rey of Star Wars Episode VII The Force Awakens.
The cup's design is based on Rey's costume. It's so cool!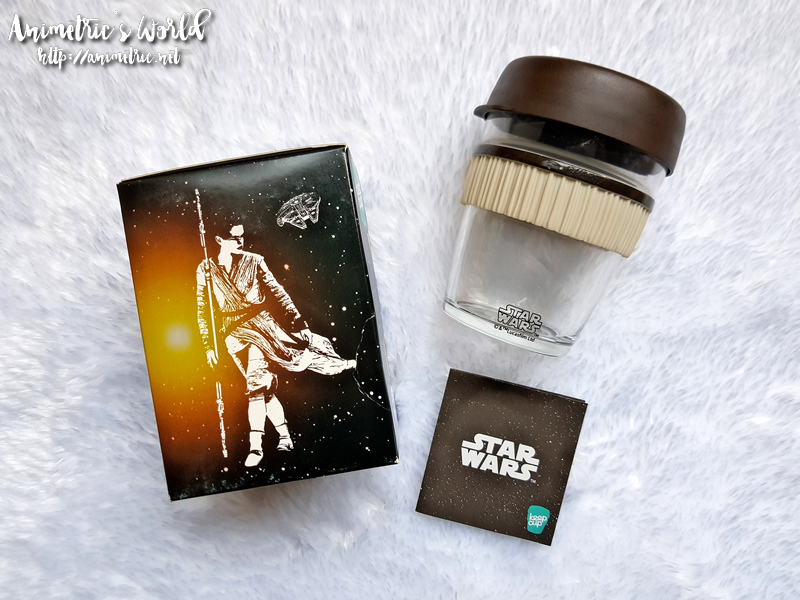 I'm so keeping this as I believe it will be worth something someday lol.
You can purchase School of Satchel leather goods and Keep Cups at The Park Fashion + Lifestyle Store at Shangrila Mall. School of Satchel will be opening their online store http://www.theschoolofsatchel.com soon.
PROMO ALERT: This holiday season, if you buy P5,000 worth of items from School of Satchel, you'll get an 8 oz. Keep Cup for FREE! The promo duration is from Nov. 30 to Dec. 20, 2017. 🙂
Like this post? Subscribe to this blog by clicking HERE.
Let's stay connected: