It's November — less than a month to go before Christmas! What better way to kick off the most wonderful time of the year than with music, lights, fireworks, Santa Claus, and a 50-foot Christmas tree?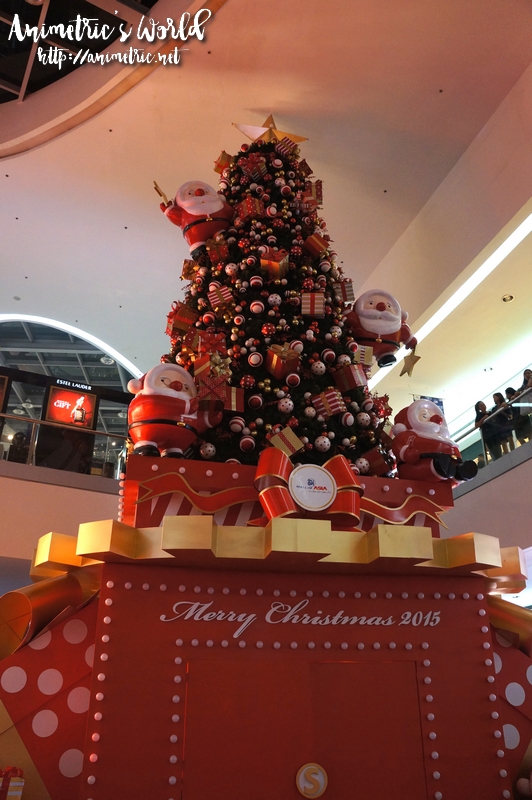 Last Saturday, hubby and I brought the kids to SM Mall of Asia to witness the momentous SM Mall of Asia Christmas 2015 launch. MOA's 50-foot Christmas Tree was going to be lit, Santa Claus was coming over all the way from the North Pole, and the awesome acapella group The Filharmonic (who appeared in the hit movie Pitch Perfect 2) was going to have a homecoming concert!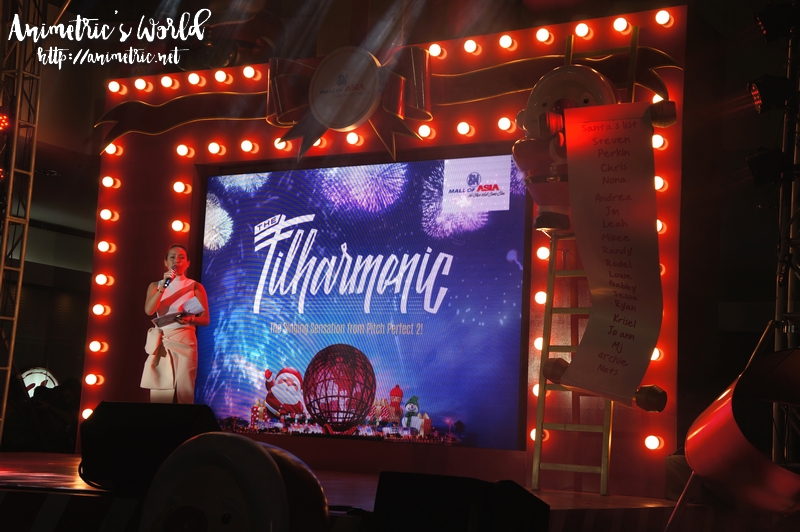 DJ Andi Manzano hosted the event.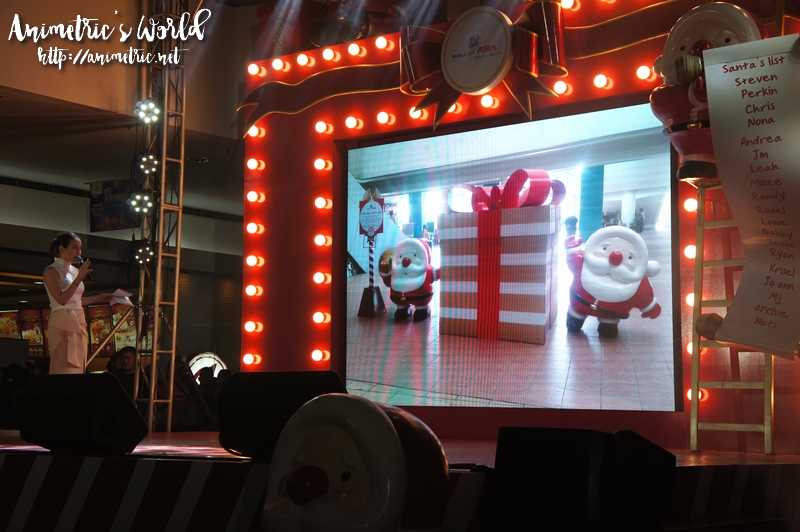 See those cute Santa figures and gigantic gift? They're scattered all over Mall of Asia, and those big boxes actually contain real gifts from Toy Kingdom, National Bookstore, and Watsons which will be donated to several charities.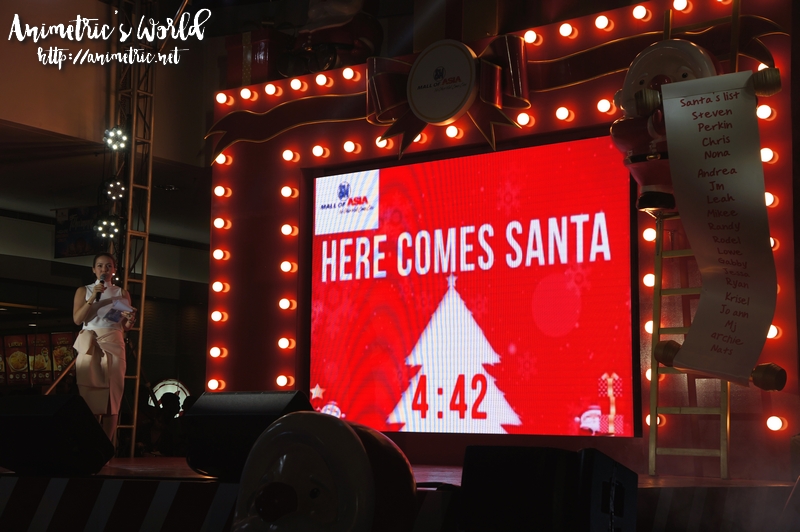 Anyhow, one of the most exciting things that evening was Santa Claus' arrival. We actually had a countdown!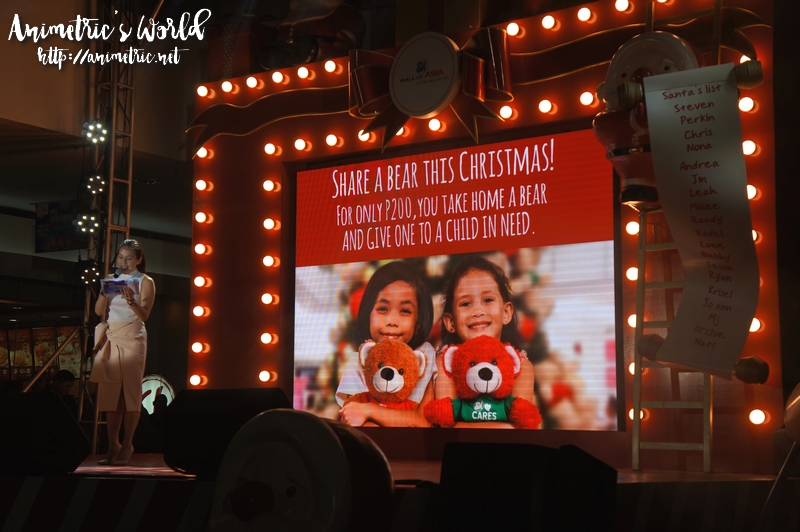 Andi also shared SM Christmas Bears of Joy Program, wherein you get two teddy bears for P200. You get to keep one and donate the other to an underpriveleged child. It's all about the spirit of giving this holiday season! 🙂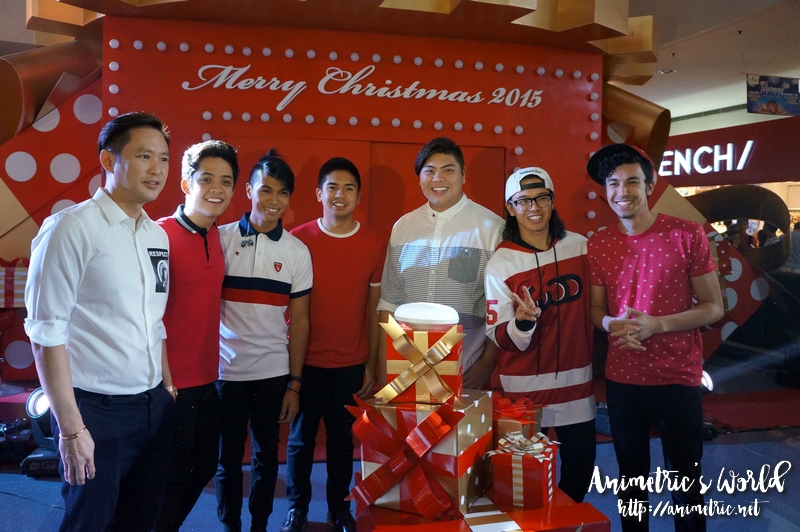 The Filharmonic, a Los Angeles-based Filipino male acapella group who recently appeared in the movie Pitch Perfect 2, took their places underneath the 50-ft. Christmas Tree. They would be lighting it together with Santa Claus.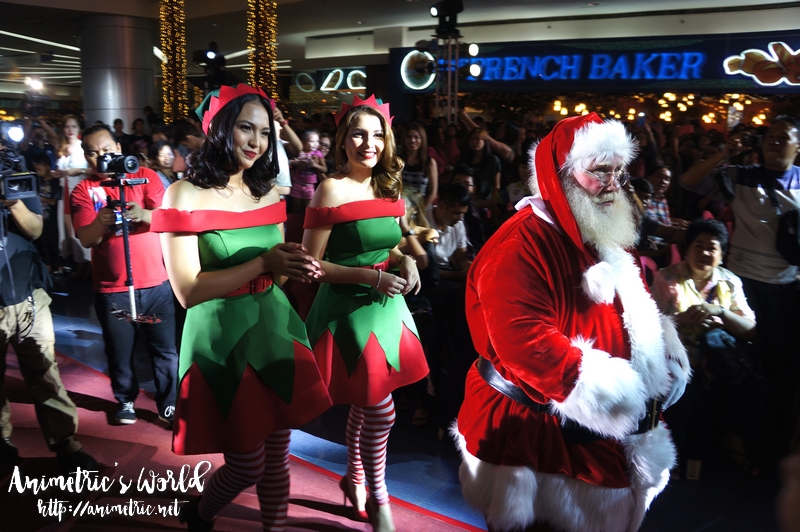 Finally, Santa's entourage arrived!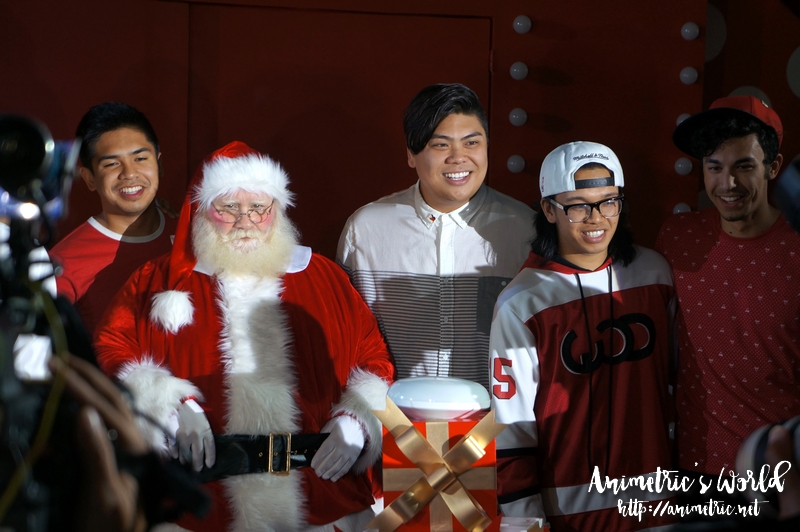 Wow I wasn't expecting such an adorable Santa with rosy cheeks and twinkling blue eyes! He is like all those Christmas posters come to life. I'm speechless, really. He took his place in front with The Filharmonic. They all pushed the button that would light up the Christmas Tree all together!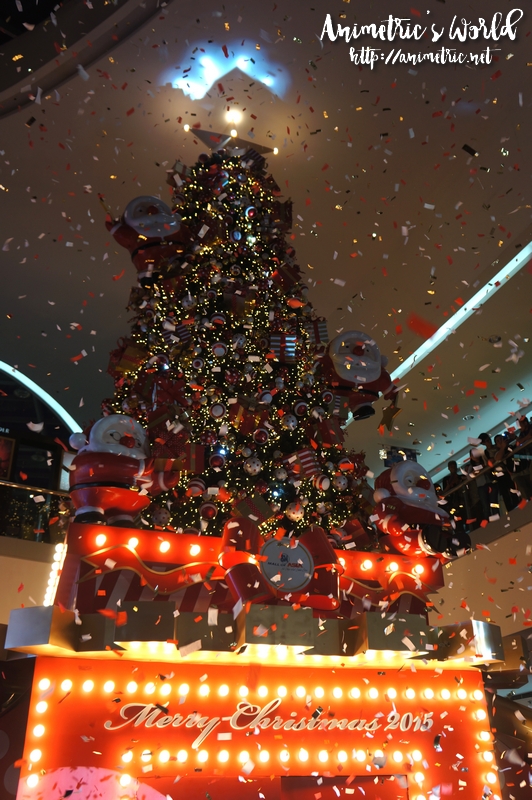 And it's lit! There was a sudden explosion of confetti from all over — the mood was indeed very festive! I could feel Christmas in the air!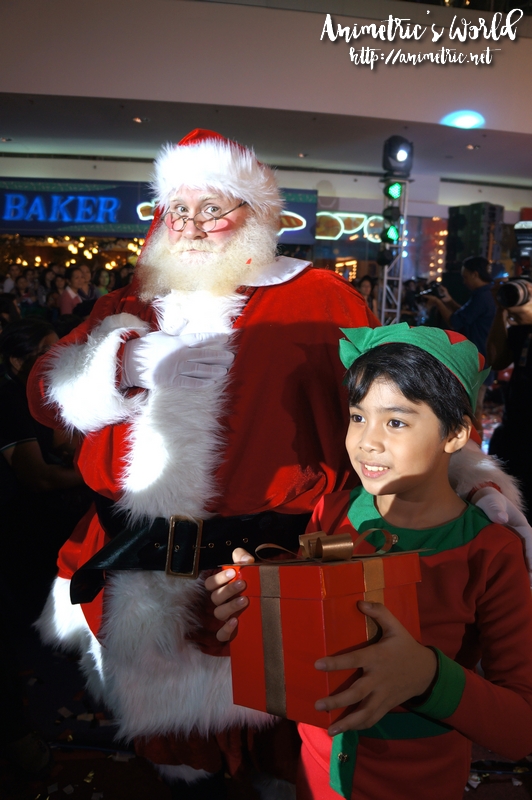 After the Christmas Tree was lit, Santa's elves came out from under the tree bearing gifts for everyone!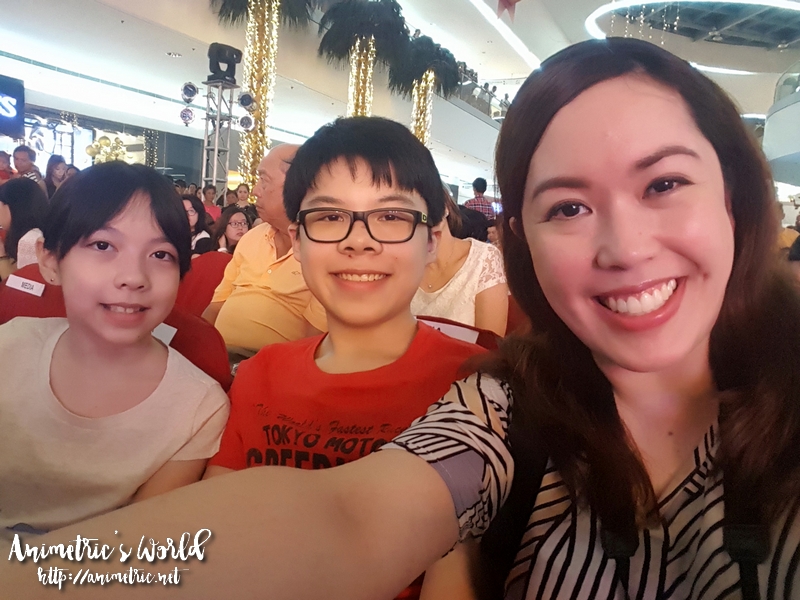 We all got presents from Santa! 😀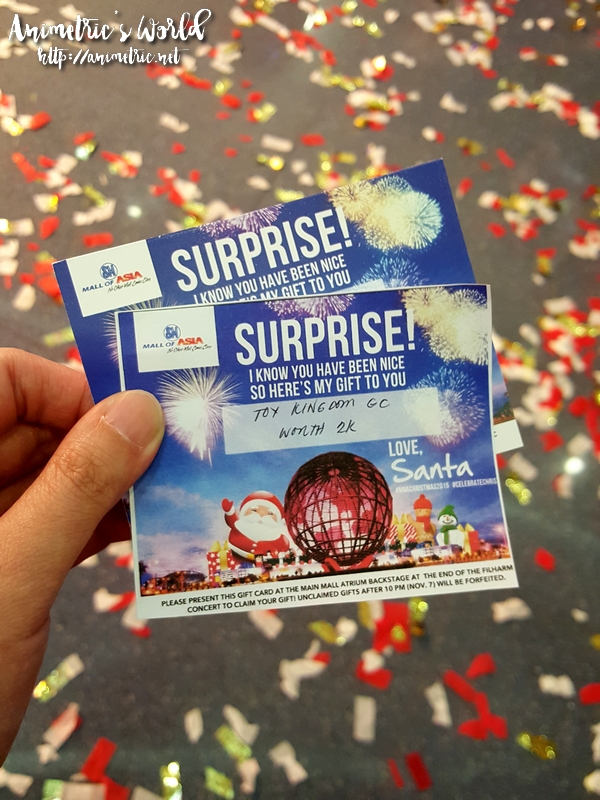 Each box contains a special surprise — we were very lucky as one of our boxes contained a Toy Kingdom GC worth P2,000!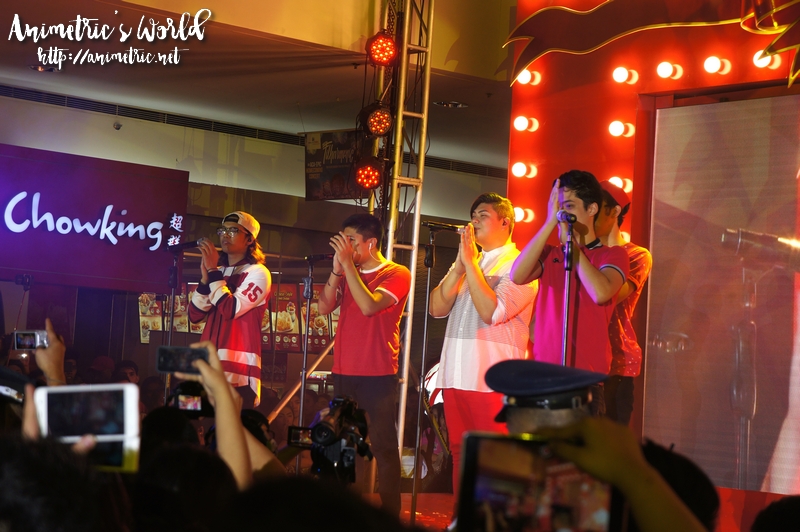 After the gift-giving, The Filharmonic went up the stage to perform. My daughter loves the Pitch Perfect movies and so she was actually excited to see these guys perform live (she first saw them on Pitch Perfect 2). They're really talented — they had the crowd standing and cheering wildly all throughout their performance. They gave their own rendition of Jesse J's song "Flashlight" among others.
Starting November 28, you can get acquainted with your favorite Sanrio characters and Santa Claus in the Grand Festival of Lights Parade. Meet and greet Santa Claus plus send him some Santa Mail for your holiday wishes! You can also watch the pyromusical display alongside the breathtaking view of the bay every Friday and Saturday at 7pm. All of these activities are FREE!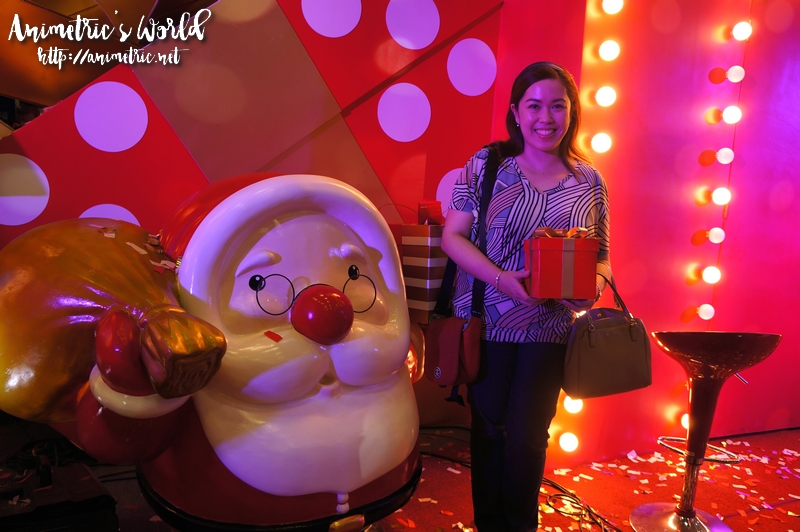 Thank you so much SM Mall of Asia for inviting us!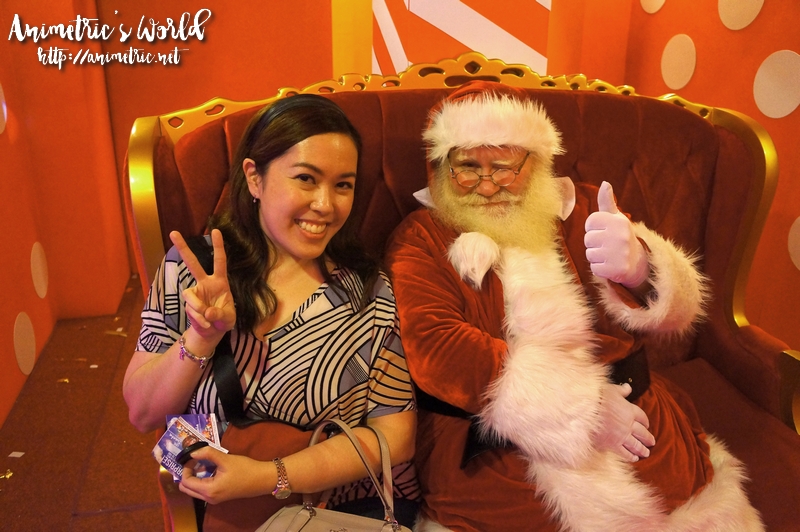 As for me, I already had my moment with Santa! He's so cute! 😀
Don't forget to check out Santa's Very Merry Wonderland at SM Mall of Asia! If you're not feeling the holidays yet, this will surely get you started! 😀
Like this post? Subscribe to this blog by clicking HERE.
Let's stay connected: