One fine day in Los Angeles, we decided to drive to Hollywood and check out Ripley's Believe It Or Not Odditorium. This is my nth time in the US but it's the first time I'm visiting Ripley's.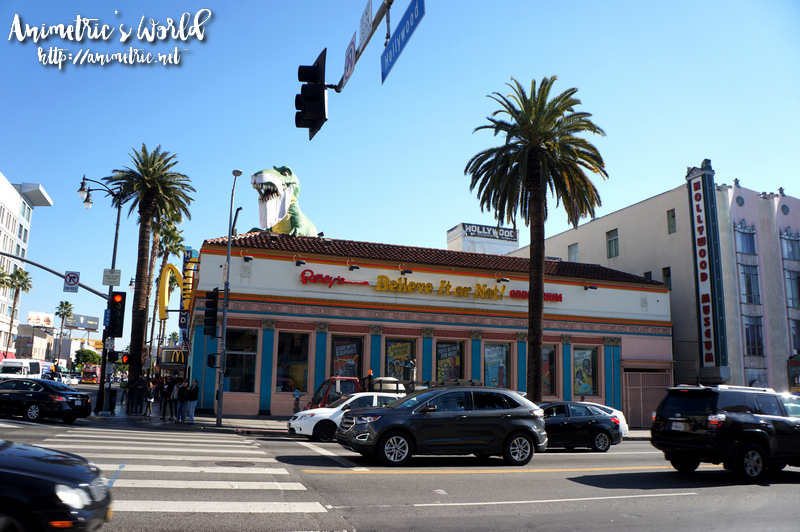 I snapped this photo just before we crossed the street.
Ripley's Believe It Or Not Odditorium is basically a museum of quirky stuff.
I was impressed by what greeted us at the entrance — a moving figure of the world's tallest man, R. Wadlow who stands at 8'11". He is seated at first but when you stand beside him he gets up to show you his actual height. I'm only 5'2″ lol.
This artwork depicting Angelina Jolie…
…is actually made up of these.
We also saw the Cyclops lamb, born in North England back in 1996.
This is an authentic vampire killing kit!
This moving fish sculpture is made of bicycle parts.
There are definitely a lot of unbelievable things to see.
These articles of clothing are all made of candy wrappers.
This wedding gown is made of toilet paper… and it was actually worn by the woman who made it!
There are a number of interactive displays.
This man was born with 4 pupils.
This dude is the heaviest guy in the world.
Here's mom and the kids beside a gigantic castle made of toothpicks!
There's a section devoted to Marilyn Monroe too.
You can stand over the grating and feel a blast of air from underneath, mimicking the effect of Marilyn's most popular photo.
This is an actual shrunken head.
There's a section devoted to Michael Jackson too. This portrait is made of candy!
I think you can finish the entire Odditorium in 2 hours tops… maybe an hour if you're not going to read through the materials too much. I thought it was just okay, not really a must-see but if you're bored and have been to most of the other tourist-y places then go check it out. Admission costs US$14.99 per adult and US$8.99 per child (12 years and below).
Ripley's Believe It Or Not Odditorium
6780 Hollywood Boulevard,
Hollywood, CA, USA
1-(323)466-6335
http://www.ripleys.com/hollywood/
Like this post? Subscribe to this blog by clicking HERE.
Let's stay connected: