Lipstick will always be one of my make-up must-haves. Any makeup look is NEVER complete without lipstick. No matter how colorful your entire face is, without lipstick to seal the deal, it just doesn't cut it.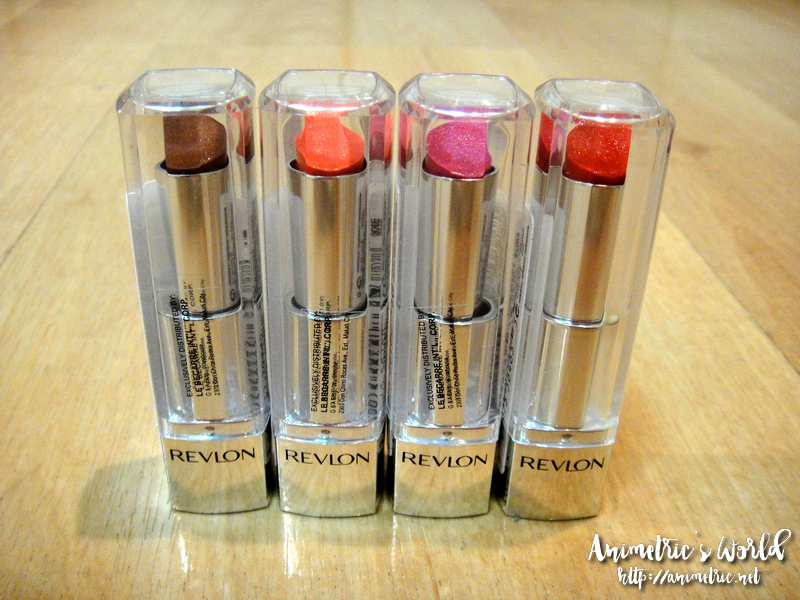 I got first dibs on Revlon's newest lipstick — Revlon Ultra HD Lipstick thanks to Revlon Philippines. I got 4 shades and there are actually 20 to choose from. These lipsticks feature wax-free high-definition gel technology which deliver true color clarity without the heavy feel.
The four shades I got are (from left to right): #899 Snapdragon, #870 Tulip, #810 Orchid, and #875 Gladiolus. Yes, this lipstick line's colors are all named after flowers.
Here are swatches of the shades I got.
#899 Snapdragon (above left) #870 Tulip (above right)
#810 Orchid (above left) #875 Gladiolus (above right)
#875 Gladiolus
Wow, I'm always iffy about red lipstick because most of them make me look old but I do think I've finally found the shade of red which works for me — Revlon Ultra HD Lipstick in #875 Gladiolus.
What I like about Revlon Ultra HD Lipsticks:
They're very smooth and they glide on your lips like a dream.
They feel light on the lips — true to the product promise, you don't feel like there's something coating your lips.
The pigmentation is excellent as you can see from my photos above.
I love the yummy whipped vanilla and cream mango scent!
There are 20 gorgeous shades to choose from!
They last long — I applied it, went to a party, ate and drank, and after all that my lips STILL had color without me retouching.
They're reasonably priced at P575 a piece.
Downside? None really. All the colors are so pretty I want to take them all home, hahaha!

This is a photo of me 6 hours after I applied #810 Orchid — I had dinner and drinks at a party plus I did not retouch but my lips still had color.
The Revlon Ultra HD Lipstick is available at P575 per tube at Watsons and leading department stores nationwide.
Like this post? Subscribe to this blog by clicking HERE.
Let's stay connected: