I got to meet journalist extraordinaire Maria Ressa (also the CEO of the popular online news site Rappler) last Tuesday during the launch of the Rappler x Rexona Do More Awards at Las Flores in Bonifacio Global City.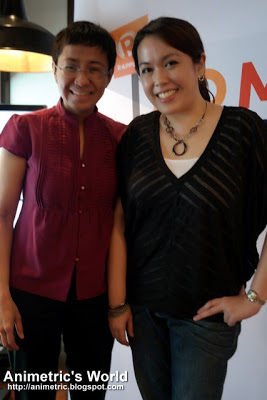 I love how down-to-earth and approachable she is. She makes it a point to know you by name. No airs, no frills, just a downright simple person who does what she believes is right. It was such a pleasure meeting her.

That said, Rappler is really the perfect host for the Rexona Do More Awards which aims to recognize Filipinos who have gone above and beyond the call of duty to do more. According to Maria Ressa, these individuals harness the technology of social movements and push them to change the real world. An example of harnessing the power of social media is the recent #MillionPeopleMarch which started with a single Facebook post.

There are 8 categories open for nominations:
The Challenger – An athlete who, after bringing honor through podium finishes and trophies won is using his/her skills to further bring out positive change.
The Innovator – One who finds solutions, be it in a technological application or a groundbreaking tool.
The Artist – Whether a performer or curator, an artist in fine or street art, he or she must have gone beyond expression to be a source of inspiration.
The Luminary – Someone who has gone beyond his or her celebrity status to excel and explore passions and be lauded for them.
The Social Entrepreneur – An entrepreneur with a conscience. One who has resorted to sustainable methods not only for personal profit but also for social good. Someone who has set up a business to help a community using the resources available. For this, Anna Meloto-Wilk of Human Nature comes to mind. I will definitely nominate her.
The Civic Hero – A person who led or inspired a movement for change, who has influenced both citizens and officials in terms of perspective and social consciousness.
The Digital Trailblazer – One whose influence in social media / the internet is made more palpable by onground initiatives that have brought about a greater good.
The Global Pinoy – A balikbayan or expat who has been actively sharing goodwill and fostering nationalism to the overseas Filipino community.
All the nominees will be screened by a panel comprised of doers like Senator Bam Aquino, Bianca Gonzalez, Carlos Celdran, and Phil Younghusband among others. The top three nominees based on a set criteria in each category will be included in the voting phase. The winners will each receive a cash prize of P50,000 and will be included in the roster of Rexona's roster of Ultimate Doers. They will be recognized during a formal awards night to be held on November 28, 2013.
To submit your nominations, go to http://www.rappler.com/domoreawards.

Like this post? Subscribe to this blog by clicking HERE.
Let's stay connected: