Didi and I went to Robinsons Place Manila last Thursday for the PayMaya x Robinsons launch. We passed by Pompoms on our way to the event. Pompoms is a french fries place which serves up good old-fashioned fries. The potatoes are steamed, frozen, fried, and then double fried. Whew! Oh but the results are so worth it.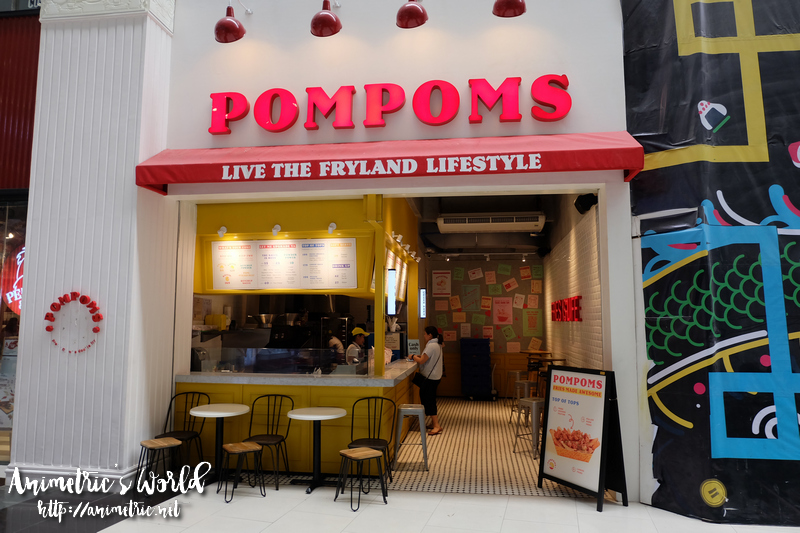 Pompoms is pretty much a french fries stand. They serve nothing but fries, soft-serve ice cream, and drinks.
You place your orders and pay for them at the counter.
I must admit I got confused during the ordering process. I'll sum it up here so you won't face the same problem, lol:
Step 1: Choose your size – Smallin (P99) / Tallin (P129) / Ballin (P169)
Step 2: Choose one (1) sauce or powder – Ketchup Powder / Pom-Pinakurat / Ketchup Sauce
Optional upgrade – Add P15 for one (1) sauce or Add P25 for two (2) sauces. Choose from BBQ, K-Pop, Gravy, Samurai, Garlic Aioli, Signature Mayo, Green Velvet, Pom-Pinakurat, Ketchup.
Optional upgrade – Add P10 for additional powder. Choose from Cheese, Vinegar, Smoky BBQ, Furikake Seaweed, Sour Cream and Onions, Ketchup Powder
Optional upgrade – Add P40 for Four Cheese
Anyway Didi and I ended up ordering Smallin Fries with Ketchup Powder (P99) and Signature Mayo (P15).
We also got Fried Chicken Poutine (P199). It's basically fries with chicken bits, crunchy chicken skin, cubed cheese, and gravy.
Okay, the Smallin Fries with Ketchup Powder was really really good. It's reminiscent of Piknik Ketchup Fries, the difference being these are actual fries and not snack chips. Their Signature Mayo is not the supermarket variety — it's made from scratch (well they did say everything here is made from scratch). I could actually taste the eggs, vinegar, and olive oil in the mayo. Pretty yummy! The Fried Chicken Poutine was just okay. My poutine gravy (I always cook it for the kids) is lots better lol, but I may be biased. Seriously though, it was pretty meh considering it was the most expensive item on the menu. We were more impressed by the Fries with Ketchup Powder.
Overall we quite enjoyed our snack time at Pompoms. Their fries are amazingly crunchy and the powders and sauces are yummy. I think there's more value here compared to say, Potato Corner (which isn't cheap by the way). I just wish they were in Robinsons Magnolia instead of Robinsons Place Manila so I can try the other combinations.
Pompoms
G/F Robinsons Place Manila
Pedro Gil St., Ermita, Manila
Like this post? Subscribe to this blog by clicking HERE.
Let's stay connected: