Now that I can cook, I don't really feel pressured anymore when our helpers take the day off. Eating out has become more of a leisure activity rather than a necessity. I haven't been posting as many restaurant reviews because we've been eating out a bit less compared to before. We used to eat out every time our cook had somewhere to go… and that would happen almost weekly lol.
Anyhow one weekend when I didn't feel like cooking, we found our way to Kapitolyo. We don't visit Kapitolyo much because parking is a problem in most establishments. Hubby was raving about a BBQ place he tried with some guy friends. He said we had to go because it was really good and cheap. That was pretty much how we ended up at Pitmaster's Smokehouse BBQ. It was only hubby, our son, and myself because our daughter didn't feel like going out.
We ordered Pit Nachos (P320 Grande / P200 Solo) to start us off. It's supposedly torched white nacho chips topped with salsa, melted cheese, smoked pulled pork, jalapenos, olives, and kesong puti sauce. It was okay, my main problem with it was maybe half the chips were brittle (makunat). They weren't hot too. When you say torched, I expect the chips to be heated. The toppings were great though.
For our main course, we ordered Pork Ribs (Solo P350 / Half Rack P700 / Full Slab P1,400). We thought Half Rack, which consists of 6 big pieces of pork rib, would be perfect for us. We paired our Pork Ribs with Chimichurri Rice (P50 per serving). The Chimichurri Rice tastes like buttered rice sprinkled with some dried parsley, nothing like the Argentinian sauce it's named after.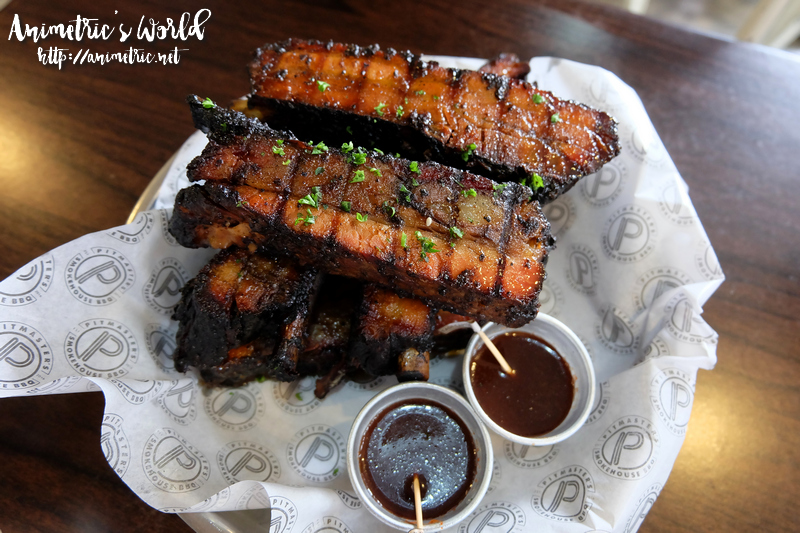 When you order Pork Ribs, you can get two kinds of BBQ sauce to go with it. You have a choice between East Capitol, Hazelnut, and Apple. We chose East Capitol (the bestseller) and Apple.
If I was on the fence with regards to the nachos and the rice, the Pork Ribs made our visit worthwhile. The meat is incredibly tender and grilled to perfection. Every juicy forkful just bursts with flavor. The sauces are really yummy too. We had one rib each with rice and we were stuffed. The pork rib + rice combo is really filling. We ended up taking home the remaining 3 ribs and eating them as ulam during our next meal.
Would we visit Pitmaster's Smokehouse BBQ again? Hell yeah! I loved the Pork Ribs so much I want to give it a go again soon. I'll pair it with other side dishes next time. Service was good. We didn't have to wait long for our food. The place is nice, clean, and cozy too. Parking is limited to 2 cars, after which you will have to double park or parallel somewhere. That's the main problem for me.
Pitmaster's Smokehouse BBQ
64 East Capitol Drive,
Bgy. Kapitolyo, Pasig
616-6719
Like this post? Subscribe to this blog by clicking HERE.
Let's stay connected: