When we went to Pico de Loro two weeks ago, we stayed overnight at the newly opened Pico Sands Hotel. It's located beside the Pico de Loro Country Club — as in it's walking distance.
This is actually the back view of the hotel as seen when walking from the Pico de Loro Country Club. You can go to the Pico de Loro Beach Club via a shuttle you can ride at the lobby.
This is the hotel lobby where the front desk is located.
After checking-in at 12nn, you're given a room key card and a folio card (green card) which you can use to charge all your expenses (food, rentals, etc.).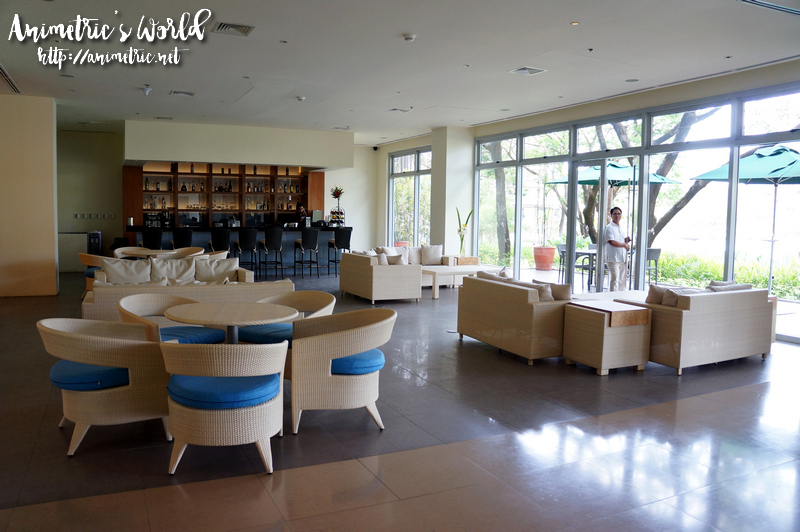 There's a bar area and some lounge chairs by the lobby. This is where the breakfast buffet is set up in the morning.
We got a room on the third floor. I was amused at the potted plants which adorned the hallways.
I requested for a Premier Room with a QQ configuration (meaning 2 queen beds) since there are four of us in the family. There's a small balcony area beside one of the beds as well.
The room is quite spacious and it's equipped with an LCD flatscreen TV.
There's also a study table with a hair dryer.
The bathroom has a sink, toilet, and shower area. Amenities include hand and body towels plus the usual shampoo, soap, shower caps, and toothbrush sets.
There are also complimentary bottles of drinking water.
There's a small refrigerator which is empty so you can keep your own food and drink in it. There's also an electric kettle and some complimentary coffee, tea, creamer, and sugar packets.
You can keep your valuables locked up in the digital safe.
There are a couple of bathrobes and an extra pillow too… no slippers though.
The room is kept cool by a big split-type aircon and the beds are pretty comfy. Prior to this trip, we'd go to Pico de Loro for the day and then drive back to Manila. It's much more relaxing to stay the night now that there's Pico Sands Hotel. All rooms have free wifi internet access. You get free buffet breakfast for two too. There's a spa on the ground floor where you can get massages and treatments which I was not able to visit.
Normally you'll have to be a Pico de Loro member or be with a member in order to book at Pico Sands Hotel but Deal Grocer makes it possible to go and stay on your own. 🙂
Pico Sands Hotel
Pico de Loro Cove, Hamilo Coast,
Nasugbu, Batangas
214-7888
Like this post? Subscribe to this blog by clicking HERE.
Let's stay connected: