I always shop when I go abroad. Always. As I was looking around the Miracle Mile Mall at Planet Hollywood in Las Vegas, I spied a cute little shop called Pandora.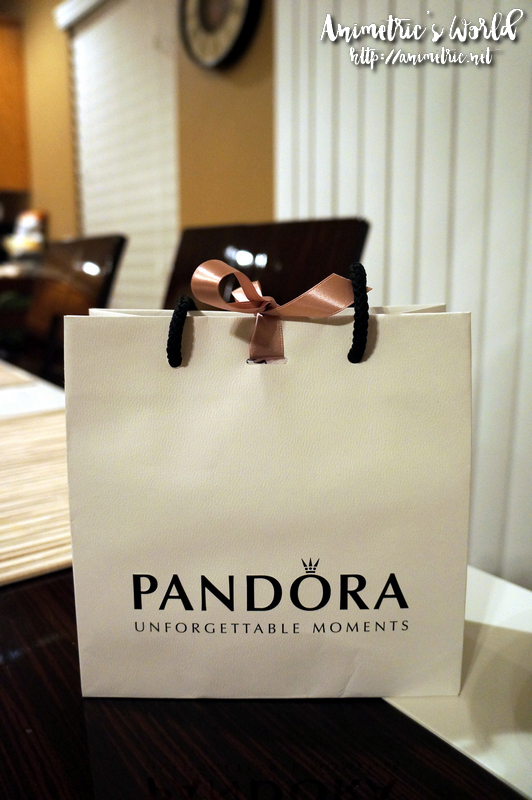 I went inside and was dazzled by the DIY (Do-It-Yourself) jewelry available. You can make your own necklace, earrings, and bracelet. I took home a brochure and spent the rest of the evening browsing through it up until I got to my mom's house. I decided to go back the next day and get myself a bracelet.
I got a starter set consisting of a silver bracelet, 2 clips, and a charm of your choice worth up to US$35. You get the bracelet, 2 clips, and the charm for US$140 (+ sales tax… in Las Vegas that's 8.1%). I read that a silver bracelet alone costs P4,500 in the Manila. If you buy 3 charms, you get P500 off so it costs P4,000. The problem is, charms start at P1,920 in Manila whereas they start at US$20 here in the US. Charm prices range from US$20 to US$100+ depending on what kind you get. US$20 charms are usually just sterling silver. Murano glass charms cost US$35 – US$45. Charms with 14k gold cost the most at over US$100 per piece.
I ended up getting 5 charms because wearing a bracelet with just one charm seemed so… pathetic, lol.
I got a gingerbread man (US$35), a snake (US$25), a murano glass charm (US$35), a die (US$30), and a dangling red heart called Pandora Forever (US$35). My starter set came with the murano glass charm and the prices of the other charms were just added.
Here's a closer look. The die charm is exclusive to Las Vegas and cannot be bought online or anywhere outside Las Vegas so I chose it.
Here's the back view… check out the Pandora lock.
Including sales tax, I paid a little over US$280 (that's about P12k) for my bracelet. It's cheaper here in the US compared to the Philippines since US$140 (about P5,600) can already get you a bracelet, 2 clips, and a charm whereas P4,500 can only get you the bracelet (US$65 here in the US) in Manila. My wrist was fitted prior to purchase too.
I don't think I'll go into hardcore collection mode when it comes to charms but I'll probably grab some occasionally as time goes by.
In the Philippines, you can purchase Pandora jewelry at Adora in Greenbelt 5, Pandora Glorietta, Pandora Newport City, Pandora BGC, and Duty Free Philippines.
Like this post? Subscribe to this blog by clicking HERE.
Let's stay connected: