Since I am now working from Monday to Friday (although on shortened hours), I have less time to cook. I rely on food deliveries to help me out. The kids are at home while we are at work so they need ready-to-heat meals for lunch as well. My latest discovery is Panciteria San Jacinto, located in Quezon City. I'm partial to QC-based vendors because delivery fees are cheaper since I reside in the same city.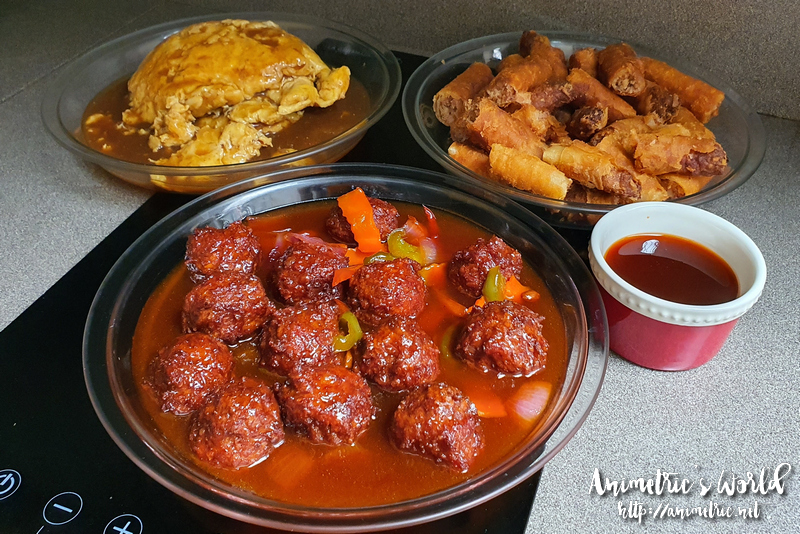 Panciteria San Jacinto serves classic Chinese food. Our household is partial to Chinese food. We've ordered from establishments like Mandarin Sky, Oriental Palace, Luk Foo, Tien Mas, etc. So now we're trying Panciteria San Jacinto. Ordering is very convenient as they have a dedicated website for this.
Anyhow we ordered 4 dishes, starting with our kids' favorite Sweet & Sour Meatballs (P480). The serving portion is pretty big, good for at least 5 people.
The meatballs are hefty and meaty. I had 2 for lunch and it was already very filling, especially since we normally have 2 viands. We actually finished only half of this, the rest we reheated for dinner. Really yummy!
We also ordered Lumpia Shanghai (P480). Like the Sweet & Sour Meatballs, this is good for at least 5 people. We also finished half for lunch, I was able to serve half for dinner. Meaty and very flavorful, I love how crisp the lumpia wrapper is. Dipping sauce is also included.
All that said, you can order 2 viands and have them for lunch and dinner if you are a family of four like us. That comes out to P240 per head for lunch and dinner (P120 per head per meal), so it's reasonably priced.
I also ordered Torta Cangrejo (P300 — P75 per head for us) which is good for one meal for us. This is a big crabcake that is served in special sauce. They use real crab meat so it's pretty good.
This is the San Jacinto Pancit Canton (P480). Honestly, I had no plans of ordering this because I'm not very fond of Pancit Canton. But I was told that this is what they're known for and it's their bestseller.
Surprise, surprise. San Jacinto Pancit Canton turned out to be totally delicious! This is my kind of pancit canton — no liver or innards. There's just chicken and vegetables. Everyone just loved this dish!
All in all, we had a great food delivery experience via Panciteria San Jacinto. Food was well-packed and piping hot upon arrival. Everything was delicious and reasonably priced too.
You can order online at https://www.panciteriasanjacinto.com/. Delivery is via a rider service like GRAB, LalaMove, or Mr. Speedy on account of the customer. Pickup option is also available from their location in Scout Lozano, Quezon City. Payment methods include BDO, BPI, GCash, and PayMaya.
We will definitely order again! 😀
Like this post? Subscribe to this blog by clicking HERE.
Let's stay connected: