I color my hair at home most of the time… mainly because I usually need to cover telltale gray hairs or touch up black roots like every 2 months. It's not practical for me to keep going back to the salon just for those. That said, I'm always trying and buying DIY hair color kits.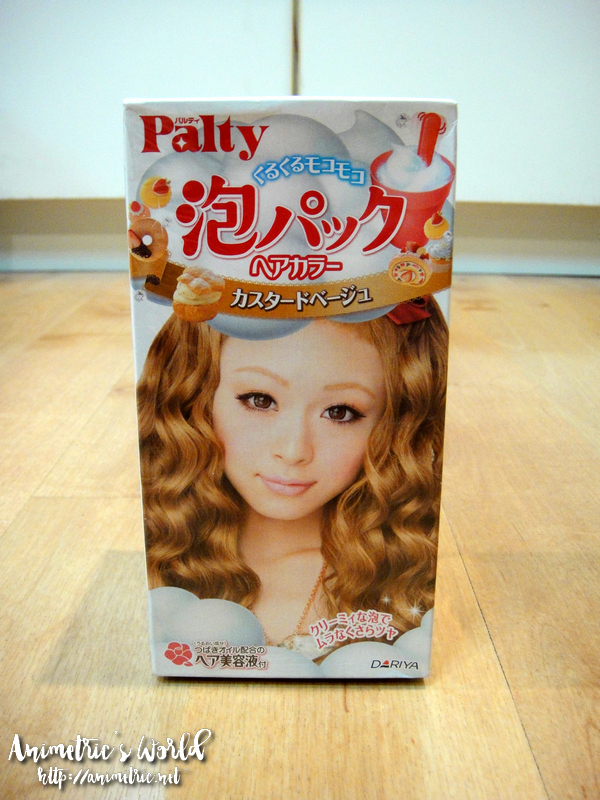 Covering black roots has always been a problem for me. None of the home hair coloring kits I've tried in the past could cover them. I always ended up with two or even three tone hair. That is until I discovered the Japanese brand Palty. Today I'm trying out the Palty Foam Pack Hair Color kit.
This is what's in the kit. Everything's neatly placed inside a plastic cup.
Read the instructions before trying to color your hair.
Before anything else, put on the gloves.
Take the bottle of Base Water Oxide.
Pour the the entire bottle's contents inside the cup.
Empty the tube of Custard Beige Cream into the cup with the Base Water Oxide.
Take the spatula-like thing and use it to mix the Base Water Oxide and Custard Beige Cream.
The mixture should yield this sweet-smelling fluffy white foam. I feel like I'm baking every time I use Palty.
Here are my before (top) and after (bottom) photos. Take note of my black roots, they are completely gone after I used Palty.
I purposely concentrated my hair color efforts on my black roots and there's no sign of them after I rinsed everything off and dried my hair! All the past home hair coloring kits couldn't get rid of my black roots. The kit comes with a sachet of leave-in hair treatment cream which you use after shampooing and conditioning your hair post-color.
What I like about Palty Foam Pack Hair Color:
It's relatively easy to use.
It can dramatically lighten the blackest hair without bleach.
It smells nice. Too nice actually, it reminds me of dessert and I kinda want to eat it hahahaha.
It's the only home coloring kit which has successfully covered my black roots.
There are several shades available.
I find it reasonably priced at P499 per kit.
Downside? I have really thick hair and at shoulder length, one kit was barely enough to cover my entire head of hair. I may get better results with two kits next time. Also this is only good for lightening and changing your hair color but not really for covering gray hair.
Palty Foam Pack Hair Color is available at SM Department Store and Watsons. I bought this from SM Beauty Makati.
Like this post? Subscribe to this blog by clicking HERE.
Let's stay connected: