Guess what I got from Sample Room? It's a sample set of the reformulated Palmolive Naturals Intensive Moisture Shampoo and Cream Conditioner!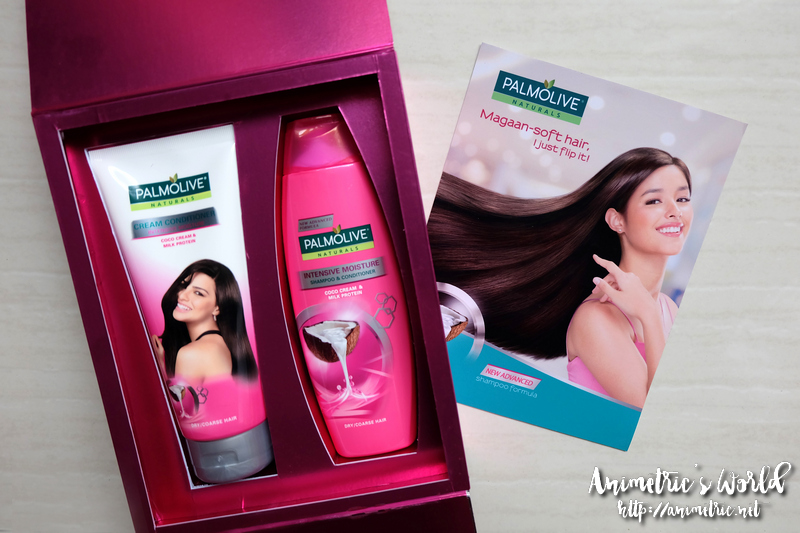 I have to be honest, I was skeptical when I got this. I've tried several Palmolive Naturals shampoo and conditioner variants in the past and so far the only one that's suitable for my hair is Palmolive Naturals Anti-Hair Fall. I tried Palmolive Naturals Intensive Moisture Shampoo and Conditioner earlier on and while it was indeed highly moisturizing, it was also quite heavy. My hair was weighed down. Thus when I saw Liza Soberano's new campaign featuring #PalmoliveMagaanSoftHair, I knew I had to try it again.
Palmolive Naturals Intensive Moisture Shampoo and Conditioner (₱96.50) is infused with Coco Cream and Milk Protein to nourish and moisturize hair. This time though, it also promises to make hair soft and light enough for you to be able to flip it with confidence. This particular variant is for Dry/Coarse Hair — which is my hair type.
The creamy white shampoo has a nice fresh scent that I liked.
It came with a matching Palmolive Naturals Intensive Moisture Cream Conditioner (₱95.20). My hair is the type that ALWAYS needs a separate conditioner because it's so thick, coarse, and dry… chemically damaged too since I always color away the gray. I can never survive with 2-in-1 shampoo and conditioner products.
The conditioner is indeed creamy but also surprisingly water-like in terms of consistency. I took a bath and used the shampoo and cream conditioner right after opening the package and taking product photos.
Verdict? The formulas HAVE changed. My hair felt light and not the least bit weighed down.
What I like about the product:
My hair is pretty tangle-free after washing.
My hair does actually feel soft and light after use.
I love the fresh scent which lasts all day long.
The products are affordable at less than ₱100 each.
Palmolive Naturals Intensive Moisture products are available at leading supermarkets, drugstores, department stores, and convenience stores nationwide. You can also purchase at the Colgate-Palmolive Flagship Store on Lazada.
Like this post? Subscribe to this blog by clicking HERE.
Let's stay connected: