Hi all! Today I bring you CC Cream review no. 8 — and it's for a popular western brand… Olay! Olay Pore Minimizing CC Cream is being heavily promoted at the moment so I just had to see what the fuss was about and if the product lives up to the hype.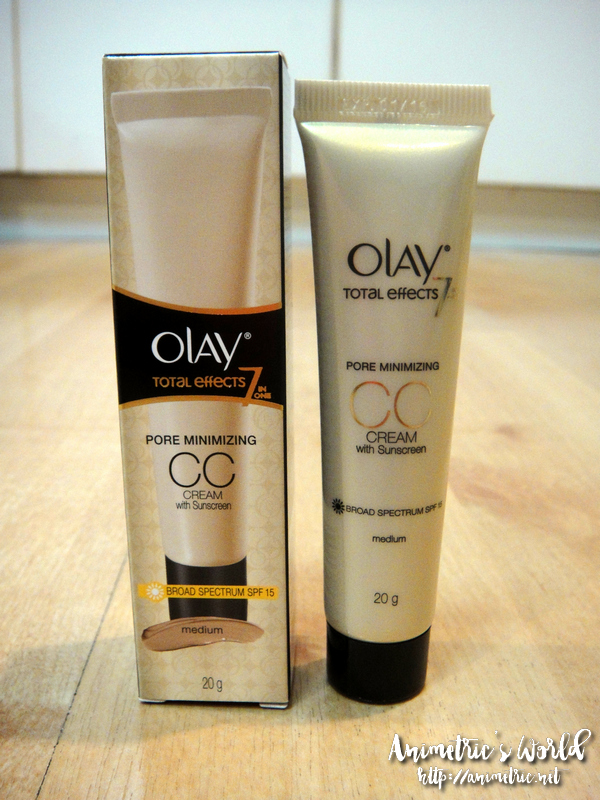 Lucky me I got a smaller 20g tube from an event I attended (as opposed to the usual 50g ones that have been circulating). I have way too many CC Creams and the last thing I need is another big tube of it on top of my dresser! There are 2 shades available, Light and Medium. I was put off by the pinkish-looking Light shade and settled for the more yellow-based Medium shade. If it were up to me, I would've labelled them Caucasian and Asian instead of Light and Medium. I've tried pinkish creams and well, they make my face look ruddy and pink instead of bright and flawless.
As you can see, Medium is not dark at all as many are led to believe. I'm lighter-skinned than most people and it's just about my shade.
Here's the same swatch under natural light. It's kind of light, right?
Here are my before and after application pics. It's a bit dark I think. I may be more suited for the lighter shade… my neck is lighter than my face. I like the glow though.
Olay Pore Minimizing CC Cream was surprisingly easy to apply and instantly brightened up my face.
Here it is under natural light. I love the flawless-looking result.
Here are pics right after application and 8 hours after.
What I like about Olay Pore Minimizing CC Cream:
It's very easy to apply. This product glides across your skin so it's also easy to blend. There's no sticky feeling.
It's sheer and it feels very light on the face.
It brightens up your skin instantly and gives you a glow.
It has SPF 15 so you have sun protection at the same time.
It lightly moisturizes the face so it's nice for the drier -ber months.
It's reasonably priced at P999 for a big 50g tube. Plus you have the option to get a smaller size since there's also a 20g tube for P499.
Downside? Since it's sheer, there isn't much coverage. If you need to cover minor flaws though, concealer and this CC will do. Also, it's not as matte as oily-skinned people would like (but you can supplement with a bit of powder). It's nice for people with normal, combination, and dry skin.
I liked Olay Pore Minimizing CC Cream. I think it's a nice everyday CC when I don't really feel like wearing heavy makeup but want a nice looking radiant face.
Olay Pore Minimizing CC Cream is available for P499 per 20g tube and P999 per 50g tube at all leading department stores and drugstores nationwide.
Like this post? Subscribe to this blog by clicking HERE.
Let's stay connected: