I actually got Nivea Sun Daily Face Fluid Collagen Protect (P220) as a giveaway at the Nivea Sun x Charina Sarte 2012 Summer Collection launch last February. I have something like 3-4 different face and body sunscreens open and in use at any given time so it's only now that I actually started with this one. Hubby was already complaining that we had too many bottles on the dresser so we had to actually finish some first.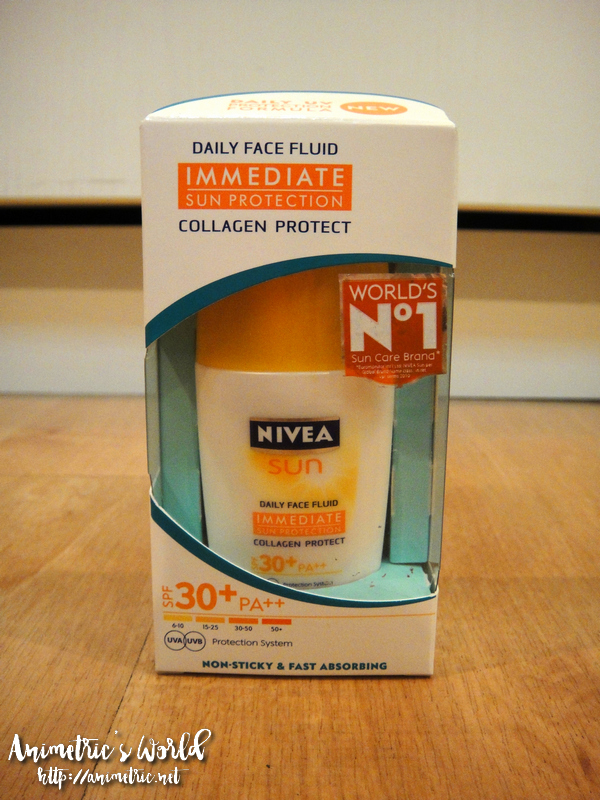 Introducing my newest facial sunscreen, Nivea Sun Daily Face Fluid Collagen Protect.
I like how small and compact the bottle is, I can easily stash it inside my bag and bring it with me.
Since it's in fluid form, the spout is narrow so it doesn't pour out uncontrollably.
Personally, I think fluid is the way to go in terms of sun protection this summer since it's so hot and sticky. Nivea Sun Daily Face Fluid Collagen Protect has a very thin, light, and water-like consistency. It has a mild pleasant scent too.
It's pretty easy to apply.
These are photos of myself before (above left) and after (above right) application.
What I like about Nivea Sun Daily Face Fluid Collagen Protect:
As I've mentioned earlier, the consistency is water-like so it feels very light on the face plus it's non-sticky and non-greasy. In fact it's kind of like skin care because it leaves my face perfectly moisturized after application.
Gives your face a semi-matte and non-shiny finish.
This can be either good or bad depending on you but it whitens your face slightly after application.
It's fast-absorbing so you don't need to apply it 15 minutes before sun exposure. It's effective right after you put it on.
It's very affordable at P220 per bottle!
Downside? If you have dark skin, the slight white cast it leaves behind may be more evident so your face will be a totally different color from your neck. It can easily be remedied by your shade of foundation, BB cream, bronzer, or powder though. Nivea Sun Daily Face Fluid Collagen Protect is absorbed by the skin so well that it's perfect for wearing underneath make-up.
I love this product. It's so perfect for daily use with a climate like ours. I'm definitely repurchasing when I run out. It's good for both oily (hubby) and dry (me) skin too.
Nivea Sun Daily Face Fluid Collagen Protect retails for P220. It's available at all leading drugstores and department stores like Watson's nationwide.
Like this post? Subscribe to this blog by clicking HERE.
Let's stay connected: