Toast Asian Kitchen was the first establishment I visited at Ayala Malls the 30th a few months back. I went back last Friday with a couple of friends to sample their new dishes. My hubby loves this place because it's great for drinks plus the food is good. It's located at the outdoor section of the mall near The Halal Guys and The Coffee Bean & Tea Leaf.
Toast Asian Kitchen has an al fresco area if you want to stay outdoors.
I always choose to sit inside where it's air-conditioned though.
We were served some Yakitori Skewers to start us off — Chicken Gizzard (P59), Chicken Softbone (P48), and Chicken Tail (P59). I don't eat animal innards or anything that's remotely like bones so I skipped this entire course.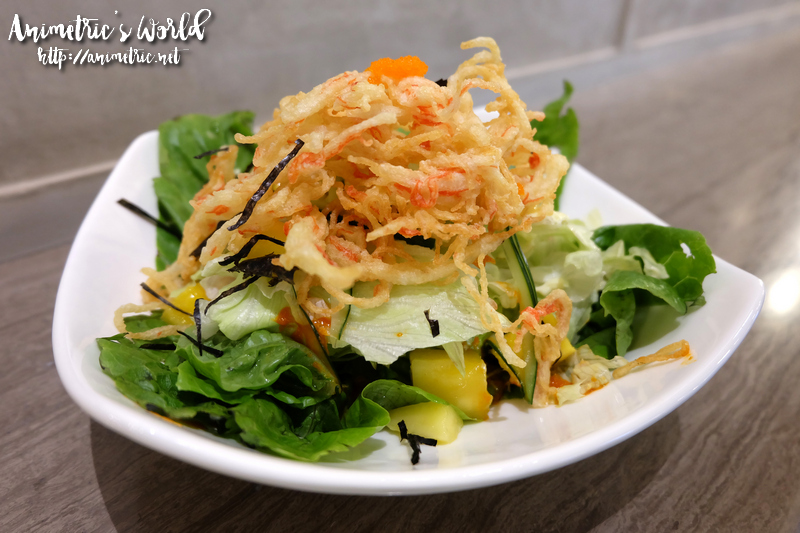 Next up was Krazy Kani Salad (P365). Crunchy kani tempura tops a bed of lettuce, cucumbers, and mangoes. It's drizzled with bibim sauce and Japanese mayo. It's pretty good. I went back 2 days after with the kids and they liked this salad. Wish there was a bit more bibim sauce though.
Then came the Kung Pao Chicken (P375). It's served with steamed rice so it's a complete meal. It's flavorful and not at all spicy. Found myself hankering for more peanuts though.
We also had Salt and Pepper Squid (P339). I really loved how crunchy the squid was. I've attempted to cook calamari at home and for the life of me I can't make them this crunchy. This comes with vinegar on the side.
This is another complete meal — Galbi Short Plate with Kimchi Rice (P549). Loved the kimchi rice and the flavor of the beef + that sauce, wow. My problem is I found the beef too fatty… but some folks (like My Mom Friday) like it better that way lol.
This one's my favorite… Steak Oroshi (P699). Perfectly grilled tenderloin steak pieces are topped with grated radish and ponzu sauce. The citrusy sauce complements the tender meat so perfectly. I can probably finish the entire serving by myself. It's served with rice too.
For dessert we had the Matcha Frozen Brazo (not sure if that's the name as it's not yet in the menu). Layers of super fluffy egg white, green tea ice cream, custard, and a buttery crust make this a delicate and deliciously sweet treat.
Had a lovely weekday lunch out with The Phenomenal Mama and My Mom Friday. Thanks Toast Asian Kitchen for having us! I enjoyed it so much I promptly went back with hubby and the kids earlier today. Love the chill vibe and the excellent food. You really can't go wrong with anything off their menu.
Toast Asian Kitchen
Ayala Malls at The 30th
Meralco Ave., Ortigas Center, Pasig City
2469069 ext. 592
Like this post? Subscribe to this blog by clicking HERE.
Let's stay connected: