Tried out Applebees' delectable new dishes with the family last Saturday. I love it when restaurants make an effort to keep things fresh. They have a whopping 20 new dishes but due to limited stomach space, we were able to try less than half that number.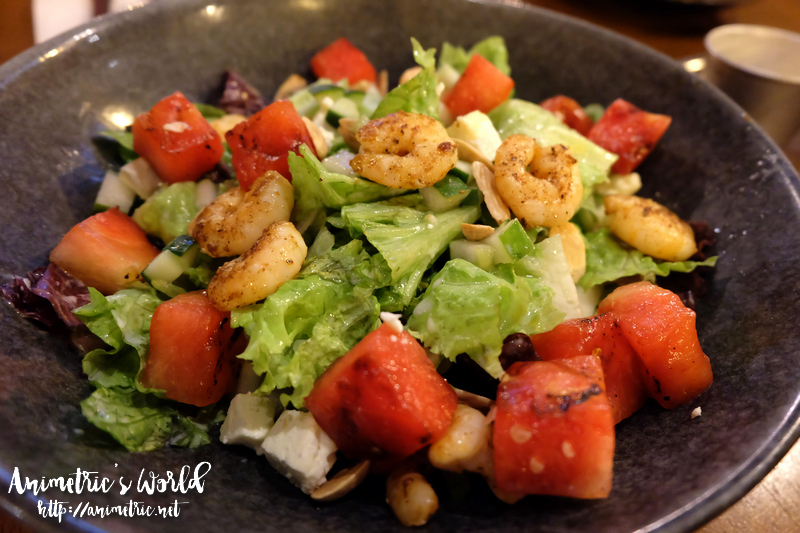 We started off with Grilled Watermelon & Spicy Shrimp Salad (P445 half / P765 full). It's a light and refreshing salad that's perfect for chowing down on hot days (that's like the entire year here in Manila). Mixed greens, diced cucumbers, feta cheese, toasted almonds, spicy shrimp, and grilled watermelon cubes are tossed in a creamy mint yoghurt dressing.
Then we had Bacon Jalapeno Potato Croquettes (P265). Crispy potato balls with bacon, need I say more? It's served with a creamy jalapeno dip on the side.
I originally didn't want to order Fried Sweet & Spicy Pickles (P195) but I'm so glad I listened to our friend Bob. OMG. This is the absoolute bomb. I'm normally the only one in the family who eats pickles but these are out-of-this-world good. They're slightly sweet, slightly tart, juicy, and perfectly crunchy all at the same time. Even my hubby and kids who are usually averse to pickles couldn't stop munching on these. Goes really well with some beer.
Our favorite main dish that day was the Firecracker Shrimp Pasta (P595). It's crispy shrimp and al dente cavatappi pasta in a Sriracha parmesan cream sauce. Cheesy, savory, and slightly spicy, it's so addictively delicious. I'm on a diet and it was so hard for me to stop eating this. Cavatappi pasta is kinda like twirly macaroni but a lot more dense and chewy. It's sort of Applebees' signature pasta as 4 out of 6 pasta dishes on their menu use cavatappi.
We had (well, they had… I had one bite lol) BBQ Beef Brisket Tacos (P545). The beef reminded me of Mighty Quinn's beef brisket. Nice and tasty, plus it's served with fries.
Applebees now has a Local Favorites section in their menu. There are 3 Filipino-themed dishes and we tried out one — Fiesta Pork BBQ Liempo (P495). Succulent pork belly steaks are drizzled in sweet savory Asian BBQ sauce with colored tortilla strips. It's served with Mexi-Rice and pico de gallo on the side.
For dessert, the S'mores Creme Brulee (P375) is a must-try. This chocolate creme brulee has a rich deep chocolate taste that's just hard to beat. I like it better than regular creme brulee. The toasted marshmallows on top are a nice touch.
The Banoffee Cheesecake (P350) is also yummy. Creamy toffee cheesecake on a coffee graham crust is drizzled with dulce de leche and hot fudge sauces. It's topped with crunchy banana chips too.
We had a lovely Saturday afternoon at Applebees Eastwood City. We were able to try less than half of their new dishes so we'll surely be back! 🙂
If you do drop by, I highly recommend the Fried Sweet & Spicy Pickles, Firecracker Shrimp Pasta, and S'mores Creme Brulee.
Applebees Grill and Bar
Eastwood Citywalk 1, Libis,
Bagumbayan, Quezon City
Like this post? Subscribe to this blog by clicking HERE.
Let's stay connected: