Last December when our cook went on vacation, we would always order food for delivery or go out to eat. One of the places we went to was MyThai Kitchen at Il Terrazzo.
MyThai Kitchen is actually owned by the same group who owns Pho Hoa and Jack's Loft. That said, you can order food items from the Jack's Loft menu here.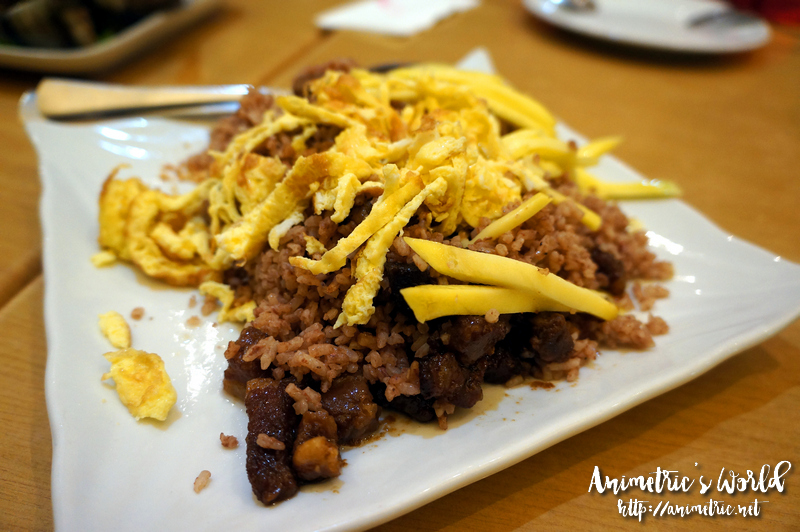 We ordered Khau Kluk Gapi (P230), which is better known as Bagoong Rice. It's rice cooked with shrimp paste then topped with sweet pork, sliced scrambled eggs, and strips of green mango. Surprisingly, my picky 8-year old daughter liked it and actually kept eating it.

Then we had Gai Hor Bai Toy (P235) — pieces of chicken wrapped in pandan leaves. It was okay but then our cook makes really aromatic and tasty pandan-wrapped chicken so we were not very impressed with it.
Next up was Pak Bong Fi Daneg (P145) or spicy stir-fried kangkong. We all liked this dish so much we finished it right away. We told the server to tell the kitchen to tone down the chili because the kids might not be able to take it and it came out just right — flavorful and garlicky, just the way we like it!
Another kid friendly-dish is Pla Tod (P205) or crispy fish fingers with green chili dip. I wasn't expecting anything great but it turned out to be pretty good! The yummy dip goes so well with the crunchy fish. Despite what the sauce is called, it's not spicy.
We also had Pad Thai Noodles, unfortunately I was unable to take note of the price when I was there. I found it a tad too greasy and sweet.
We had a second rice dish, Khao Pat Sapporot (P240) or Pineapple Fried Rice, since there were five of us and one order of Bagoong Rice wasn't enough. It was just okay… nothing special. I didn't really taste the pineapples.
For dessert, my son picked Klaul Tod (P120) which is crispy fried bananas with a scoop of vanilla ice cream. Again, it was okay.
While I would not go as far as proclaim it as an authentic Thai restaurant, My Thai Kitchen does offer decent and hunger-satisfying food for sharing at reasonable prices. We went home so full that we could not even make space for a glass of Gongcha after dinner when it was located just a floor above.
MyThai Kitchen
G/F Il Terrazzo
Tomas Morato cor. Sct. Madrinan St., Quezon City
Like this post? Subscribe to this blog by clicking HERE.
Let's stay connected: