Hubby and I were invited to visit My Singapore Food Street in SM Megamall a little over a week ago. My Singapore Food Street offers affordable dishes which you'd usually find in hawker stalls along the side streets of Singapore.
It features a fast food-type setup wherein you order and pay at the counter.
We were given a chance to go inside the kitchen and see how the food is prepared. How cool is that? 😀
Everything was very clean and orderly.
They cook the Hainanese rice in this big rice cooker. It smelled so good!
This is where they assemble your orders.
Tadaa! You have your Roast Style Chicken Meal (P220) — it's served with a bowl of hot soup and a variety of sauces.
We also watched a brief demo of tea "pulling". Pulling simply means mixing all the ingredients together using the motion above. He's making the Singaporean drink Teh Tarik here.
The place is pretty big and can accommodate a lot of people.
Yes, we got to try the Teh Tarik (P75)! It's tea with sweet milk and you can have it hot or cold. We loved the light and subtle brew. It was actually refreshing to drink, definitely much better than the powdered variety I buy for home consumption.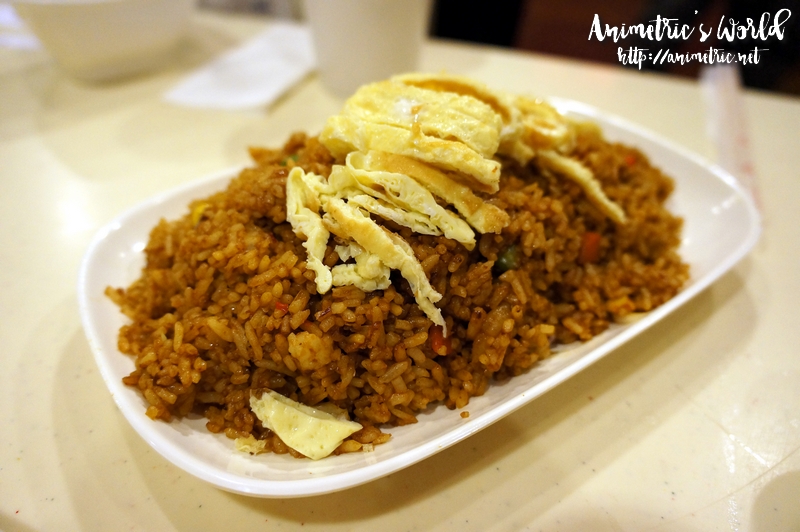 Nasi Goreng (P175) is something I always order whenever I eat at a Singaporean place. My Singapore Food Street's version has garlic, cabbage, red onions, carrots, green peas, sweet corn, shrimps, and sambal chili. Everything is cooked in dark soy sauce and then topped with scrambled egg. It's tasty and very filling, I suggest ordering this for sharing if you want to sample other dishes.
Satay Chicken or Satay Pork (P140 for 4 pcs / P210 for 6 pcs / P280 for 12 pcs) goes very well with Nasi Goreng. Satay is served with peanut sauce.
Everyone found it a tad too spicy but I actually enjoyed the Laksa (P220), noodles in coconut milk-based soup topped with fish cake slices, baby prawns, beansprouts, and hard-boiled egg. It was quite comforting for me.
You can have your chicken meal exactly the way you want it as you can choose between Roast Style and Hainanese Chicken (steamed). Both kinds are flavorful and tender, yum!
The Black Pepper Beef (P150) was a surprise to me. The beef was very tender and well, peppery, lol. I didn't expect to like it but I did! It goes very well with plain rice since the beef is quite strong in terms of flavor.
We had another noodle dish, this time without soup, in the form of Char Kway Teow (P210) — stir-fried flat noodles with beansprouts, fish cake slices, squid balls, red onions, garlic, shrimp, and egg cooked in dark soy sauce. It's kind of like the noodle version of Nasi Goreng except that this actually kinda reminded me of pancit canton when I had some — especially when I sprinkled a bit of calamansi on the noodles which was served on the side.
For dessert we each had a small bowl of Mango Tapioca (P70) — fresh sweet ripe mango slices on top of coconut-cream and tapioca balls. I liked the flavor contrast between the sweet tart mango and the creamy coconut.
Overall we enjoyed dinner at My Singapore Food Street. Prices are very very reasonable (affordable in fact!) and everything is made the old-fashioned way from scratch using good quality ingredients (some of which are imported from Singapore). I was also impressed by their clean and orderly kitchen — you can even watch them prepare the food from the glass windows when you pass by outside. They have free wifi internet access too. This is definitely a better and healthier alternative to processed fast food meals!
My Singapore Food Street
2/F Bridgeway SM Megamall
Julia Vargas Ave. cor EDSA, Mandaluyong City
470-4546
Like this post? Subscribe to this blog by clicking HERE.
Let's stay connected: