When I first posted about Mien San Noodle House, some of my cousins and friends suggested that I try the Spicy Wanton when I go back. Since Mien San is very conveniently located plus my hubby and I love the food there, it's automatically one of our options when we want to grab a snack.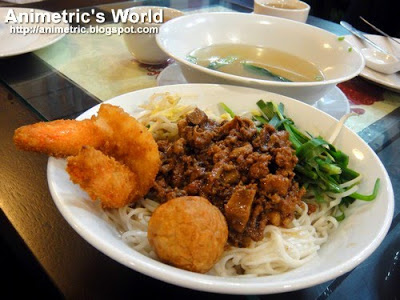 On one such snacking trip, we decided to deviate from our usual Fried Pork Chop Noodle and Steamed Kutchay Dumplings combo. Hubby had Taiwan Style Dry Noodle (P128, pictured above). Thin rice noodles are topped with a mix of ground pork and minced mushrooms. It also comes with one breaded shrimp, one deep fried shrimp ball, bean sprouts, and green onions. Although it's supposed to be dry, it's served with a bowl of clear soup. Hubby said it's pretty good. 🙂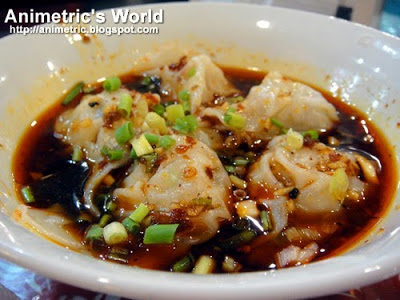 I ordered Spicy Wanton (P78 for 6 pieces, pictured above) — steamed meat dumplings submerged in sweet-spicy-sour sauce sprinkled with minced green onions and chili. It's mind-blowingly good. I can't get over the delicious sauce. The flavor just explodes in your mouth and even if it's spicy I couldn't help sipping some of it with my spoon.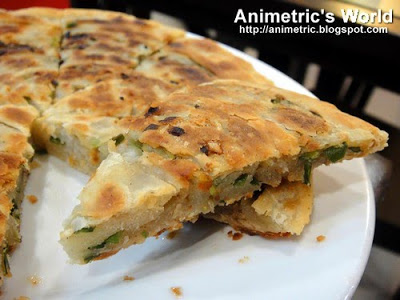 I also ordered Onion Pancake (P65, pictured above). It's a small and lightly pan-fried pancake sliced into 8 wedges. It goes very well with the sweet-savory dark soy based sauce that it's served with. It's kind of heavy though despite its small size. I can only finish 2 slices in one sitting tops, so it's definitely for sharing.
Food is generally inexpensive, of good quality, and delicious, just like the way it is in Taiwan. The only problem with Mien San Noodle House is the limited parking. We usually visit at an awkward time that's neither lunch nor dinner so we can park in peace.
Mien San Noodle House
Granada St., Bgy. Valencia,
New Manila, Quezon City
721-5794 / 723-0558

Like this post? Subscribe to this blog by clicking HERE.
Let's stay connected: