I witnessed something really awesome yesterday. World renowned artist Manuel Baldemor collaborated with a brand for the first time! Just to give a brief backgrounder, MBaldemor is famous for his geometric paintings. I'm pretty sure you've already seen his works because UNICEF has been using them on their greeting cards for many years now. But MBaldemor has a series of floral paintings too… and you can actually own a piece of them through the bags in the MBaldemor x Beabi Floral Symphony Collection.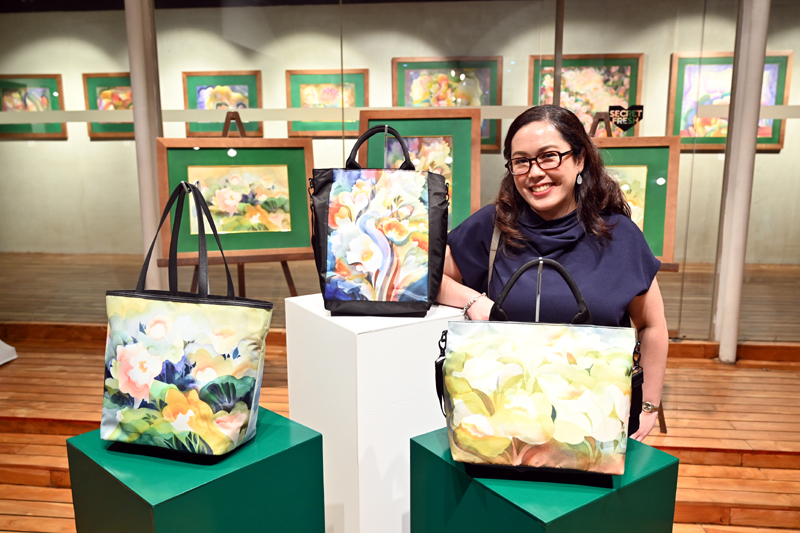 Beabi is a local lifestyle concept that has been providing Filipinos with multi-functional travel and storage accessories for the last decade. This collection is very timely because it's also a celebration of Beabi's 10th year. The MBaldemor x Beabi Floral Symphony Collection is comprised of 3 bags featuring MBaldemor's floral paintings. Each bag retails for P2,495. They are limited edition, with only 500 pieces of each design produced. Availability is until stocks last. The least expensive MBaldemor floral painting I've seen is around P65,000… so now, everyone take a piece of his art home with these bags.
Amazing Grace
Flowers Are A Joy Forever
Flowers Speak From The Heart
My bag of choice is Flowers Speak From The Heart. I had the artist sign my bag too, yay!
Mr. Manuel Baldemor was really warm and accommodating. He patiently signed everyone's bag! Problem is, I don't know if I can still use it because I don't want to ruin my piece of art.
This is definitely the design for me! This particular floral print goes well with the colors of my existing clothes and I like the bag's shape.
Reunited with the 2 Michelles — My Mom Friday and Xoxo Mrs. Martinez.
The MBaldemor x Beabi Floral Symphony Collection is now available at all Beabi stores nationwide. You can also purchase their products from the Beabi Flagship Store on Lazada.
Like this post? Subscribe to this blog by clicking HERE.
Let's stay connected: