I got a set of Maybelline Rosy Matte lipsticks for review a while back. When it comes to lip color, I've always preferred rose and plum shades. I like coral, peach, and orange shades the least.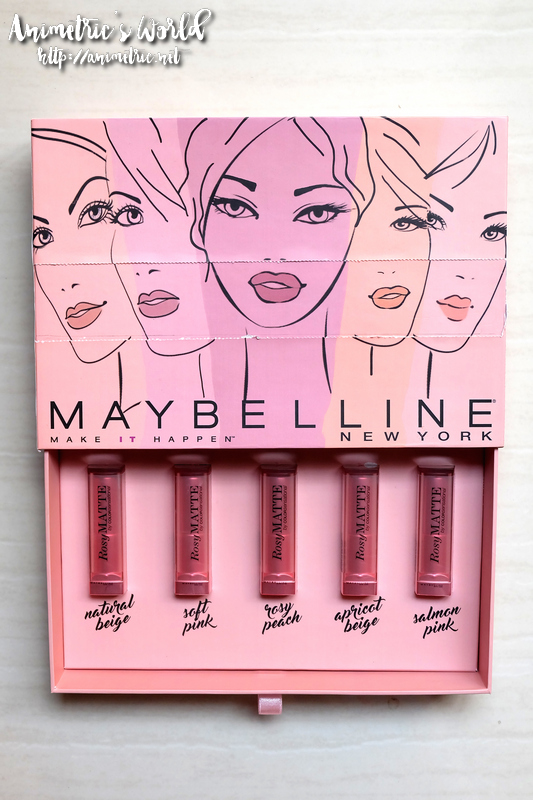 The set contained five (5) Maybelline Rosy Matte shades: Natural Beige, Soft Pink, Rosy Peach, Apricot Beige, and Salmon Pink.
A girl can never have too many lipsticks. In fact during my recent trip to Malaysia, I chose to spend what little time we had to shop in Sephora where I bought even more lip color, lol!
Judging from the swatches, I can already tell which shades will suit me best.
When I compare the shades side by side like this, it's easy to see which ones are more flattering.
Natural Beige (left) and Soft Pink (right)
Rosy Peach (left) and Apricot Beige (right)
I wanted to put this beside the other shades but being the fifth color, it couldn't really fit in.
Last but not least is Salmon Pink!
Can you guess which one my favorite is? I'm torn between Soft Pink and Rosy Peach! What do you think?
What I like about Maybelline Rosy Matte Lipsticks:
These are super affordable at P299 each.
They're highly pigmented and the colors look solid in photos.
They're smooth and easy to apply.
There's something for everyone in terms of shades.
They're not drying.
Downside? They're not really that matte, there's still a subtle sheen on my lips when I use these. For the price though, I'm not complaining.
Maybelline Rosy Matte Lipsticks are available at all Maybelline counters nationwide at P299 per tube.
Like this post? Subscribe to this blog by clicking HERE.
Let's stay connected: