Prior to trying on Kanebo Freshel BB Cream at SM Department Store, I've never used BB Cream. I don't even know what it is or what it's for although I've seen a lot of raves about it online. Well, BB Cream stands for Blemish Balm. It provides light coverage (useful for hiding minor flaws) similar to foundation but it usually has moisturizing properties and sunscreen protection as well. This is officially my first BB Cream review, featuring Maybelline Clear Smooth Minerals BB Cream.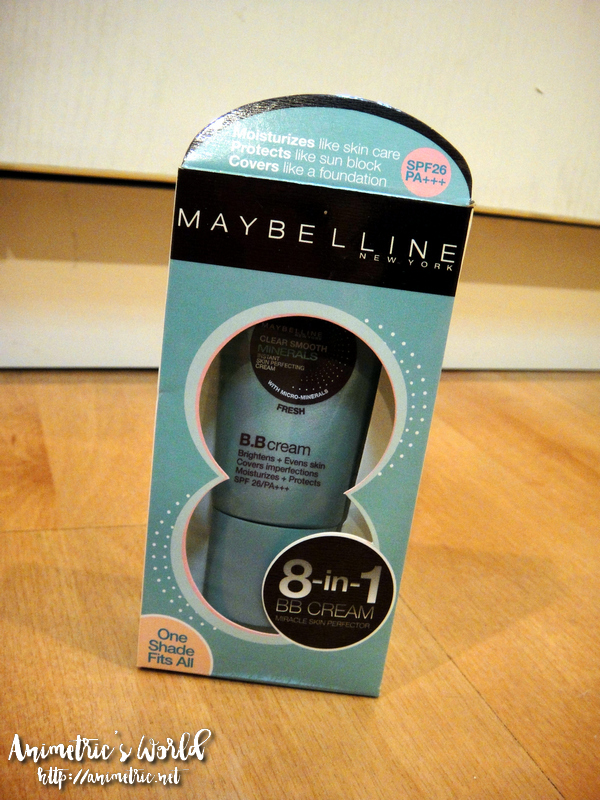 I was supposed to buy Kanebo Freshel BB Cream but it was out of stock so I had to place a special order. In the meantime, I've been using Maybelline Clear Smooth Minerals BB Cream.
It's an 8-in-1 BB Cream. It uses eight different minerals to help you achieve brighter, smoother, and more even toned skin. It moisturizes and provides sun protection with SPF 26 PA+++. It also provides coverage similar to foundation.
At the moment it only comes in one rather light-colored shade, which according to the box is for all skin tones.
Luckily it's quite close to my own skin color. To be honest I don't think this will be suitable for those with darker skin because it will make the face too white.
Note how much coverage it provides. My hand is not exactly the best model for it hahaha.
Anyhow this it how it looks on my face. It does deliver on its promise of brighter, smoother-looking, and more even-toned skin. I love the instant effect. I now understand why everyone is going crazy over BB Cream. It feels a lot lighter compared to foundation yet you get a similar effect in terms of coverage.
I have oily combination skin and so one of my concerns was making it worse upon applying BB Cream. This photo was taken around 5 hours after I applied BB Cream. I did get shiny somewhere in between (this product does NOT control oil) but all I had to do was pat on some facial tissue once over and I was good to go. Maybelline Clear Smooth Minerals BB Cream would be perfect for those with normal, combination, and dry skin. It can be used by those like me too who are on the oilier side but make sure you tote along some facial tissue or oil-blotting paper.
Maybelline Clear Smooth Minerals BB Cream is available at department stores and drugstores nationwide for only P249. Very affordable compared to other BB Creams!
Like this post? Subscribe to this blog by clicking HERE.
Let's stay connected: