Sorry I was delinquent yesterday! I was unable to post because I had to travel with hubby to two different city halls to pay real estate taxes. Traffic being what it is, we spent most of the day in the car! Anyhow, the last BB Cream I reviewed was Etude House Precious Mineral Any Cushion last October. That was officially my twentieth BB review. After more than a month, I'm finally uploading my 21st for Maybelline Clear Smooth BB Stick (P249).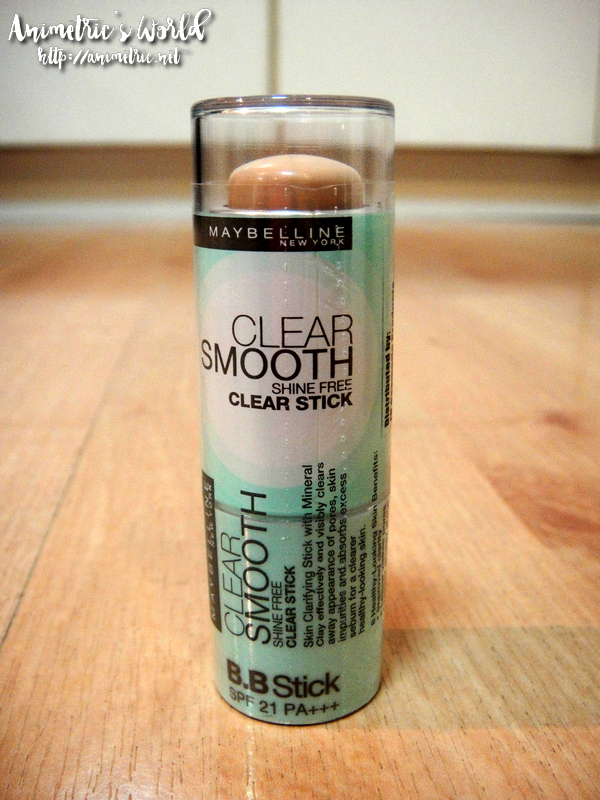 This is my first BB in stick form. I had no idea what to expect.
I like how handy it is in terms of size and packaging.
It looks so much like concealer that I kind of expected it to be thick and heavy like concealer.
I got shade 01 Fresh, I know there's a darker shade called Natural.
Fresh seems to match my skin tone.
Once blended, it's gone! I was surprised at how light it is in terms of texture — it's nothing like concealer.
So anyhow, here are my photos before and after application — instant brightening, as usual, haha!
So anyhow, I've been reading about this product online and it promises 12 hours of shine control. The photo above left was taken at 9:30am right after I used the Maybelline Clear Smooth BB Stick, while the photo above right was taken at 4:30pm, a full 7 hours after my initial application. I didn't blot or powder my face at any time. Look how shiny it is — even more so in person. So no, unfortunately, it did not keep me shine free for 7 hours so I don't think it can do 12 hours in my case. Still, I actually liked the product.
What I like about Maybelline Clear Smooth BB Stick SPF 21 PA+++:
It's surprisingly easy to apply the product. I put a horizontal line in the middle of my forehead, a vertical line on my nose, and diagonal lines from my nose to my cheeks then another horizontal line on my chin. I blended with my fingers. The product practically disappeared and then instantly brightened up my face.
It's so lightweight you feel like you're not wearing anything.
It offers light to medium coverage, plus your face looks fresh and dewy right after application.
It has sun protection so no need for a separate sunscreen.
It's super affordable at P249 per stick. I used it all over my entire face and the tube looks like it hasn't been used so it's economical too.
Downside? In my case, it did not deliver on the promise of keeping my face shine-free for 12 hours. It was very oily after 7 hours without blotting or powdering up. The product itself smells like funky plastic too, lol. Be that as it may, I think it's a pretty nice product considering the price point. Maybelline Clear Smooth BB Stick SPF 21 PA+++ is available at leading department stores and drugstores nationwide.
Like this post? Subscribe to this blog by clicking HERE.
Let's stay connected: