For our fourth Maya baking project, we were tasked with whipping up Maya Strawberry and Vanilla Buttercream Cupcakes. Disclaimer: We have never done this before so please bear with us, hahaha! My daughter is super excited every time I tell her we're baking. She's sad that this is our last Maya baking session but I told her that it doesn't have to be — all we need to do is buy ingredients and we're good to go!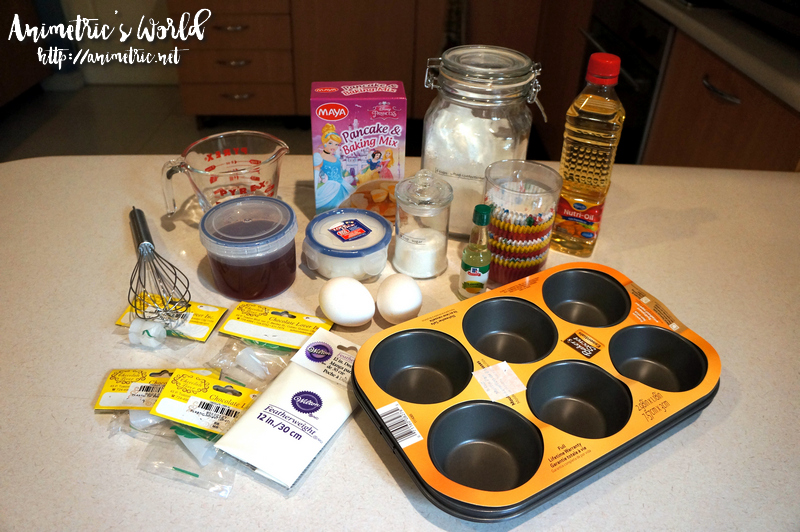 Here are the ingredients and tools. Oops I forgot to take out the milk!
The first order of business was to line the muffin pans with cupcake liners.
It's so easy to do even a younger child can manage.
If my daughter had her way she'd be doing everything herself, hahaha!
She insists on doing all the creaming, blending, mixing, and folding.
After everything is combined, I taught her how to transfer the batter into the cupcake liners — pointing out at which point it's 3/4 full as per the instructions. I popped the cupcakes in the oven and we proceeded to make the frosting.

We creamed butter, shortening, confectioner's sugar, milk, and vanilla with a wooden spoon until the mixture was fluffy.
Here's where I kinda flopped. I didn't actually know how to assemble this piping thingy and so I just jammed a pointy tip inside this bag thing. I think our buttercream was too liquid. It was a lot drier at first and I added a bit more milk so that might have been the problem lol. We were laughing while trying to frost our cooled cupcakes because it came out kinda weird hahahaha!
I suggested we chop some bananas and top the cupcakes with them. My son (not in the photo, he's camera-shy) commented that the frosting looks like what Cinnabon uses.
So here's our banana-topped Maya Strawberry and Vanilla Buttercream Cupcakes!
I think my daughter ate two in one sitting lol! The bananas definitely made them more yummy! I'm sharing the recipe for Maya Strawberry and Vanilla Buttercream Cupcakes here.
I would like to thank Maya for opening up a whole new world of fun for my daughter and I to experience and explore. Everyone who knows me know I'm not inclined to do anything in or near the kitchen but now that I've actually tried it, it's pretty fun and not to mention easy! We really enjoyed each project! We'll definitely be having more baking sessions from hereon out. I already told my daughter to download recipes (first stop would be http://www.newgenbaker.com/ since there are a lot of kid-friendly sweet and savory recipes there) she wants to try. Who knows, next time we might be making up our own recipes hehe.
Maya Cake Flour, Maya All-Purpose Flour, and Maya Pancake & Baking Mix are available at all leading supermarkets nationwide.
Like this post? Subscribe to this blog by clicking HERE.
Let's stay connected: