Whenever I go to a mall and pass by a Max's Restaurant, I always marvel at the long line by the entrance. Max's Restaurant has been around practically forever and I find it quite amazing that up until now, people queue up for it!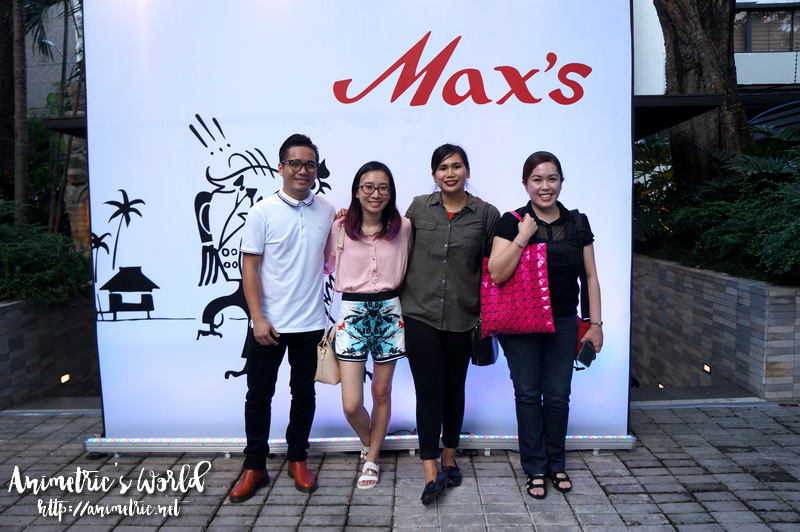 Anyway sometime late last year, we attended Max's 70th birthday celebration (in the photo with me are my blogger friends Paul, Ava, and Anagon).
It was an evening of nostalgia. They had all sorts of Max's Restaurant mementos, including this menu from the 1950's. OMG, a whole order of steak or chicken only cost P5! Halo-Halo was just P1!
They even showcased Max's staff uniforms. This particular style was worn from the mid-1990's to 2005.
Lexi Schulze hosted the momentous occasion.
Food was served buffet style during the event. It was kind of hard to take photos so I waited until I had a chance to dine at Max's with my family for some food pics. Yes, we went to the same branch where the celebration was held — Max's Scout Tuason, Quezon City. Incidentally, it's also Max's very first branch.
We went for a simple dinner one Sunday evening when our helper took the day off. Hubby and son ordered Max's Platter Meal (P250). It consists of steamed rice (or you can opt for rolls), a quarter chicken, pancit canton (you pick if you want it with chicken or pork), a caramel bar from Max's Corner Bakery, and your choice of Pepsi or Iced Tea.
We all opted for Iced Tea.
Then we ordered Chicken Sisig (P213) to go with our meals. Pretty yummy, I like it with calamansi sprinkled all over. I imagine it would go so perfectly with garlic rice.
Daughter went for the Boneless Bangus (P213) — crispy fried milkfish is served with garlic rice, fried eggs, and atchara (pickled vegetables).
Meanwhile I opted for the Fiesta Plate Meal (P245). It comes with a quarter of Max's signature fried chicken with a choice of steamed rice or rolls, fresh or fried lumpiang ubod (I chose to have it fresh), a caramel bar, and Iced Tea or Pepsi.
I generally don't like chicken but I like Max's Fried Chicken because it's cooked the way I like it. It's fried perfectly and the skin is deliciously crispy. I like eating it with banana ketchup and their trademark kamote fries. 😀
Even with the modern interiors, dining at Max's never fails to evoke feelings of nostalgia. I don't know. I feel like I'm going to a grandparent's house whenever I visit Max's at Scout Tuason.
For a complete list of Max's Restaurant branches, log on to http://www.maxschicken.com/.
Like this post? Subscribe to this blog by clicking HERE.
Let's stay connected: