My hubby and I had a late night snack at Masuki some time back. Masuki is owned by the same group who owns Ma Mon Luk. I've loved Ma Mon Luk noodles and siomai ever since I was a little girl so Masuki's location is very convenient. We don't have to drive to Binondo or Quezon Avenue, this is definitely much closer. 🙂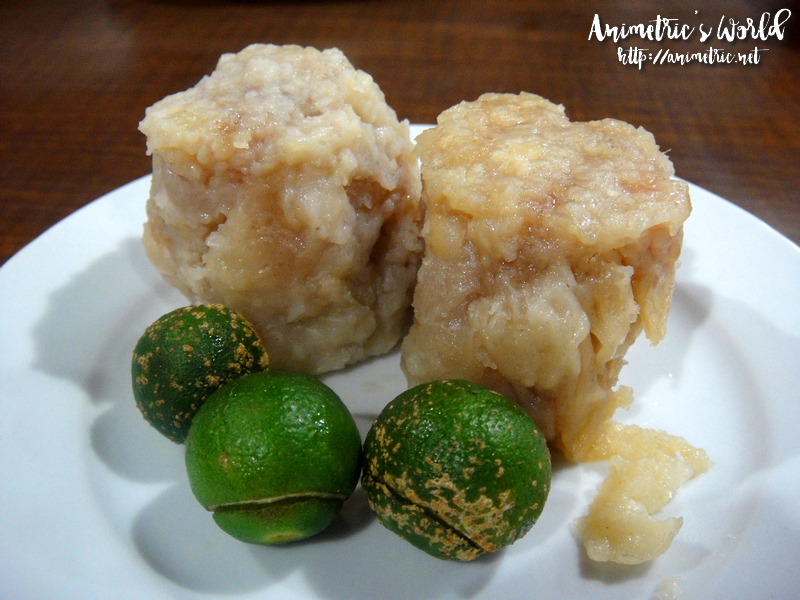 I ordered 2 pieces of Siomai (P30 each). It's pricey at P30 a piece but it's pretty huge — at least 2-3x the size of a normal siomai. It's also very meaty and it's perfect when drizzled with calamansi juice and Masuki's special sauce.
Everyone who sits in for a meal at Masuki is given a small bowl of their special sauce. It's kind of sweet and savory, the perfect seasoning for Masuki's siomai, noodles, and even asado.
Hubby ordered a regular bowl of Asado Mami (P100). Lean strips of roasted pork (asado) top the al dente noodles and piping hot soup that's also made of pork broth. It's served with a spoonful of minced green onions for garnish. Basically, you drizzle Masuki's special sauce so your clear soup turns a darker shade of golden brown. 🙂
Since I didn't have a proper dinner, I ordered a special bowl of Original Mami (P110). Special just means a bigger size than the regular bowl and the price difference is only P10.
Original Mami is the same noodle soup topped with slices of both asado and white chicken meat. Same thing goes, put some of the special sauce for that additional yummy factor.
There is the matter of the soup's scent. It's really make or break… either you like it or hate it. My hubby describes it as amoy medyas (smells like socks) hahaha. Nevertheless, I really love the noodles and siomai here. Comfort food!
Masuki
2/F Sekai Center
Ortigas cor. Madison St., San Juan City
744-2720
Like this post? Subscribe to this blog by clicking HERE.
Let's stay connected: