The last time I dined at Mario's Restaurant was as a little girl. I don't even remember the occasion anymore. I do however remember that I had steak and that the caesar salad is made fresh before your eyes.
Last October 27, Mario's Restaurant hosted a bloggers' night to celebrate their 40th anniversary. I haven't dined at Mario's in decades so I was pretty curious as to how I'd find the food now that I'm a lot older. Anyhow, we started off with Gambas con Chorizo for appetizer. It's a delicious savory and garlicky dish that I couldn't quite get enough of.
Then we were treated to Oysters Rockefeller. The cheesy oysters that were also garnished with what seemed like pesto kept on coming but I only had a couple since we were slated to have a lot more food.
There was a huge skillet of Paella Valenciana too. Yummy!
The complimentary bread basket came after.
Then we had Mario's Caesar Salad. It prepared before our eyes. The dressing was made of fresh eggs, olive oil, and some other ingredients that I couldn't identify. It's also topped with croutons and crunchy bacon bits.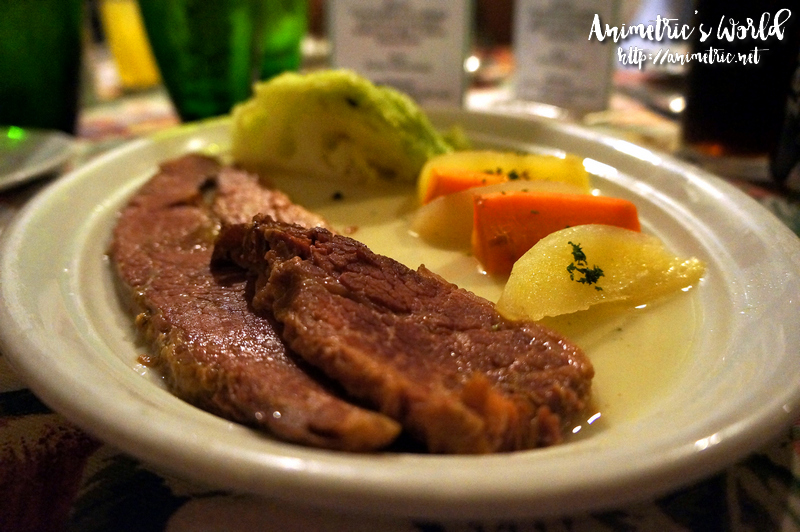 For my main dish, I picked Corned Beef and Cabbage. It's not the usual corned beef you find inside cans in the supermarket. It was two whole pieces of incredibly tender and tasty meat served with equally savory cabbage, potatoes, and carrots on the side.
It came with a bowl of soup that tasted like the corned beef too. 🙂
For dessert, I opted for Mango Jubilee. Like Mario's Caesar Salad, it was prepared in front of us. It was a nice combination of warm sweet mangoes and cold ice cream.
Delicious food and excellent service still characterize this iconic establishment from my childhood days. I would readily go back. 🙂
If ever you find yourself in Baguio City, you might want to check out Mario's sister restaurant Hill Station.
Mario's Restaurant
191 Tomas Morato Ave.,
Bgy. Laging Handa, Quezon City
372-0360
Like this post? Subscribe to this blog by clicking HERE.
Let's stay connected: