My hubby, daughter, and I had a quick staycation at Marco Polo Ortigas Manila last December 8. It was the Feast of the Immaculate Conception, a holiday for most (if not all) Catholic schools. It was perfect because it meant there wouldn't be too many people checking in. We'd have the facilities like the swimming pool to ourselves. Whenever we fly to Hong Kong, we almost always stay at Marco Polo Hotel so I was curious at how Marco Polo Ortigas Manila would compare.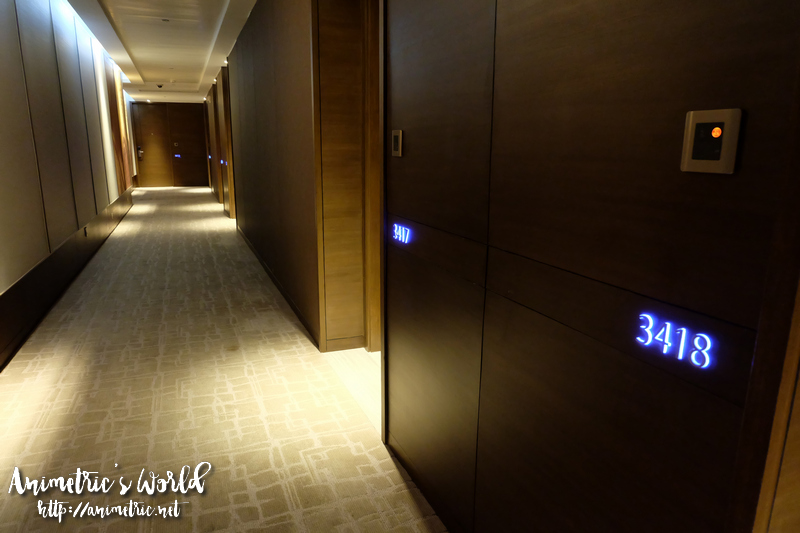 We were booked for a Superior Suite (rate starts at P7,125 per night) on the 34th floor. I was impressed at how the room numbers were lit up.
We were given a keycard.
The room is huge. It's around 50+ sqm, bigger than the condo units we rent out which average 30 sqm. The king-sized bed was big enough to accommodate myself, hubby, and our 13-year old daughter.
There's a coffee table with a couple of chairs. The mini bar area had complimentary bottles of water and a Nespresso machine.
There were welcome treats waiting for us too.
Our room was equipped with an LCD TV and study area. There's free wifi internet for hotel guests.
There's a chaise longue beside the window so you can enjoy the city view.
The bathroom is exceptionally spacious. It had 2 sinks!
There's a shower area with Trussardi toiletries.
There's a bath tub too.
This is the enclosed toilet area.
Wow, these are exactly like what they have in Hong Kong — little boxes with stuff like shower caps, cotton buds, sanitary bags, toothbrushes, etc.
When we were checking in, we were asked if we wanted a newspaper in the morning and I said yes. True enough we had one first thing the next day.
After getting settled in, we proceeded to the swimming pool located on another floor. Whoa. Impressive. It's an infinity pool with a view of the city on one side. We had the pool to ourselves because the people swimming left when we got in the water. Towels are provided so no need to bring from your room. There's a jacuzzi at the end of the pool filled with hot water.
Orange-infused drinking water is available for everyone at the pool area.
The Superior Suite was excellent. The bed is super comfortable and spacious. There were 3 of us and we weren't cramped. We all had a good night's sleep. The room is so big it can easily accommodate an extra bed had our son been there (he was on a school trip to China). Everything we needed was provided too — a room safe, slippers, hangers, a flat iron for clothes, as well as toiletries. You can definitely relax and recharge by staying at Marco Polo Ortigas Manila. 🙂
Will tell you about dinner at Lung Hin Restaurant and the Cucina breakfast buffet in my next posts.
Marco Polo Ortigas Manila
Meralco Ave. cor. Sapphire St.,
Ortigas Center, Pasig City
720-7720
Like this post? Subscribe to this blog by clicking HERE.
Let's stay connected: