Have you ever had proper afternoon tea? I don't mean chilling in your pajamas at home and eating turon or banana cue. What I'm talking about is real afternoon tea… the British way. Afternoon tea with all the works. Oh you know, those little bread things called scones, fancy-looking sandwiches and tiny cakes, delicate cups and saucers.
So anyway during Halloween weekend, hubby and I tried the Marco Polo Ortigas Afternoon Tea. It's only P788 for 2 people — just proceed to the Connect Lounge on the 24th floor from 2pm to 6pm.
We were seated beside the window. Our table had this elaborate tea time set up.
We had a perfect view of the Ortigas skyline while having afternoon tea.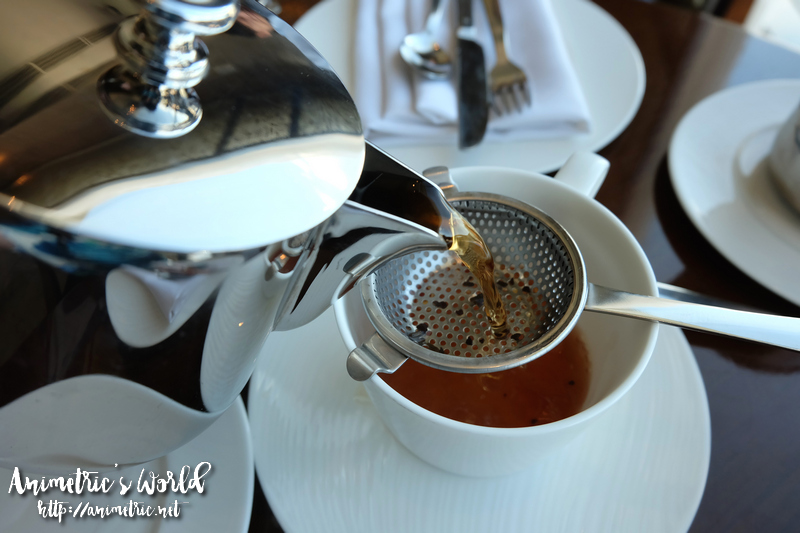 The first thing to do is to choose your tea. I opted for Earl Grey Tea, hubby had Green Tea. Each of you get your own pot along with a fancy strainer.
The next order of business is to customize your sandwiches. Each person gets two. Hubby and I picked all the colored breads and skipped the regular baguette. So we got Corn, Parsley, Squid Ink, and Tomato baguettes for our tea sandwiches.
We got to pick our fillings, cheeses, and sauces too!
While waiting for our sandwiches, hubby and I were served with Amuse Bouche Sherbet of the Day. We each got 2 flavors, white chocolate coated watermelon and mango sherbet pops.
Really refreshing!
Finally our afternoon tea treats were served! They came in layered trays in the shape of a pyramid.
On the topmost layer were two scones with a dollop of heavy cream.
Our sandwiches were on the second layer. We had salmon, shrimp, and parma ham. They're really really good! Each one packs a lot of flavor which complements the tea nicely.
Assorted pastries were on the bottom layer.
The highlight of the Marco Polo Ortigas Afternoon Tea is the Chocolate Fondant. It's like a cross between souffle and lava cake. You can eat it on its own or top it with either rich vanilla or chocolate sauce.
After our Marco Polo Ortigas Afternoon Tea session, we were both so stuffed. We actually didn't feel like having dinner anymore later on. Don't let the cute sizes fool you, these tea time treats are super filling.
Reservations are recommended since the lounge fills up fast.
Connect Lounge @ Marco Polo Ortigas
24/F Sky Lobby Marco Polo Ortigas
Meralco Ave. cor. Sapphire St.,
Ortigas Center, Pasig City
720-7777
Like this post? Subscribe to this blog by clicking HERE.
Let's stay connected: