This month of August, you can enjoy refreshing fruit-themed set menus for P1,700 nett at Marco Polo Ortigas, Manila. Marco Polo Ortigas brings you the flavors of Manila, Cebu, and Davao in a crossover dining experience. Each set menu consists of an appetizer, a main course, and a dessert.
Created by Marco Polo Manila, the first of the set menus is pineapple-centric Pina Mania. To start, you're served Grilled Tiger Prawns with Pineapple-Mango Salad and Tamarind Vinaigrette. I loved this salad — it's very light and refreshing, reminiscent of the summer months. It whets your appetite for the main course.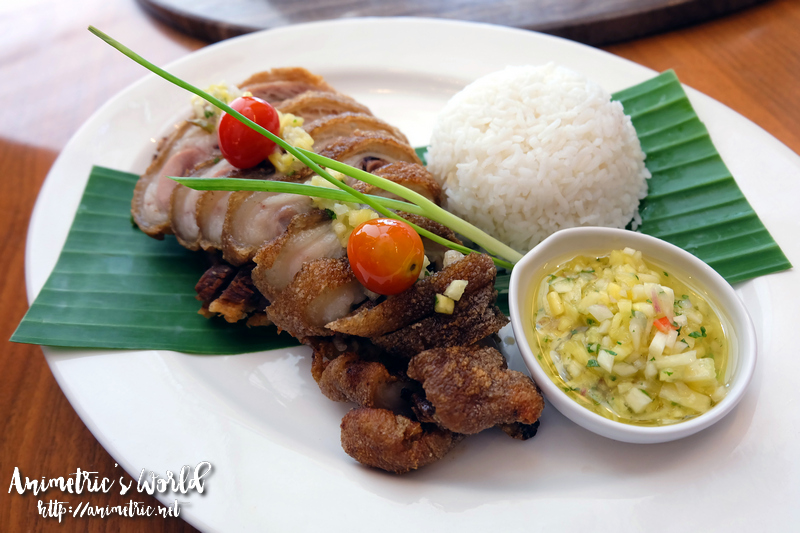 Pina Mania's main course is Boneless Crispy Pata Stuffed with Foie Gras and Pineapple Salsa. Crispy outside and melt-in-your-mouth tender inside, the Crispy Pata is a winner. It's filled with foie gras bits too for extra flavor. I loved the pineapple salsa which infused a certain freshness to the dish so it doesn't get cloying.
For dessert, there's the Pineapple Tamale. OMG this is one of the best desserts I've ever tried. I can't explain it but the crisp baked filo pastry is filled with rich and creamy pineapple filling. It's just soooo good.
From Marco Polo Cebu we have the set menu called Mango Bango. To start you off is Pasta Ravioli with Crabmeat and Mango. It's such a delicious appetizer! I think I had seconds because it was so good.
It's followed by the Mango Surf and Turf, which as the name suggests is a combination of land and sea. A fresh and flavorful grouper fillet is paired with beef tenderloin. For carbs, you get mashed potatoes. The beef is soooo good! I could slice it with a butter knife, that's how soft and tender it was. Delicious!
For dessert there's the Cheesecake and Mango Jam Creme Brulee. I don't think I've ever had creme brulee this smooth and rich, my hubby actually described it as life-changing lol.
I recommend an order of Marco Polo Ortigas' Signature Earl Grape Iced Tea to wash all the food down. Cold Earl Grey tea is poured over seedless green grapes and elderflower-infused ice cubes for a uniquely refreshing and aromatic experience. The grapes are slightly pressed so the flavors can meld together. I love the clean fresh taste.
This August, there is a third set menu to enjoy. Hailing from Marco Polo Davao we have the Oh! Pomelo (it wasn't yet available during the preview last month hence no photos). It features Ceviche of Prawn with Grilled Calamari and Pomelo for its appetizer, Slow Baked Salmon Fillet with Pomelo as its main course, and Chilled Pomelo Cheesecake and Vodka Pomelo Jelly for dessert.
You can order all of these fruity set menus from Cucina, Marco Polo Ortigas' all-day dining restaurant. It's open daily for lunch from 12:00 NN to 2:30 PM and dinner from 6:00 PM to 10:30 PM. Buffet price starts at 1,100 net per person, children aged 6 and below get to eat for free while children aged 7 to 12 years old are charged half the price. Reservations are highly recommended.
Cucina @ Marco Polo Ortigas
24/F Sky Lobby Marco Polo Ortigas
Meralco Ave. cor. Sapphire St.,
Ortigas Center, Pasig City
720-7720
Like this post? Subscribe to this blog by clicking HERE.
Let's stay connected: