Last March 18, I went to the grand launch of the Make Up For Ever flagship store at SM Megamall Fashion Hall. I'm very very familiar with Make Up For Ever (MUFE), having taken up my very first makeup course on personal beauty at Maquillage Professionnel back in 2011. We used nothing but MUFE products during our lessons and so I can say that I've tried everything from primer to lip color.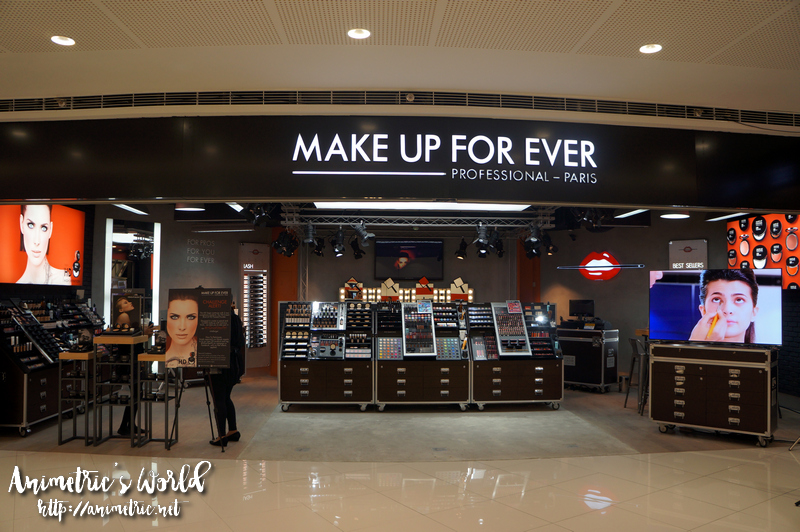 Located at the second level of the SM Megamall Fashion Hall, this store carries the complete range of products.
There was a makeup demo by makeup artist extraordinaire Jake Galvez.
After which we were given a chance to go around the store. The newest product in the roster is Make Up For Ever's Pro Finish Foundation. It's multi-use, so you can use it wet or dry. Apply it wet for a sheer semi-matte finish or dry for a full coverage matte result. Either way, it's going to make you look perfectly flawless.
Make Up For Ever has a full range of foundations for different levels of coverage. I think I've tried most of them. I learned how to apply foundation on myself properly using these products.
There's a movie star-esque makeover/workshop area inside the store.
There are all kinds of make up. Eye makeup? Here they come in tubes…
pans…
…and pots.
Lip color comes in all forms too.
It's virtually impossible not to find one that suits you. 🙂
They have a lash bar too.
There are way over a dozen kinds of false lashes.
The 5 products on this shelf are the top 5 bestsellers.

The bestsellers are:
Make Up For Ever HD High Definition Powder (P2,150)
Make Up For Ever HD High Definition Primer #0 (P2,270)
Make Up For Ever HD High Definition Foundation #123 (P2,650)
Make Up For Ever Pro Finish Foundation #120 (P2,400)
Make Up For Ever Aqua Brow Kit #30 (P2,460)
It was a casual and laid back event, I got to hang out with Angela (above left), Marj (above right), and other beauty bloggers.
Like this post? Subscribe to this blog by clicking HERE.
Let's stay connected: