When you have kids (well even if you don't but more so if you do), water tumblers are a necessity. After all, they need to bring drinking water when they go to school. It's really not practical to keep buying water day after day. Most schools have water fountains but what if your child is having lunch? It's not always convenient to get up and go to the water fountain to get a drink. That said I'm glad we have the Lock and Lock Grace Tumbler.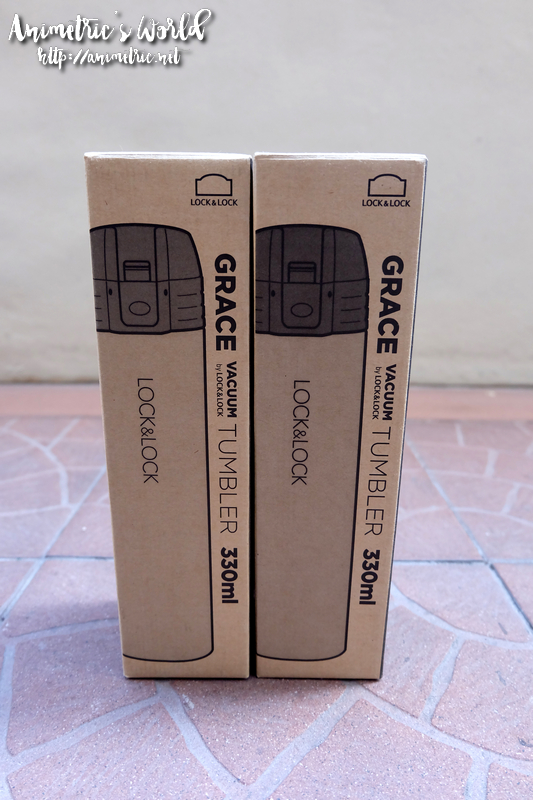 The Lock and Lock Grace Tumbler can hold 330ml of liquid.
It comes in a variety of colors — we got white and black.
The Lock and Lock Grace Tumbler is vacuum insulated so it can keep drinks cold or hot for at least 6 hours. You can lock it by flicking the switch on the cap down. One push of the button opens the tumbler.
Filling up the Lock and Lock Grace Tumbler is easy too — the opening is wide so you don't have to struggle to make liquids go into a small hole lol!
It comes with a removable wrist strap too. Personally I prefer using the tumbler with the wrist strap so I don't have to worry about dropping it and my hand is free to do other things. It's very sleek and lightweight, my daughter couldn't believe how light it was even after filling it to the brim with water.
Last Saturday, my daughter and I headed out to the Robinsons Magnolia open park for the Robinsons Route to Wellness "Learn" event, our Lock and Lock Grace Tumblers in tow.
There were educational health-themed game and sampling booths all over. You get to eat, drink, and win prizes!
We tried almost every booth. Surprises from Nestle, Mead Johnson, Johnson & Johnsons, and lots of other brands awaited participants.
Although this is probably the hottest summer I've experienced here in Metro Manila, we were lucky it wasn't so sunny at 4:30pm. Plus the wind was blowing, so it was pretty nice and relaxing. We did however take a lot of water breaks. We brought cold water because we were expecting it to be hot. I'll tell you more about the Robinsons Route to Wellness "Learn" promo in my next post.
Thanks Lock and Lock Philippines for our Lock and Lock Grace Tumblers!
The Lock and Lock Grace Tumbler is available for P1,079.75. I think it's reasonable considering it's a vacuum-insulated flask that locks. Lock and Lock tumblers and their complete line of products are available at the following Lock and Lock flagship stores:
Eastwood Mall
Fisher Mall
Megastate Bldg. (along Araneta Ave.)
Shangri-la East Wing
Alabang Town Center
Glorietta 4
BF Paranaque
Like this post? Subscribe to this blog by clicking HERE.
Let's stay connected: