Located at Dapitan cor. Kanlaon St. in Quezon City, Dapitan Arcade is a tiangge type of retail outlet specializing in cheap household decors and even furniture. Their offerings change with the season too. Now that it's October, you can expect to see a lot of Christmas ornaments. I've never been there since parking is kind of scarce. So when I found out that Ayala Cloverleaf was going to have a Little Dapitan bazaar set up on the mall premises, I figured it was my chance to check it out.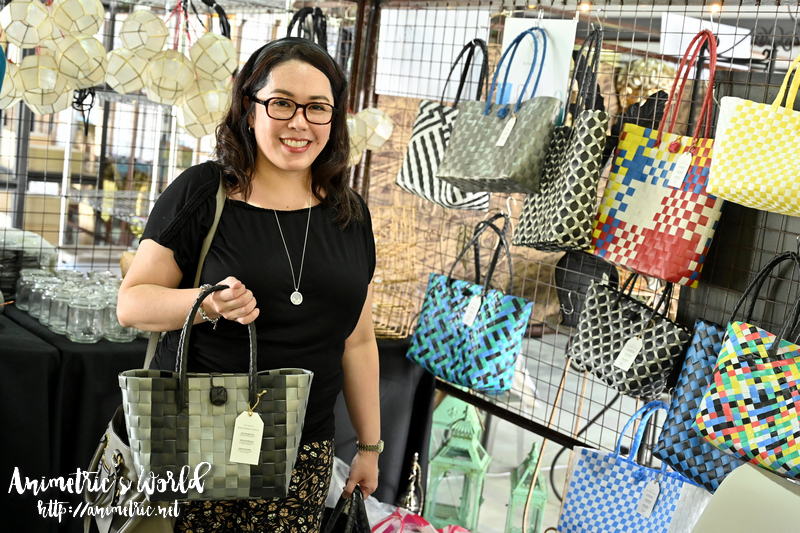 Little Dapitan is located outside the mall, inside a separate building across one of the mall's entrances. It's a curated version of Dapitan Arcade. The first booth I sighted when I went in was the Bayongciaga booth. Bayongciaga is a local brand which elevates the bayong, a Filipino woven bag commonly used for wet market shopping. Bayongciaga has turned it into a fashion bag that comes in all sorts of patterns and colors.
The Bayongciaga booth sells bayongs and wooden plates, bowls, trays, and chopping boards.
Bayong prices start at around P400 and can go up to around P900 depending on the size and style.
At the back of the Bayongciaga booth is a seller that offers an array of liquid hand soaps, room sprays, and sanitizers. I bought 4 bottles of a lemongrass-scented liquid hand soap called "Always Be Grateful" for P250 per bottle.
This booth is Mariya's Philippine Made. They sell cloth tote bags, purses, passport holders, cosmetic pouches, etc.
These passport holders are P120 each.
They even have shabby chic furniture. Shabby chic is an interior design style which makes use of furniture with signs of wear and tear for a more vintage look and feel. New items are distressed to achieve this style.
They even sell quaint signages which can be used to decorate homes or establishments like restaurants or stores.
Needless to say there are a lot of Christmas decors and ornaments for sale.
I loved these snow globe lanterns. I just don't know what to do with them so I just took photos and videos lol.
If you're in the process of decorating your home, office, restaurant, or store, there are a lot of unique items you can use to customize your spaces.
This stall sells fake foliage. I actually considered buying some flowers for use as Instagram backdrops at home.
I can imagine using these for IG but at the moment I don't know where to store them. Must declutter first.
Anyhow, Little Dapitan will be at Ayala Cloverleaf from now until December. You can drop by anytime from 10am to 10pm. For now I hoarded Bayongciaga bayongs to give as Christmas gifts and liquid hand soaps. Parking is definitely not a problem because there is more than enough space at the multi-level mall parking building.
Like this post? Subscribe to this blog by clicking HERE.
Let's stay connected: