Today I'm reviewing one of my favorite skincare products, Leaders Hydrogel Eye Therapy Patch. I'm very particular about my eye area because that's where your real age usually shows lol. I'm not exactly young anymore and so it's more challenging for me to stay bright-eyed and wrinkle-free. Of course I'm not going down without a fight wahaha, so I need intensive products like these patches to help me along.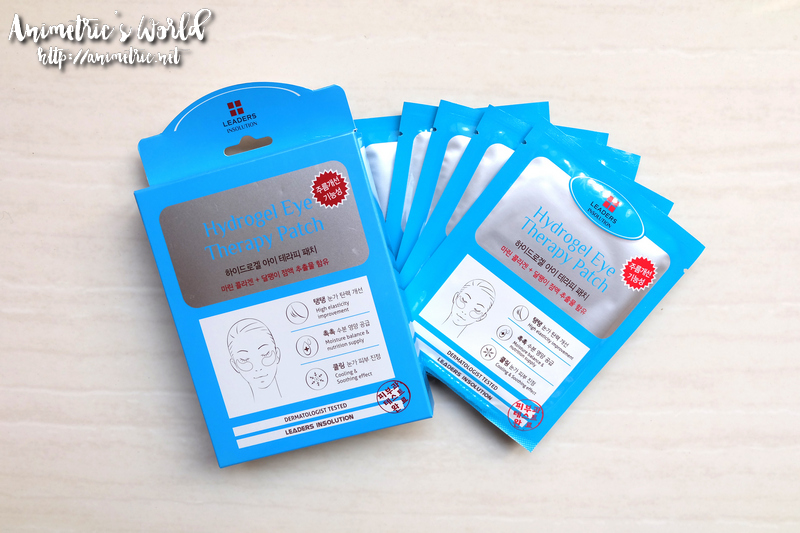 Meet my favorite Leaders Hydrogel Eye Therapy Patch (P498). One box contains 5 packets. Each packet contains a pair of patches. That's about P100 per packet.
This is how big one packet is.
The patches are submerged in serum and encased in molded plastic.
Remove the white backing paper from the patches and put on the undereye areas like so. Leave them on for at least 20 minutes. I usually leave them on until they're quite dry for maximum absorption.
What I like about Leaders Hydrogel Eye Therapy Patch:
I love the instant cooling sensation upon application. They're great for tired-looking eyes.
There's an immediate brightening effect after use.
The way the patches are packaged make them convenient for travel.
These patches moisturize and rejuvenate the undereye area effectively. Very nice if you're sleep-deprived and feeling rather zombistic.
They're very easy to use. Put on, leave on, then remove.
Downside? These are quite pricey at P100 per use. Still, I think they're worth it because they help keep my eye area relatively nice and wrinkle-free. Here's a tip: Store the packets in the refrigerator for more cooling power!
Leaders Hydrogel Eye Therapy Patch is available at P498 per box of 5 packets at Leaders stores located in Festival Mall, Robinsons Ermita, and Lucky Chinatown Mall. They're available at selected SM Department Stores too.
Like this post? Subscribe to this blog by clicking HERE.
Let's stay connected: