It's been a while since I've blogged about a local restaurant. My last resto post was for Bricks Family Restaurant at Legoland Malaysia and as it turns out that is so far my only dining post for this month!
Anyhow, I'd like to share our experience at this newly opened restaurant at Century City Mall, Le Petit Souffle.
The name conjures images of French food and well… souffle. Anyhow, I loved the greenery-filled interiors. It's so cozy! This place is great for catching up with friends.
I was famished that evening. I ordered the Roasted Sweet Corn Potage (P195) to warm my tummy. It's corn soup topped with salted caramel popcorn and shaved parmesan cheese served with buttered corn on the cob. It's really good! Comforting but not too rich or thick, plus the salted caramel popcorn adds a unique twist to the overall flavor profile. A must-try!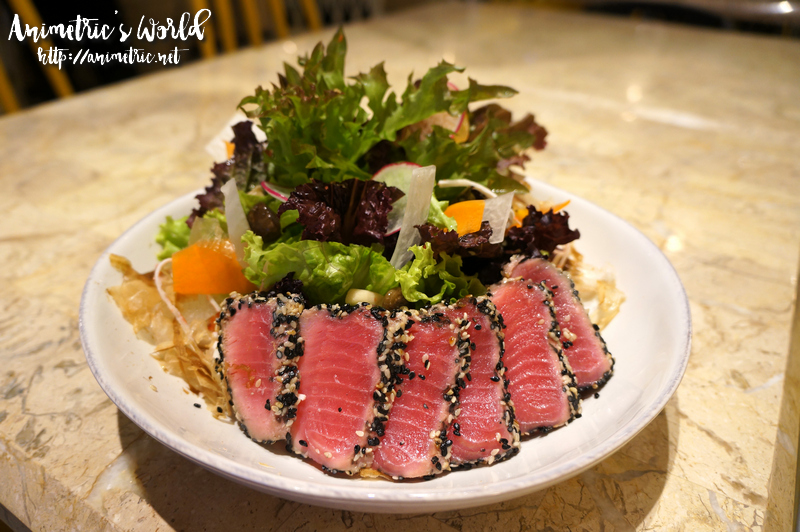 Then we all shared an order of Sesame Crusted Seared Tuna Salad (P345). Fresh tuna slices are encrusted with black pepper and served with mixed greens, shimeji mushrooms, flying fish roe with sesame-wasabi dressing on the side. It was nice and fresh, even our kids enjoyed it.
For the main course, I ordered Mac and Foie (P625) which I was told was one of Le Petit Souffle's best sellers. It's leveled up macaroni and cheese made with 3 cheeses (cheddar, emmenthal, and gruyere), 2 mushrooms (shimeji and crimini), and Hungarian sausage. It's topped with 4 chunks of foie gras which were a tad dry, not as smooth and buttery as I would've liked.
Hubby ordered Vegetarian Soba Pasta (P325) because he wanted something light and healthy. The dish is comprised of soba, shimeji, zucchini, eggpplant, bell pepper, and shoyu sauce. It's quite refreshing.
Our son opted for the Pancetta Carbonara (P355) which is fettuccine topped with egg yolks, pancetta, shaved parmesan, and roasted cashews. It's a cream-based pasta but it's not cloying, which is good.
We had a carafe of Strawberry + Mint + Celery (P375), a refreshing iced tea concoction hubby and I thoroughly enjoyed. The kids found it so-so but I attribute that to the fact that this isn't the usual sugary powder-based iced tea they were expecting.
Our daughter ordered the Japanese Beef Curry Souffle (P525). Strips of us beef short plate, Japanese rice, and Japanese curry sauce can be found inside of this fluffy spongy souffle exterior.
This is what the inside is like — they're pretty generous with the beef strips. Actually this is a hefty and hearty dish that's good for sharing.
We can't visit a souffle place and not have dessert so we ordered some. For our chocoholic daughter, it was the Valrhona Guanaja 60% Dark Chocolate Souffle with Vanilla Creme Anglaise (P350).
She loved it so much she ate it all by herself. I did have a spoonful to taste. It's kinda like flourless chocolate cake but with a richer deeper flavor and lighter texture.
Classic Souffle Pancake with Cream Cheese (P200) was our son's dessert. The pancake is nice fluffy and chewy, filled with cream cheese in the middle. You can top it with Vanilla Creme Anglaise and maple syrup which are served on the side.
Hubby opted for the zesty Vanilla and Citron Souffle Glace (P300). It kinda reminds me of frozen Brazo De Mercedes. It's served with orange marmalade which you can put on top. Too sweet for me but hubby liked it a lot. Needs more tartness in my opinion.
Meanwhile I had the Salted Egg Caramel Parfait (P220). It's Le Petit Souffle's vanilla custard base softee (their own unique version of soft serve ice cream) with salted egg custard, granola, vanilla wafer, caramel, peanut brittle, and almond dacquoise (meringue). It's rich, creamy, and super sinful. I liked how the salty combined with the not overly sweet. I could feel it adding inches to my waistline with every bite, hahaha but I finished it anyway.
Can you tell by our smiles that we had a really yummy dinner?
Le Petit Souffle is definitely a must-try. Prior to this, the only way you could try authentic and delicious souffle was to dine at a French restaurant with sky high prices (think Blackbird levels). Or you settle for the mass-produced ones you'd find in buffets. At Le Petit Souffle, you can choose from sweet or savory souffles and have a really fantastic one starting at P300. I love the interiors and the ambiance — very conducive for great conversations (since it's very peaceful), coffee, and dessert.
Le Petit Souffle
3/F Century City Mall
Kalayaan Ave., Makati City
886-3056
Like this post? Subscribe to this blog by clicking HERE.
Let's stay connected: