Here we go again with the eyebrows lol. The newest and most high-end eyebrow mascara I've tried so far is Lashem Colour Strokes Brow Tint and Lift. Most of my eyebrow mascaras are in the P500+ and below range. This is the first one that goes over a thousand pesos.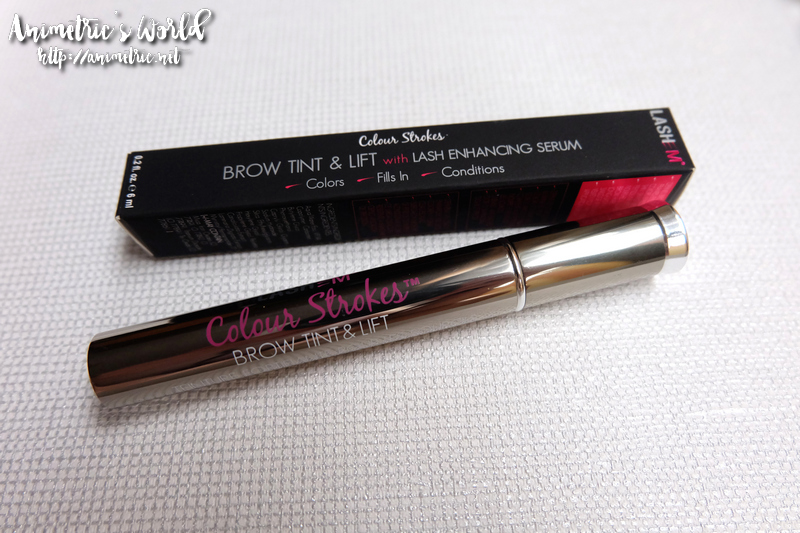 Lashem Colour Strokes Brow Tint and Lift (P1,029.75) not only colors and fills in your eyebrows, it conditions and nourishes them too.
Lashem Colour Strokes Brow Tint and Lift comes in three shades: Blonde, Brunette, and Raven. I got Brunette.
Here's a swatch of Lashem Colour Strokes Brow Tint and Lift in Brunette. It's a medium brown shade, neither too dark nor too light.
Here are before and after application photos. It looks amazingly natural. If you don't see the before photo, it doesn't look like I applied anything.
Here's the full FOTD.
What I like about Lashem Colour Strokes Brow Tint and Lift:
It's surprisingly easy to use (the shade brunette anyway) because it's neither too light nor too dark. It's buildable too. Even if you apply a lot, it's easy to blend into your brows and still end up with a natural look.
You can use the default brush to shape your eyebrows even without a spoolie.
It's formulated with natural brown algae and seaweed extracts which offers antioxidant benefits. It also contains peptide-infused serum which nourishes and conditions brows.
It's easy to wipe off in case you make a mistake.
It keeps brows filled in and shaped until you remove it.
It's hypoallergenic and it doesn't contain parabens.
This is probably the most user-friendly brow mascara I've tried. Should be great for beginners and makeup newbies. 🙂
Downside? The mascara brush is super stiff and hard so if you use it to blend, it can be a bit painful. Also as I've mentioned earlier, this is double the price of the normal brow mascara. But hey, you're not just applying makeup with the Lashem Colour Strokes Brow Tint and Lift, you're also giving your brows some much needed TLC.
At the moment, LashEM products are available exclusively at the G/F The SM Beauty Store at SM Makati. For more information, check out @lashemph on Instagram.
Like this post? Subscribe to this blog by clicking HERE.
Let's stay connected: