I love LANEIGE. Even before they started sending me stuff to try out, I was already hoarding LANEIGE skin care products from the nearest store (you have no idea how happy I am they opened in Robinsons Magnolia). I first discovered LANEIGE back in 2012 when my skin started to become very dry during the -ber months. Must be my age, lol! Whatever it was, I used the LANEIGE Water Sleeping Pack sample sachet my friend gave me and I've been hooked ever since. I was super thrilled when they sent me this super cute LANEIGE PLAY NO MORE My Darling, Shygirl Collaboration Set.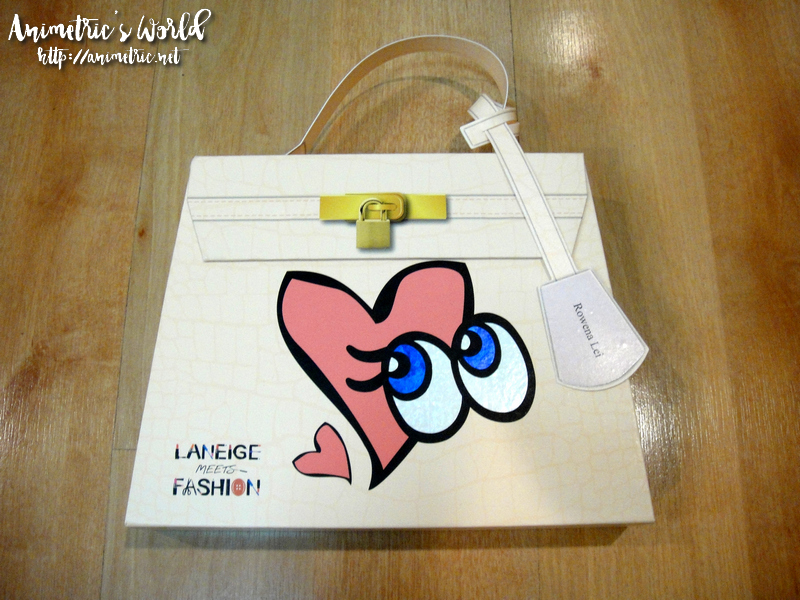 LANEIGE PLAY NO MORE My Darling, Shy Girl Collaboration
 It's a limited edition kit featuring fashion brand PLAY NO MORE's Shy Girl character.
LANEIGE Play No More is basically LANEIGE makeup products dressed up in stylized PLAYNOMORE Shy Girl packaging. Featured products include LANEIGE Jet Curling Mascara, LANEIGE BB Cushion (still my favorite!), and the new LANEIGE Intense Lip Gel.
Having tried around 30 different kinds of BB Cream, LANEIGE BB Cushion (P1,950) is still my all-time favorite. I love how it provides just the right amount of coverage (light to medium, not a fan of heavy makeup) and the perfect match in terms of shade (I'm shade 21 Natural Beige). It's lightweight too so it's easy to forget you have anything on after application.
I love the compact's design!
It's my first time to try the LANEIGE Jet Curling Mascara (₱1,300).
What a clean looking mascara! I say this because some mascara brushes already look messy the moment you draw them out.
Not bad at all! LANEIGE Jet Curling Mascara lengthens and defines your lashes yet feels very light, as if you have nothing on!
I didn't use eyelash curler when I tried this out but my lashes got a lift all the same.
LANEIGE Intense Lip Gel (₱1,100 each) is a totally new product, described as "nail polish" for the lips because of its exceptionally glossy finish.
I got them in two shades — No. 3 Coral Breeze (above left) and No. 6 Jelly Pink Bean (above right).
Here they are, swatched — No. 3 Coral Breeze (top) and No. 6 Jelly Pink Bean (bottom). Can you guess which one I like better?
These lip products coat your lips with a translucent glass-like shine. The coral shade comes off as peachy. It looks super orangey on my arm but on the lips not so much.
 I prefer the pink shade though as I feel it makes my teeth look whiter. What I love about these lip gels is the fact that they are non-sticky. Most lip products that promise a glass-like shine are sticky and yucky. These aren't. They smell and taste like mangoes (or is it peaches?) too.
By the way, I used the LANEIGE BB Cushion No. 21 Natural Beige on all the above pics. Thank you LANEIGE Philippines for these makeup goodies!
You can purchase Laneige products at the Laneige Flagship Store on Lazada.
Like this post? Subscribe to this blog by clicking HERE.
Let's stay connected: