We were invited to try out Kokoro Ramenya last July 8, 2012. It's located right along Roxas Boulevard, more or less across the US Embassy.
We had just checked out of Ramada Manila Central where we stayed overnight when we proceeded to Kokoro Ramenya. I liked the bright interiors, it helps that it was a sunny day.
We started off with an order of Tuna Sashimi (P245). I liked that the raw tuna is fresh and cleanly sliced.
Then we had Ebi Tempura (P275) mainly due to the kids' requests. Big prawns are battered and fried to a perfect crispness. Our daughter actually finished one order by herself.
We also ordered Beef Teppanyaki (P445). It's quite pricey at nearly P500 but the beef chunks are very tender and tasty. They are served with sauteed beansprouts and sweet corn kernels. I liked this dish a lot.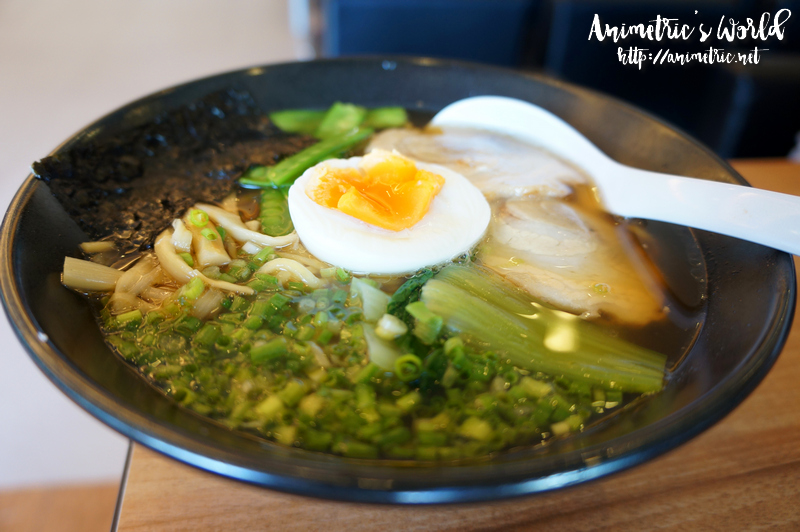 Our son opted for Shoyu Ramen (P235), soy-based noodle soup made with pork broth. It's topped with thin slices of pork belly, vegetables, and a hard-boiled egg. I was impressed at how perfectly cooked the hard-boiled egg was — no dark rings around the slightly moist golden yolk! He commented that it tasted okay, like normal ramen.
Meanwhile, I decided to have the Hakata Classic (P325) which was touted as one of Kokoro Ramenya's specialties. The creamy tonkotsu (pork bone) broth is boiled for 18 hours. I found it quite soothing as I wasn't feeling well that weekend albeit it did strike me as a bit plain-tasting. Given the cooking conditions, I was expecting a deeper, richer taste.
We had Mixed Teppanyaki (P345) as well. It consists of seafood like fish, shrimp, and squid. Like the Beef Teppanyaki, it comes with beansprouts and sweet corn kernels on the side.
Our companions also ordered Futomaki Sushi (P225). I normally love this but Kokoro Ramenya's is filled with eel (instead of the usual crabstick which I prefer), pickled radish, shrimp, cucumber, tamago (sweetened egg), and oburo (tofu) so I passed. Looks lovely though but I just don't like eel.
For dessert, I couldn't resist ordering Coffee Jelly (P85). I loved it! A big scoop of vanilla ice cream tops the firm robust-tasting jelly. There's also a thin layer of evaporated milk surrounding the ice cream. So yummy! It's just the way I like my dessert, not overly sweet. 😀
Since we went as a group, we were able to try a lot of dishes off Kokoro Ramenya's menu. If it's just going to be you and a friend, I highly suggest ordering Kokoro Ramenya's Lunch Set Menu. You get Ramen (noodles with soup), Donburi (rice topping), and Iced Tea so you can try both their noodle and rice meals at a lower cost. Price ranges from P275 to P325 depending on what you order. Kokoro Ramenya's Lunch Set Menu is available from 11am to 2pm.
Kokoro Ramenya
2/F Avenue of the Arts Bldg.,
Roxas Blvd. cor. Sta. Monica, Ermita, Manila
254-9716
http://www.facebook.com/Kokoro.Ramenya
Like this post? Subscribe to this blog by clicking HERE.
Let's stay connected: