Around the first week of January I got a surprise treat from Kiehl's Philippines. You know how obsessed I am with skin care, so of course these really made my day. I got Kiehl's Midnight Recovery Concentrate (P2,895) and Kiehl's Ultra Light Daily UV Defense SPF 50 PA+++ (P1,905).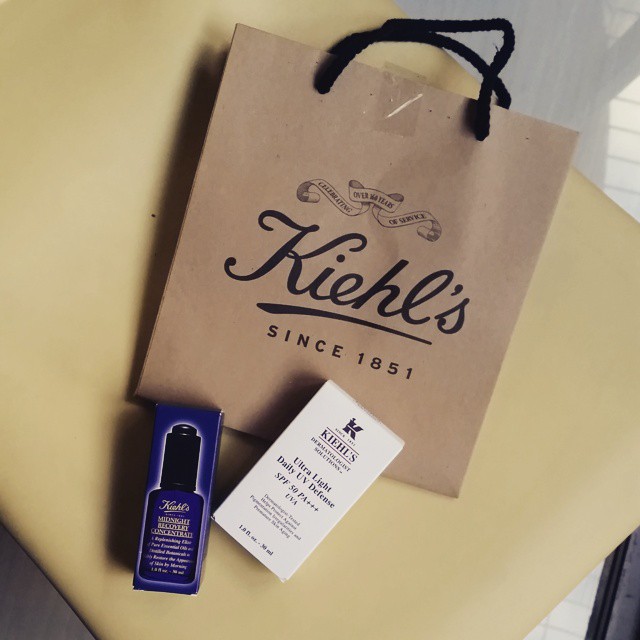 This is the Kiehl's #MidnightTilMorn skin care regimen — Kiehl's Ultra Light UV Defense SPF 50 PA+++ for day and Kiehl's Midnight Recovery Concentrate for night. I've actually reviewed Kiehl's Ultra Light Daily UV Defense SPF 50 PA+++ a couple of years back.
This isn't my first bottle of Kiehl's Midnight Recovery Concentrate. I tried it for the first time back in 2012. I was unable to chronicle my experience back then, but this time I made sure I would be able to. I started using it last January 10, 2015. More than a month has passed so I think by now I can accurately gauge how effective this product has been for me.
According to Kiehl's official website, Kiehl's Midnight Recovery Concentrate is a replenishing nighttime facial oil with distilled botanicals that visibly restores skin's appearance by morning. It's 99.8% naturally-derived and paraben-free. Yay!
Kiehl's Midnight Recovery Concentrate comes with a dropper so it's very hygienic. According to the package directions, you use 2-3 drops for the entire face. I use 2-3 drops PER AREA of my face hahaha… that means 2-3 drops for my forehead, 2-3 drops for my left cheek, 2-3 drops for my right cheek and so forth. My face was so dry last December I felt I had to step up my skin care routine. Dry skin = wrinkly skin and we can't have that, can we?
It's oil, actually… but the viscosity is somewhat thinner than baby oil or mineral oil. It smells like a spa too.
So anyway, I've been lazy since January 10 where my nighttime skin care regimen is concerned. I took this photo in the morning after waking up (as per Kiehl's #MidnightTilMorn challenge) so I have no makeup whatsoever.
My normal routine consists of at least 6-7 steps but after I started using Kiehl's Midnight Recovery Concentrate. it's been reduced to 4 steps:
Cleanse my face with facial wash
Apply Kiehl's Midnight Recovery Concentrate all over my face, including my neck
Apply eye cream all around my eye area
Apply lip balm to keep my lips from becoming chapped and dry
I love it! It's been very effective in helping my skin ward off dryness during the cool dry months.
What I like about Kiehl's Midnight Recovery Concentrate:
The effect is immediate. I swear. Apply generously, sleep, and wake up with a brighter face!
It's very practical and economical — I know right, it's P2,895 a bottle but hey, if it's the only thing you need to put on your face after cleansing it's actually cheaper as compared to buying toner, moisturizer, and serum separately!
It smells so relaxing. The scent makes me feel like I'm in a spa.
It's not overly oily or greasy. I find it very soothing whenever I apply it before going to sleep.
It's perfect for people who don't want to spend a lot of time with their nighttime skin care routine.
It's great as both an anti-aging and brightening product.
It's natural and paraben-free.
It's economical. I've been slathering it on very generously for over a month now and I haven't even consumed 1/4 of the bottle's content.
Downside? For me none really, not even the cost since it cuts down the number of products you need for your skincare routine.
Kiehl's Midnight Recovery Concentrate is available for P2,895 per bottle at Kiehl's boutiques located in:
Trinoma
Power Plant Mall
Shangri-la Plaza East Wing
Greenbelt 5
Alabang Town Center
SM Mall of Asia
SM Megamall
SM Aura
Like this post? Subscribe to this blog by clicking HERE.
Let's stay connected: