So I got one of the scarier eyebrow products for review a couple of weeks ago. I say scarier because it entails drawing over your eyebrows for a lasting "tattoo" effect. Finally mustered up the courage to try it and here we are. Presenting… the K-Palette Lasting Eyebrow Tint!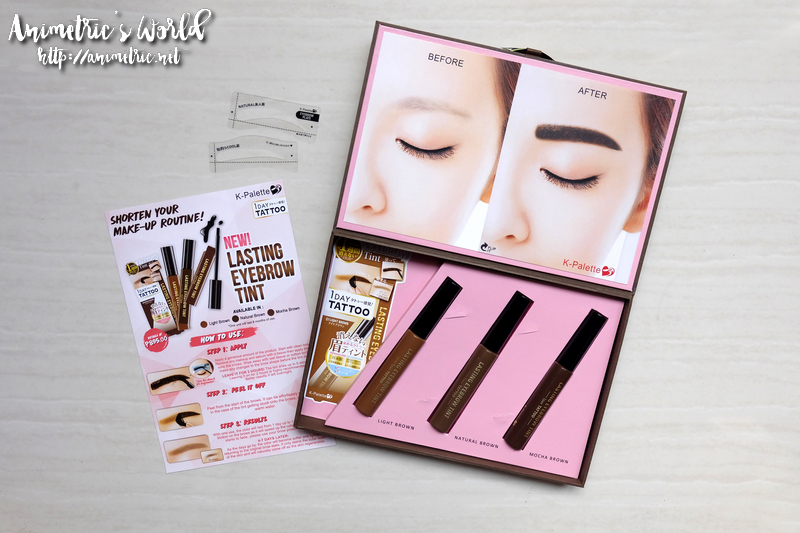 The K-Palette Lasting Eyebrow Tint sells for P895 per tube and comes in 3 shades. There's Light Brown, Natural Brown, and Mocha Brown.
The packaging resembles mascara tubes.
Each tube comes with a brush tip applicator.
The product comes in a gel-like liquid form.
Eyebrow stencils are provided for beginners. At least that's what they say. The stencils are a nightmare to use. I tried and I promise you will end up with a messy line. It's almost impossible to keep the plastic stencil perfectly flat against your curved brow bone. Since the product is liquid, it will seep underneath the plastic anyway. I looked like a male Sesame Street character after attempting to use the stencil. I washed everything off and started from scratch.
I'll be honest with you — you need some level of drawing skill to draw a nice eyebrow shape over your own. But don't let that scare you off. This is a tint so even if your drawing isn't perfect, it won't really have too much effect on the end result. Just follow your natural shape and tweak according to your preference. This is your chance to reshape what you have.
You leave the product on your brows for at least 2 hours. The instructions say you get better results if you leave them on overnight. It dries to a dry, plastic-like finish so you don't have to worry about staining your pillow or blanket if you decide to go to sleep. I decided to peel the product off after 2.5 hours. It is suggested that you start from the part of the eyebrow near your nose but I did the opposite lol.
This is what the product looks like when it's peeled off. It's kind of like an eyebrow mask.
Here's the end result. If you compare it with my bare brows (see photo with stencil above), you'll notice that my eyebrows are much darker and more defined now. I'm happy with the results!
This is a photo I took the next morning, prior to applying makeup. Now that wasn't so scary, was it? I'm happy to report I didn't lose a single strand of brow hair during the peeling process.
What I like about K-Palette Lasting Eyebrow Tint:
It's actually much easier to use than expected.
The results are natural looking.
It lasts anywhere from 3-5 days. My brow tint is still here and it's my 3rd day.
This is great for people with very light brows.
There are three shades available to match most people.
Downside? You have to set aside over 2 hours for the entire process so this isn't something you can do if you're in a hurry. It's also quite challenging to guess which shade to get since you can't really swatch it. When in doubt, the safest choice is Natural Brown since it's the neutal middle shade.
Application tip: Make sure to apply the same amount of product over the entire brow to get an even tint. I noticed my brows came out lighter at the tail end. I probably need to apply a bit more product to that area next time.
Overall I love the K-Palette Lasting Eyebrow Tint. This product makes getting brows on fleek a lot easier and faster.
The K-Palette Lasting Eyebrow Tint is available for P895 per tube from Beauty Bar, Zalora, SM Beauty (North EDSA, Makati, Megamall, Aura, MOA), Rustan's, Watsons (Market! Market! and Robinsons Place Ermita), etc.
For more information, log on to the K-Palette Philippines on Facebook.
Like this post? Subscribe to this blog by clicking HERE.
Let's stay connected: