Finally! The day a lot of us have been waiting for has come — J.CO Donuts & Coffee officially opens its first store in the Philippines!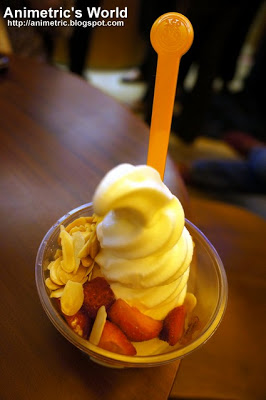 Since I've already tried a lot of J.CO's donuts, I ordered a cup of fat-free frozen yogurt. If you have it with one topping it would cost P95. I had two toppings — strawberry and almonds, unfortunately there were too many people at the counter so I couldn't see the complete range of prices. There are way over a dozen different toppings available from fresh fruits like kiwi and banana to nuts to more unique stuff like melon mochi.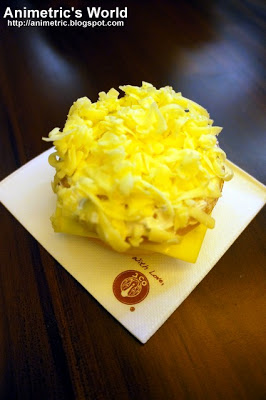 This ensaymada-like cheesy J.CO creation was being distributed to guests, unfortunately I don't know what it's called. I had a bite and it not only looks like ensaymada, it tastes like it too.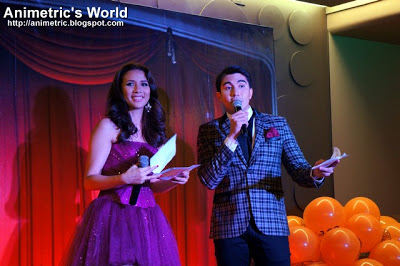 J.CO Philippines' grand opening event was hosted by Karylle and Luis Manzano who were dressed up as two of J.CO's most popular donut variants — Karylle is Heaven Berry while Luis is Al Capone.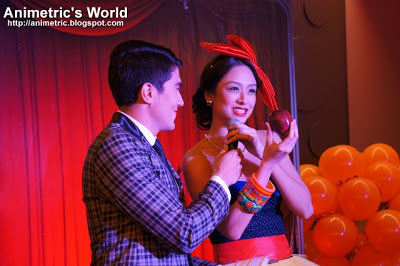 Models and personalities representing J.CO donut variants made their way to the stage. Kelly Misa was Snow White.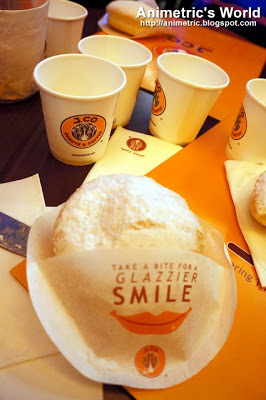 Kelly represented J.CO's Snow White Donut, a cream-filled donut dusted with powdered sugar. It's surprisingly not overly sweet.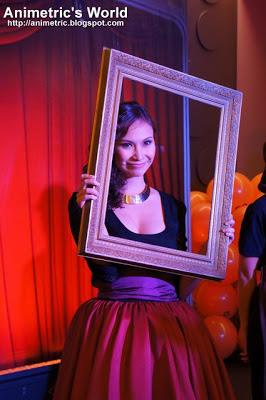 Patty Laurel represted the Mona Piza, a savory donut with cheese, tomato sauce, and bits of chicken. I couldn't take a nice photo of it during the event but I was able to do so when I got home… it's at the bottom part of this post. :p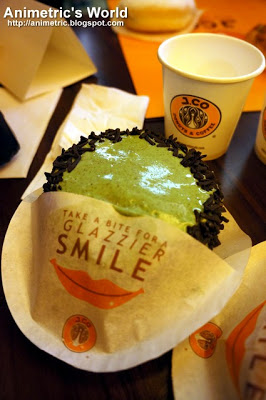 This donut is Avocado Di Caprio. It's topped with avocado cream and dark chocolate bits. I liked the unique flavor combination.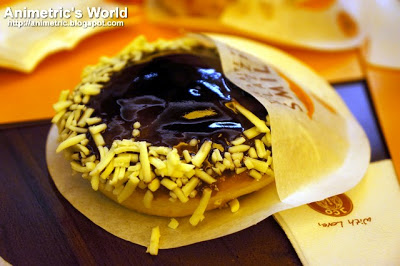 This is Blue Berrymore, a blueberry cheesecake donut. The light cream cheese filling is heavenly!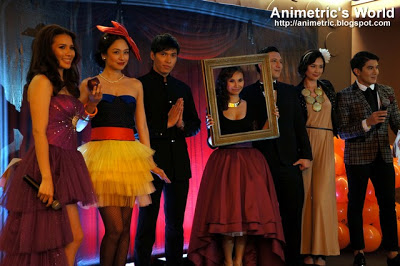 From left to right: Karylle, Kelly Misa, Robbie Mananquil, Patty Laurel, Carlo Trillo, Ornussa Cadness, and Luis Manzano.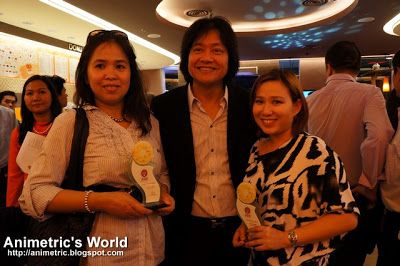 Incidentally, J.CO had a secret contest ongoing. Ajay and Mrs. Martinez won trophies for having the best expression and the best pose respectively. They had a photo op with the founder of J.CO Donuts and Coffee, Johnny Andrean.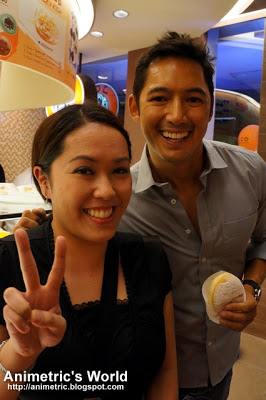 Guess who else was at the J.CO Megamall grand opening? Marc Nelson! Gotta love this dude, he and team mate Rovilson Fernandez made watching The Amazing Race Asia lots of fun! 😀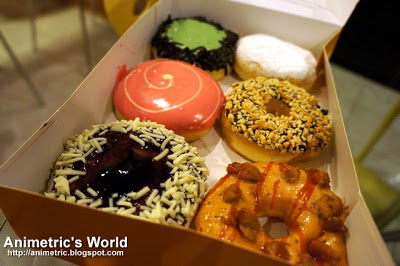 I got to take home the donuts featured in the program after the event — Blue Berrymore, Mona Piza (bottom right), Heaven Berry, Jacky Chunk, Avocado Di Caprio, and Snow White. 😀
Do try to drop by SM Megamall and try these delicious donuts soon! Donuts are priced at P42 per piece, P350 for a dozen, and P550 for two dozens. Meanwhile, J. Pops Baby Donuts cost P250 for two dozens. There's also frozen yogurt, fancy coffee and tea concoctions, and lots of other yummy treats. Free wi-fi access too.
Want to win P1,000 J.CO Donuts & Coffee GCs? Join Animetric's Favorite Things Year 3 now!

J.CO Donuts and Coffee
SM Megamall Mega Strip B
EDSA cor. J. Vargas Ave., Mandaluyong City

Like this post? Subscribe to this blog by clicking HERE.
Become a Facebook Fan for more updates from Animetric's World.