Last Monday, hubby, the kids, and I headed to Pasay City to check out Islas Pinas. It's a Food and Heritage Village featuring an all-day buffet by renowned chef and restauranteur Margarita Fores. Islas Pinas opened around June last year, but it's only February this year that they started offering an all-day buffet.
Islas Pinas is located at Double Dragon Plaza along EDSA. It's a sprawling mall-like commercial complex that's frequented by mostly Chinese nationals.
You push the green button by the entrance to get a card in order to enter Islas Pinas.
You use this card to enter Islas Pinas and log everything you buy or order in the premises.
There's a Pasalubong Center which carries Filipino-themed gift items — everything from dried mangoes to pastillas to shirts and keychains…
The dining area can accommodate a lot of people. The cobblestone flooring and stone walls are reminiscent of Intramuros.
I love how the food stations are set up.
You can get piping hot Batchoy from this station.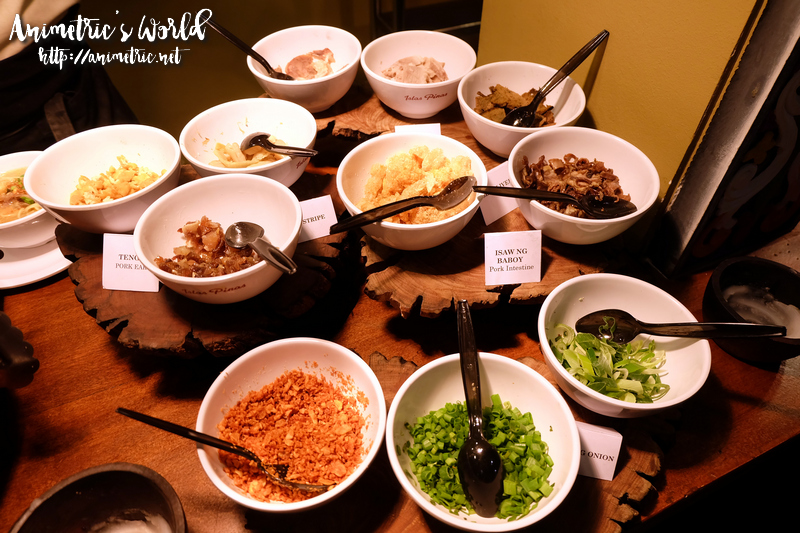 Then you can customize your Batchoy to your liking.
I liked the Vigan Longganisa.
The Tocino was also pretty good. The Vigan Longganisa and Tocino went well with the Garlic Rice and Sinigang Rice. Of course they also have plain old-fashioned steamed rice.
They had Ginataang Bilo Bilo too, although I would've preferred it to have more stuff in it. It was a tad too soupy for me.
This is an assortment of Pinoy snack items / street food — Kikiam, Lumpiang Shanghai, Fish Balls, and Okoy. They even had a complete assortment of fish ball sauces.
They had 2 kinds of noodle dishes — Pancit Batil Patung (shown above) and Pancit Puso. Hubby and the kids liked Pancit Batil Patung.
The Lechon was surprisingly good too. Other dishes included in the buffet were Kare-Kare, Tinunuan (Kalabasa at Hipon), Balbacua, KBL (Kadios, Baboy, Langka), and Beef Rendang. There was also a salad bar which served Lumpiang Ubod aside from garden greens.
For dessert, you can make your own Halo-Halo or Mais Con Hielo.
There's also an assortment of kakanin like Biko, Sapin Sapin, Cassava Cake, and Maja Blanca. Then there were other sweets like Leche Flan (shown above), Brazo De Mercedes, and Sansrival.
You can borrow Pinoy games like Sungka, Game of the Generals, Jackstone, etc. from one of the booths, all you need to do is leave an ID. This is free of charge.
There are a lot of photo-worthy spots at Islas Pinas.
After your visit, you present your cards to the cashier so you can pay for your purchases.
Aside from the buffet spread, Islas Pinas offers paluto on a pay-per-order basis. We only availed of the dinner buffet though. Drinks are not included in the buffet price but they do serve free service water. There's a bar where you can order drinks and they'll just swipe them onto your card.
While the buffet was not expensive, I felt that the selections were quite sparse. Food was okay but not exceptional in terms of quality and taste… certainly not what I expected knowing that the food is by Margarita Fores. I think the place has a lot of potential though. I like the style and the ambiance — it's very casual and relaxing. There's a lot of space for you to go around, take photos, perhaps shop for Pinoy treats. Service is exceptional. Everyone is extremely attentive, helpful, and accommodating. I think it's a great place to bring balikbayans and/or foreign guests to, I just hope they improve the buffet selection.
Islas Pinas Buffet Rates:
Lunch – P488
Merienda – P198
Dinner – P488
Islas Pinas Food and Heritage Village
G/F Double Dragon Plaza, DD Meridian Park,
EDSA Ext cor. Diosdado Macapagal Blvd, Pasay City
403-1588
Like this post? Subscribe to this blog by clicking HERE.
Let's stay connected: