When you say IHOP, I think pancakes of course. I go to IHOP for pancakes, waffles, and bacon whenever I vacation in the US. I've always loved the breakfast vibe — because I'm a breakfast person, hence I find it REALLY HARD to stick to the bulletproof coffee diet regimen. But that's not what this post is about lol.
Anyhow, about a month ago, we trooped to IHOP in Araneta Center (officially the closest IHOP branch to us) to try out their rice meals and new drink offerings.
IHOP now serves fresh pressed juices in addition to the usual shakes and smoothies. Hubby tried out Rise and Shine (P165), a lovely bright orange drink comprised of pineapple, ginger, and carrot. I had Fresh Vibes (P180) which is a blend of cucumber and ginger. Both were really light and refreshing, but I'm leaning towards Rise and Shine which I thought had more flavor.
The kids opted for smoothies. Well they can afford it because they don't get fat haha. Our son had Blueberry Blast (P195) which is blended blueberries, yogurt, cranberry juice, bananas, and honey. He said it's really yummy.
Our daughter had the usual Strawberry Banana Smoothie (P145). I say the usual because strawberry banana is a combination she always orders when it comes to drinks.
To start off our dinner, we had Garlic Cream Cobb Salad (P145). Mixed greens, tomatoes, bacon, blue cheese crumble, avocadoes, hard-boiled eggs, and chicken bits in creamy garlic ranch dressing make this a kid-friendly salad. Both kids liked it a lot because it's tasty and balanced — it's got meat, veggies, cheese, and fruits. They normally shy away from salads that consist of all veggies.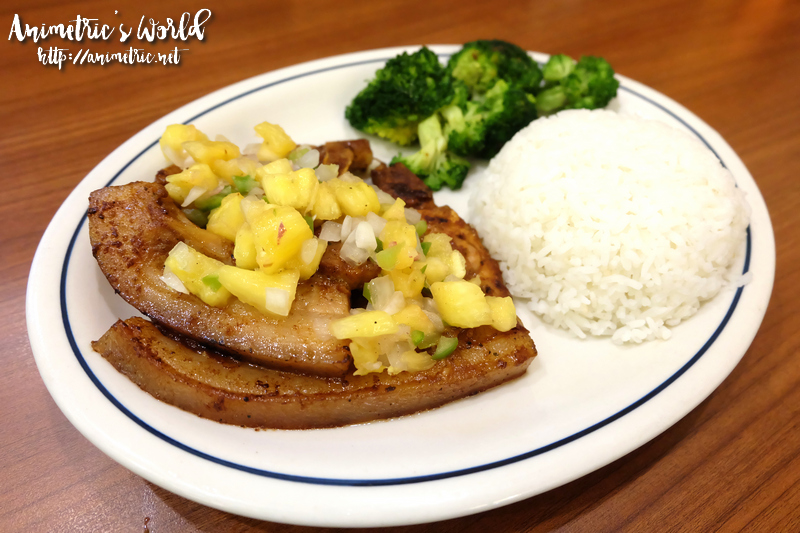 For the main course, we tried Pork Chop with Pineapple Salsa (P245 for 1 pc / P295 for 2 pcs). I loved the tender and flavorful pork which went so well with the tangy pineapple salsa, steamed broccoli, and rice.
Country Fried Chicken Fillet (P245) is lean chicken breast fillet fried to a crisp then smothered in thick country-style gravy. It's served with sweet corn and steamed rice. Great for kids who prefer fried and crunchy fare, but personally I prefer the porkchop.
I was told that the BBQ Liempo (P245) is actually the bestseller among the rice meals. The glazed tender pork belly is oozing with flavor (and delicious fat wahahaha) but I  wish there was an option to have 2 pieces of liempo, like the porkchop, because it's kind of bitin if you're hungry. Or if you're a man.
This is IHOP Philippines' prize-winning dish in a recently concluded IHOP International DineChef Competition, the Waffle Burger (P395). They had IHOP chefs from all over the world come up with original menu items and this was what bagged top honors. It's a juicy 100% beef patty sandwiched between crisp Belgian waffles along with a fried sunny side up egg, bacon, lettuce, and tomato. It comes with fries too! Definitely filling, I need to share with someone because I don't think I can finish a whole order by myself.
For dessert we tried Childhood Memories (P195), a huge sundae comprised of vanilla ice cream, strawberry and blueberry syrups, cheesecake squares, and hash brown. I don't know why it's called Childhood Memories but it's probably because all the bawal stuff that kids can wolf down are all loaded onto one gigantic sundae. Anyway, I recommend this for sharing.
Our kids loved the Funnel Cake (P150). Six pieces of mini funnel cakes are topped with vanilla ice cream, whipped cream, strawberries, and powdered sugar.
If you're the type who absolutely must have rice for lunch or dinner, these new reasonably priced and flavorful rice meals will definitely satisfy.
IHOP has stores in BGC, UP Town Center, SM MOA, Century City Mall, Filinvest City, and Araneta Center.
Like this post? Subscribe to this blog by clicking HERE.
Let's stay connected: